Craggy nooks, light and crispy, these EASY Vegan Biscuits will help you jumpstart the weekend. These no-fuss drop biscuits will satisfy your biscuit craving in under 30 minutes including bake time.
My favorite drop biscuits turned vegan.
How to Make Vegan Drop Biscuits
This recipe is a simple tweak to my favorite drop biscuit recipe from SeriousEats. They are the fastest biscuits to make and require no cutter. Just mix, drop and go!
Step 1: Mix dry ingredients.
In a small bowl, mix dry ingredients.
Measure out coconut oil in solid form. Just scoop out coconut oil into a measuring cup until you have roughly 4oz. It's not a perfect science.
It's important to use refined coconut oil which eliminates the coconut flavor.
In a bind you can use non-refined, just know your vegan biscuits will have a coconut flavor, yet still very delicious.
Step 2: Mix in coconut oil. Then oat milk.
With a fork, press and cut the coconut oil into the flour until it forms a coarse meal. The pieces of coconut oil will be smaller than a pea.
Then mix in oat milk.
Step 3: Mix to form a shaggy dough.
The dough will come together pretty quickly. Use a 1/4 cup measure to roughly drop biscuits onto a parchment lined cookie sheet.
You'll make 8 drop biscuits.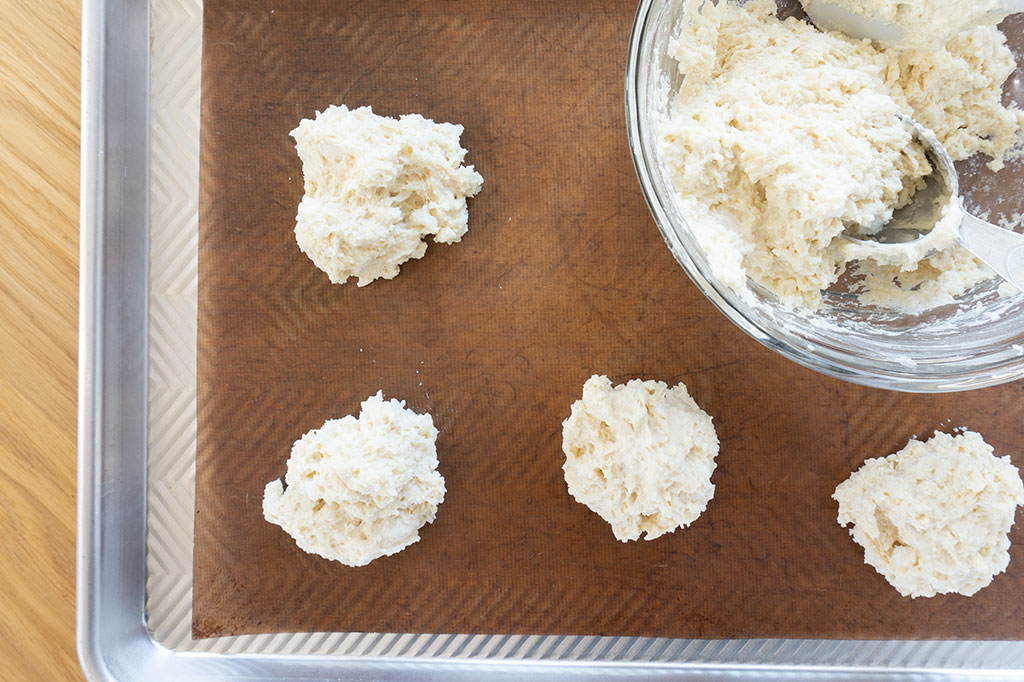 Step 4: Bake
A quick 15 minutes in the oven and you have the perfect biscuit.
How should you enjoy these drop biscuits?
These biscuits should be enjoyed by vegans and non-vegans alike. They are perfectly crisp and light.
The best way to eat these vegan biscuits is smothered with mushroom gravy. It's the ultimate vegan biscuits and gravy.
Easy Vegan Drop Biscuits
Craggy nooks, light and crispy, these easy vegan biscuits will help you welcome in the weekend.
Instructions
Preheat oven to 400°F and line a baking sheet with parchment paper.

In a large bowl, whisk together flour, baking powder, and salt.

Toss solid coconut oil into dry ingredients until coated with flour. Working quickly, using a fork or pastry cutter, cut solid coconut oil into the flour until it resembles coarse meal (little pea sized pebbles). See photo in post.

Add oat milk and stir with a wooden spoon until the mixture just comes together into a slightly sticky, shaggy dough.

Divide dough into 8 biscuits and place on parchment lined baking sheet (about a 1/4-cup measuring cup per biscuit).

Bake biscuits until golden brown, about 15 minutes. Let cool slightly, then transfer to a wire rack. Serve warm or at room temperature.
Nutrition Facts
Easy Vegan Drop Biscuits
Amount Per Serving (1 g)
Calories 221
* Percent Daily Values are based on a 2000 calorie diet.
More Biscuit Recipes