Fast and easy drop biscuits are paired with a savory mushroom gravy made with oat milk. It's the best Vegan Biscuits and Gravy!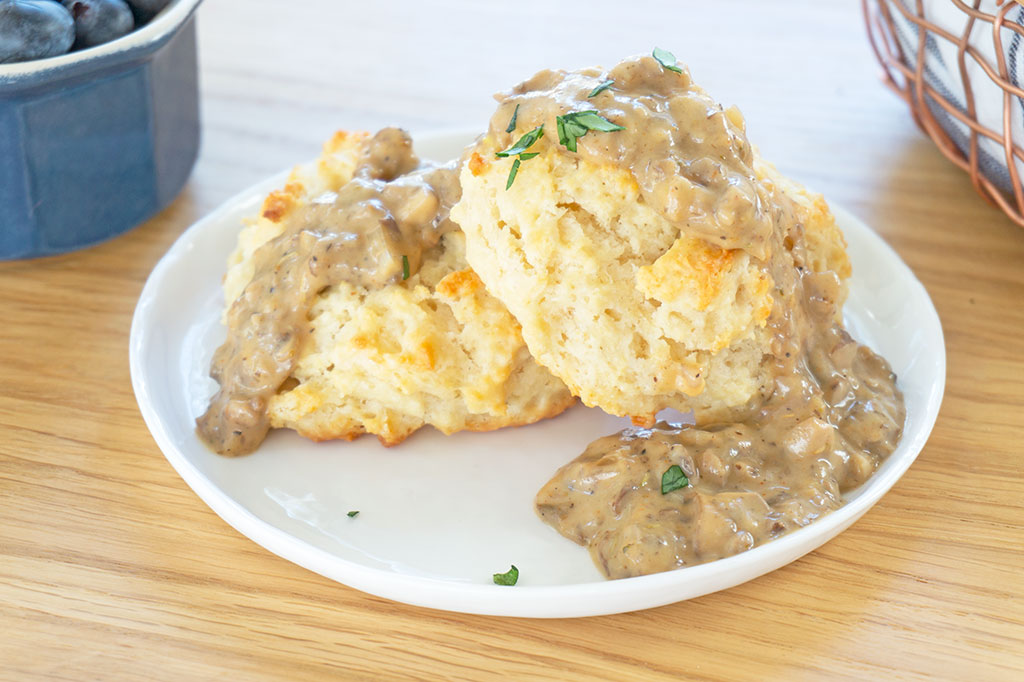 Biscuits and gravy are a breakfast splurge. Loaded with cream and butter, it's a heavy breakfast.
This version – vegan biscuits and gravy – is quite the opposite.
Still creamy + peppery and served with a crisp biscuit, THIS is what healthy biscuits and gravy looks like.
And this recipe is so delicious, you don't have to be vegan to enjoy it. Top these biscuits with scrambled eggs and then layer all of it with gravy.

It's "you should open your own breakfast joint" good.
How to Make Vegan Biscuits + Gravy
Step 1: Make Vegan Biscuits
Make biscuits using this vegan drop biscuit recipe.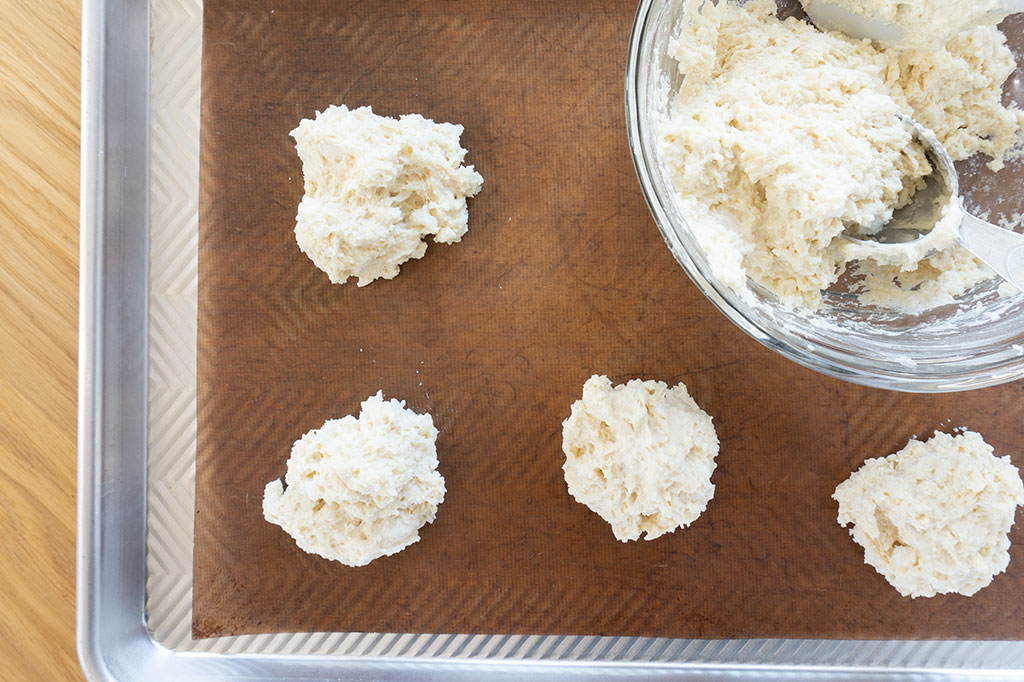 Step 2: Prep Mushroom Gravy Ingredients
Prepare the chopped mushrooms, shallots, and garlic. The quickest + best way to chop the mushrooms to just the right texture is to use one of these fast food choppers. Plus you'll get your aggression out using it :).
It looks like a LOT of mushrooms, but remember they cook down to nearly half this amount.
Then measure out the spices, flour, oat milk and soy sauce so that you are ready to whip the gravy together.
Step 3: Sauté shallots + mushrooms.
In a large rimmed sauté pan, warm avocado oil. Add shallots with a pinch of salt and pepper. Then add mushrooms and cook until soft and starting to brown. They'll be about half the volume they were to start.
Step 4: Stir in soy sauce, garlic + herbs. Then add flour.
Measuring out all these ingredients ahead of time makes this step a cinch!
For the herbs, you can use thyme, sage, or herbs de Provence like I have used here which has rosemary and marjoram. Any blend will work.
Add in the flour and cook for approximately 1 minute, stirring constantly, to coat the mushrooms.
Step 5: Add oat milk + salt.
Stir until the mushroom mixture and oat milk come together in a uniform sauce. Cook for 2 -3 minutes until starting to thicken.
The mushroom gravy will continue to thicken as it cools.
By now your biscuits should be out of the oven.
Top each biscuit with gravy + finish with chives or any fresh herb.
Well, Butter My Biscuits! Biscuit-themed gifts for all!
Vegan Biscuits and Gravy
Fast and easy drop biscuits are paired with a savory mushroom gravy made with oat milk. It's the best Vegan Biscuits and Gravy!
Keyword:
vegan biscuits and gravy
Ingredients
1

recipe

Best Vegan Biscuits

1/2

cup

minced shallots

2

garlic cloves, finely chopped

8

ounces

baby bella mushrooms, finely chopped

3

Tbs

avocado oil

1

Tbs

soy sauce

1

tsp

whole fennel seeds

1

tsp

smoked paprika

1

tsp

Herbs de Provence or dried sage + thyme

3/4

tsp

ground black pepper

1/4

cup

flour

2

cups

unsweetened oat milk

1

tsp

kosher salt

fresh chives, for garnish
Instructions
Make the Vegan Biscuits.

Finely mince the onion and garlic. Finely chop the mushrooms.

In a large saucepan over medium heat, warm 2 tablespoons of the avocado oil. Add the shallots and mushrooms and cook for 6 to 7 minutes until lightly browned. Stir in the soy sauce, then add the garlic, fennel, smoked paprika, herbs de Provence and pepper and cook for 30 seconds over medium heat until fragrant.

Stir in the flour so the mushrooms are coated.

Reduce the heat to medium low. Add the oat milk and kosher salt. Cook for an additional 2 to 3 minutes, until thickened.

Remove from the heat. The gravy will continue to thicken as it cools. Taste and add an additional pinch or two of salt as necessary.

Cover biscuits with a big spoonful of gravy. Top with chives.

Non-vegan option: serve with scrambled eggs.
Nutrition Facts
Vegan Biscuits and Gravy
Amount Per Serving (1 biscuit + gravy)
Calories 283
* Percent Daily Values are based on a 2000 calorie diet.