These White Cheddar Cornmeal Biscuits have a soft interior, crisp exterior with plenty of cheesy flavor and a hint of sweet from the cornmeal. Spicy chipotle and green onions are mixed in for the perfect savory biscuits. These can be made ahead, are freezable and require no biscuit making experience!  Believe me, you'll impress yourself!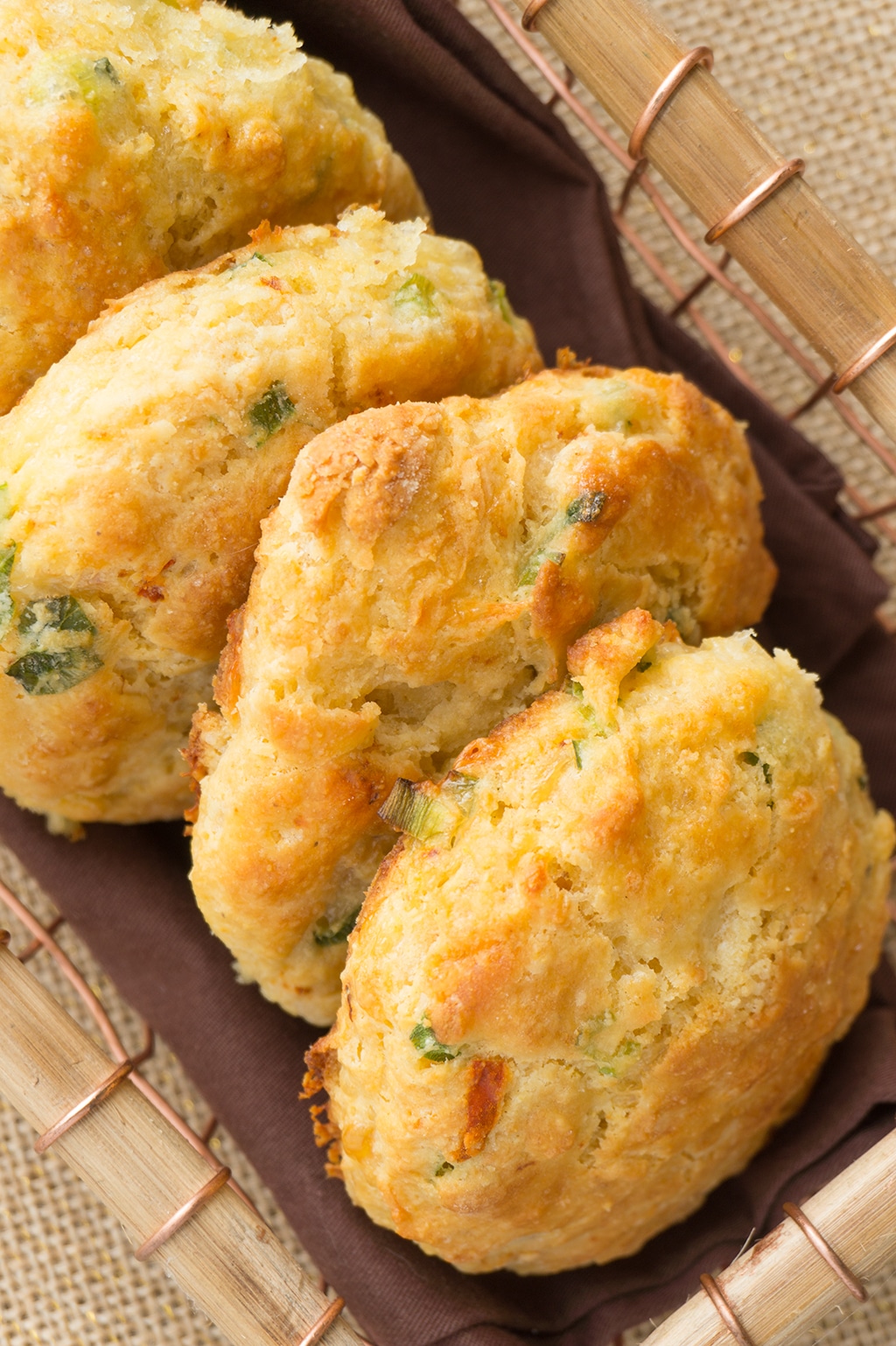 When I think of cornmeal, my mind goes straight to cornbread. But I think these biscuits are WAY better than any cornbread out there.
I'd much rather have one of these biscuits than cornbread!
With a touch of chipotle and green onion, they make an excellent accompaniment to breakfast, lunch or dinner.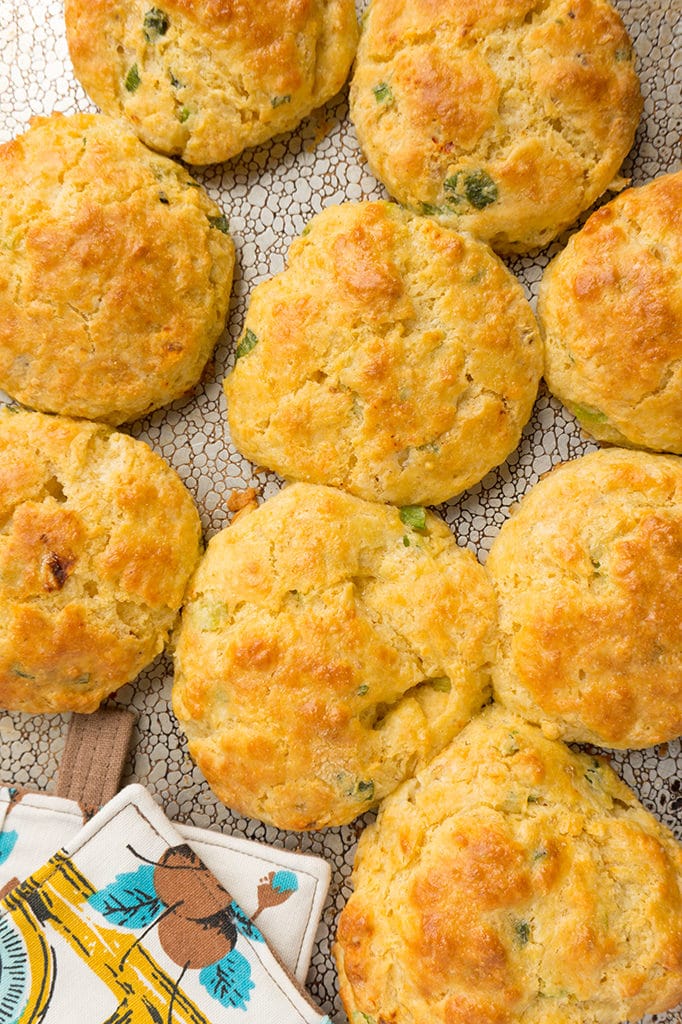 How to Make Cheesy Cornmeal Biscuits
Step 1: Prep all ingredients. Cube butter, sauté green onions, chop peppers.
You'll want to cube your butter first and return it to the fridge so it remains cold while you prepare everything else.
Step 2: Combine dry ingredients. Pulse in cubed butter, then cheese. 
You'll reserve a little of the dry mixture to use later in the recipe. The cubed butter should be pulsed into the dry until it resembles coarse sand.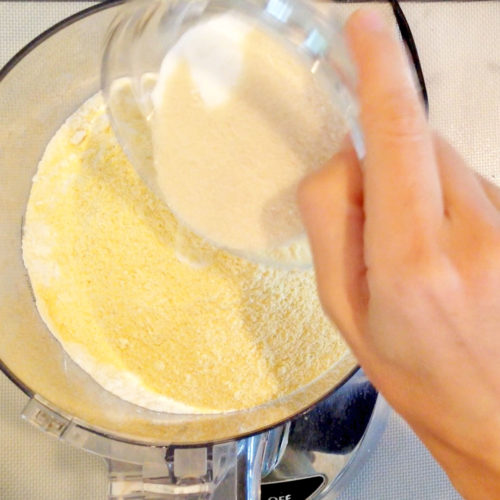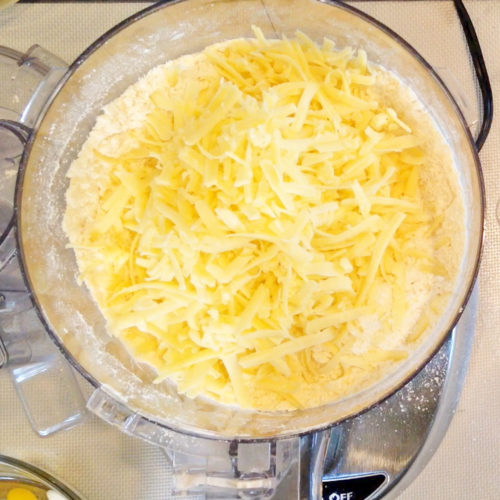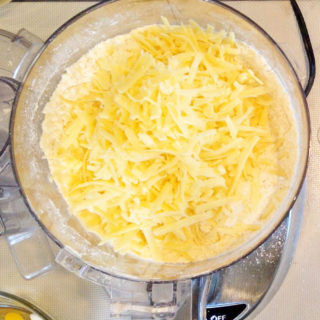 Step 3: Combine Buttermilk, Egg and Veggies. Add to dry ingredients.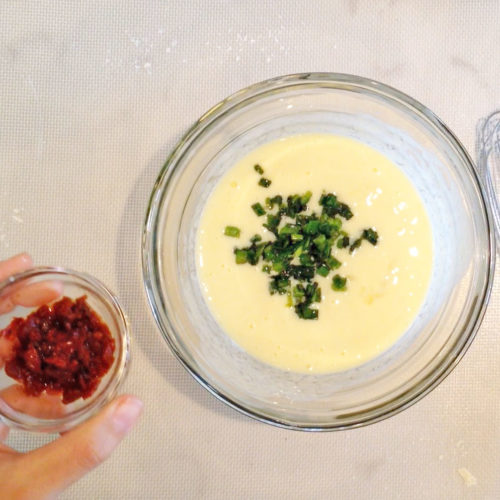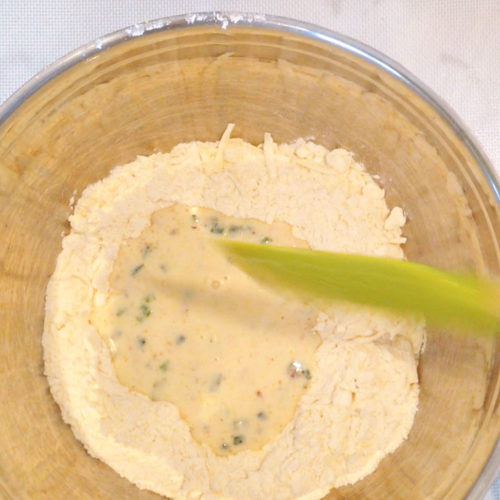 Step 4: Mix Wet into Dry Ingredients until a Shaggy Dough Forms. Press out dough.
The dough will be a little sticky. Don't be afraid to dust the work surface and/or top of dough with extra flour.
Step 5: Fold + Cut Dough. Brush with Egg Wash. 
Folding the dough into thirds multiple times is how we achieve the flaky layers. Brushing the tops with an egg wash gives the biscuits the nice golden brown color.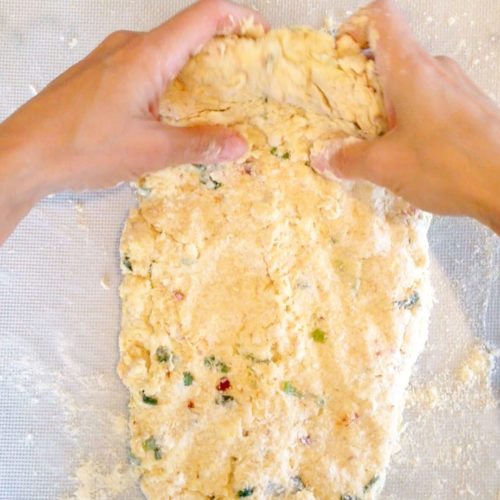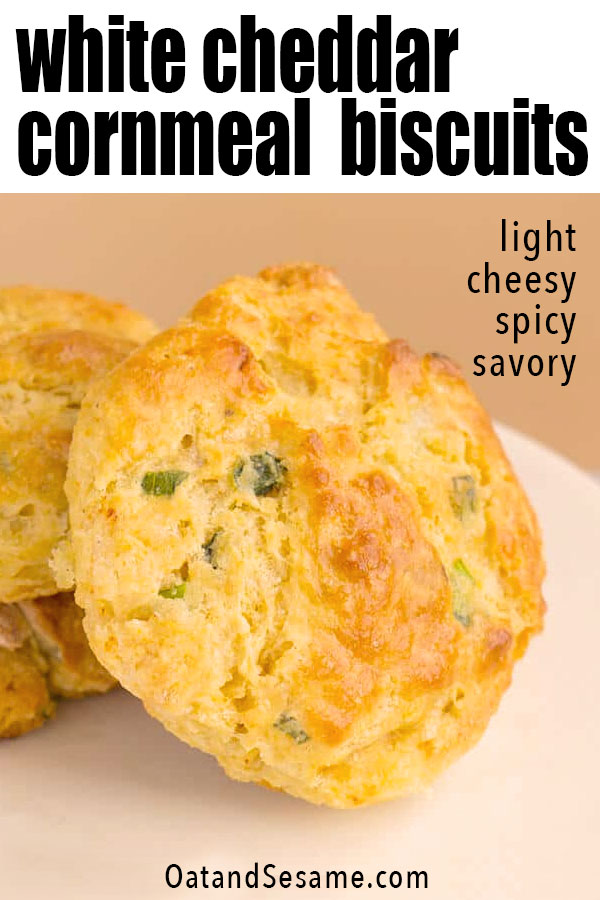 Let's Make Biscuits from Scratch and NEVER use store-bought biscuits again! Check out all my biscuit recipes here!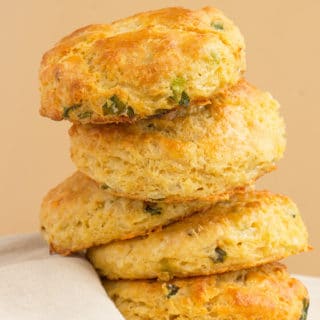 White Cheddar Cornmeal Biscuits
A light and tender cheesy biscuit with a touch of chipotle and green onion
Ingredients
1

Tb

butter for frying onions

½

cup

chopped green onions

green part only

1 ¾

cups

all-purpose flour

divided

½

cup

fine yellow cornmeal

2

Tb

granulated sugar

2 ½

tsp

baking powder

½

tsp

baking soda

1

tsp

salt

½

cup

chilled unsalted butter

roughly cut into 1/2-inch pieces

1 ½

cups

coarsely grated white cheddar cheese

1

cup

buttermilk

divided

2

large eggs

1

Tb

finely minced chipotle peppers in adobo

canned or fresh roasted chili pepper of choice
Instructions
Preheat oven to 425F.

Melt butter in a frying pan over medium-high heat, sauté green onions until soft ~ 3-4 min. Set aside.

Pulse together flour, cornmeal, sugar, baking powder, baking soda and salt in a food processor. Remove ¼ cup of flour mixture and set aside.

Toss the butter into the flour mixture and pulse until mixture resembles crumbled feta. Add cheese and pulse briefly to incorporate ~ 3 pulses. Move to a large bowl.

In a medium bowl, whisk together ¾ cup of buttermilk (setting aside remaining ¼ cup) and 1 egg. Stir in green onions and 1 Tb chili peppers.

Make a well in the center of the flour and pour the buttermilk mixture in. Stir the flour into the liquid with a spatula using large circular strokes. Mix until just moist and sticky and pulling away from sides of bowl. If there is still flour remaining you can add a tablespoon of buttermilk at a time until it forms a shaggy dough.

Lightly sprinkle a clean work surface with reserved flour. Turn dough out and sprinkle with flour. Flour your own hands and fold the dough in half. Pat it down gently into a ½" thick rectangle. Use extra flour if needed.

Fold the dough again and pat into a 3/4" rectangle. This can be repeated a 3rd time if dough seems clumpy.

Dip biscuit cutter in flour and cut out biscuits, remembering not to twist the cutter.

Place biscuits 1" apart on an ungreased baking sheet.

Whisk together remaining egg and a few dashes of salt. Brush the top of each biscuit with an egg wash. Bake on the top rack of the oven for 15-18 minutes or until golden brown.
Notes
adapted from Southern Biscuits cookbook which I highly recommend for its amazing assortment of biscuits!
Nutrition Facts
White Cheddar Cornmeal Biscuits
Amount Per Serving (1 g)
Calories 270
* Percent Daily Values are based on a 2000 calorie diet.
More delicious recipes