Lemon Cranberry Scones are a hybrid biscuit / scone that will send lemon lovers head over heels in love. Buttery, light and crisp, these drop biscuits have lemon zest, dried cranberries and a drizzle of lemon frosting! Pure lemon bliss.
When I lived in Tucson, Arizona, my favorite coffee house, Raging Sage, served up delectable scones in all flavors imaginable. Apricot is absolute favorite, but really any flavor, including the honey-jalapeño version, was something to wake up early for.
I still order their coffee direct to my doorstep.  The mailman usually comments on how his truck smells like coffee all day.  Lucky him!
Buttery biscuits and scones are perfect for breakfast or brunch. You can turn them into a savory or sweet version very easily. 
How to Make Lemon Cranberry Scones
These lemon cranberry scones are about as easy as it gets! They are lemon drop biscuits, which means there is no rolling, cutting, shaping, etc. 
Step 1: Mix Dry Ingredients in a Large bowl.
Step 2: Cut cold butter into cubes.
The first rule of biscuit or scone making is always use COLD ingredients.
Step 3: Use a pastry cutter or fork to cut in butter.
Using a pastry cutter or fork, cut the butter into the dry ingredients until a coarse sandy texture is formed.
Step 4: Add wet ingredients. Mix in cranberries.
Using a dough whisk, combine wet and dry ingredients until just combined. Add cranberries and mix until evenly distributed.
Step 5: Divide dough + Bake.
Once the scones are ready, you'll need to let them cool before frosting. So waiting until after they are out of the oven to make the lemon frosting is perfectly acceptable.
Step 6: Drizzle with Lemon Frosting.
Extra lemon frosting and zest brings these lemon drop biscuits to a new level of lemon heaven! I like to enjoy them after they have cooled a bit – the lemon flavor comes through much better at room temp.
The ultimate tool for mixing batters of all kinds is this Dough Whisk. The concentric circles are a unique design that helps you to blend your batter without over-mixing it and making your baked good tough. It's a great foodie gift for bakers!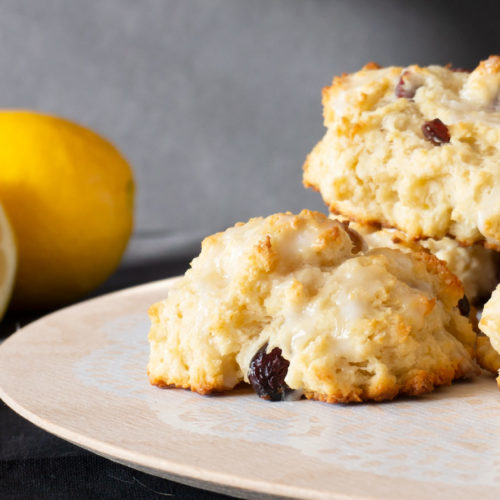 Lemon Cranberry Scones
Lemon Cranberry Scones - buttery, light and crisp biscuits/scones with lemon zest, dried cranberries and a drizzle of lemon frosting! Pure lemon bliss.
Ingredients
3

cups

all-purpose flour

3

tablespoons

sugar

3

teaspoons

baking powder

½

teaspoon

salt

zest from 1 lemon

1

stick butter

chilled

1 ½

cups

cold buttermilk (almond milk can be used, add 1 Tbsp lemon juice to make almond buttermilk)

2

teaspoons

vanilla

½

cup

dried cranberries
Lemon Glaze
3/4 to 1

cup

powdered sugar

1 ½

tablespoons

freshly squeezed lemon juice
Instructions
In a large bowl, sift flour, sugar, baking powder, lemon zest and salt.

Cut the cold butter into small cubes to make it easier to distribute throughout the dry ingredients.

If you have frozen sticks of butter, try grating it into the dry ingredients.

Using a fork or pastry blender cut the butter into the flour mixture until it resembles a coarse meal. This is pretty much already achieved if you grate in frozen butter as suggested above.

Add cold buttermilk and vanilla. Mix with a fork or dough whisk (pictured above) until a wet dough forms.

Gently fold in dried cranberries.

Divide the dough into 12 somewhat equal pieces and bake on ungreased cookie sheets.

Bake until lightly golden on top edges - 15-20 minutes.

Once out of the oven, let the scones cool for a couple minutes and then drizzle each with the prepared lemon glaze. Add extra lemon zest to the tops.
Lemon Glaze
Make the lemon glaze by mixing the powdered sugar and lemon juice together in a small bowl. The glaze should be thin and spreadable.
Notes
*These actually do quite well warmed the next day in the microwave for 20 sec.
*High Altitude Baking Note: this recipe is affected by high altitude baking - if above 3500 ft - like me at 7000 ft! - increase oven temp by 25 degrees and reduce baking time by 3-5 minutes.
Recipe adapted from Insidethekaganoffkitchen.com
Nutrition Facts
Lemon Cranberry Scones
Amount Per Serving (1 g)
Calories 260
* Percent Daily Values are based on a 2000 calorie diet.
---
Learn to Make
Homemade Buttermilk Biscuits with me! Join my class HERE!
More Biscuit Recipes