We're kickin' it old school with this Baked Zucchini Pie also known as the infamous Bisquick Zucchini Pie. It's a summer classic. Layered with thinly sliced zucchini, parmesan cheese and spices, then mixed with homemade Bisquick and baked into a savory casserole. Serve it with a fresh side salad for a healthy and light summertime meal.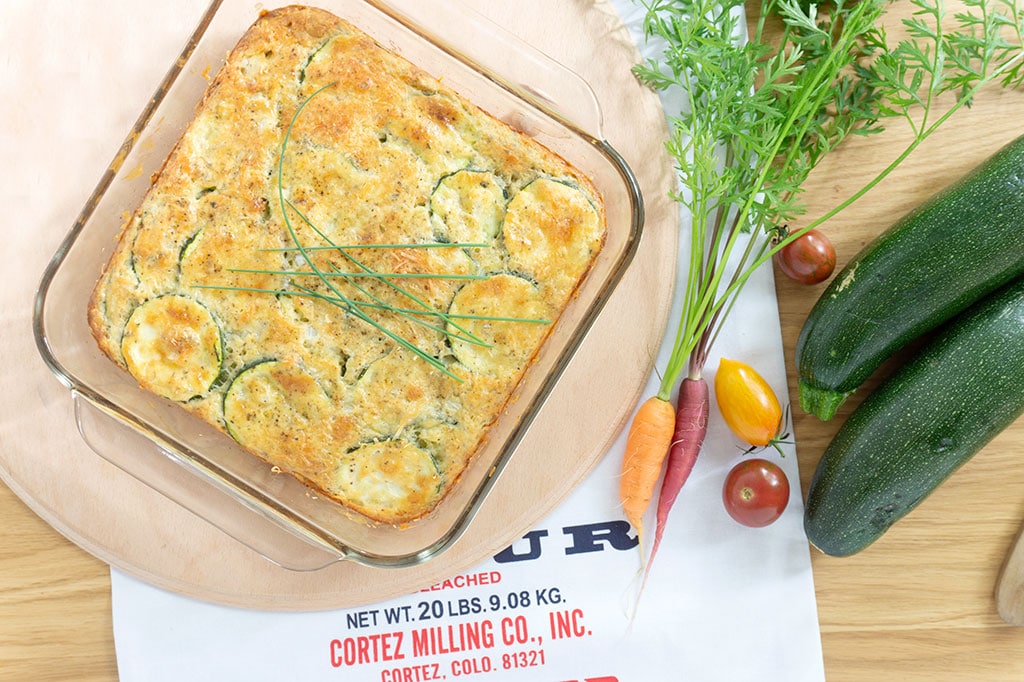 I got stranded in the Charlotte airport a few years ago. Luckily my in-laws were able to pick me up for the evening. It was late when I arrived, but my gracious mother-in-law was waiting with a tomato pie to fill my belly. It must be a Southern thing because I had never tried tomato pie growing up in Chicago. I was hesitant because at that point in my life, I really only ate tomatoes in sauce. But I knew never to turn down one of her creations because a Southern cook always makes deliciousness. She also makes a mean gumbo and amazing stewed okra.
So with this tomato pie in mind, I sought out an old school zucchini pie recipe.
I can always count on my stash of vintage recipe books for simple zucchini recipes – you know the ones from grade school where all the parents contributed a recipe…they're a treasure trove of hot dishes and casseroles.
They only thing about those old cookbooks is they tend to include processed ingredients with partially hydrogenated oils. So in this Baked Zucchini Pie, instead of boxed Bisquick I make a simple homemade version.
You'll end up with double the amount of homemade Bisquick mix needed for this recipe – either store the extra in the refrigerator for the next time or just double the rest of the ingredients and make a bigger casserole.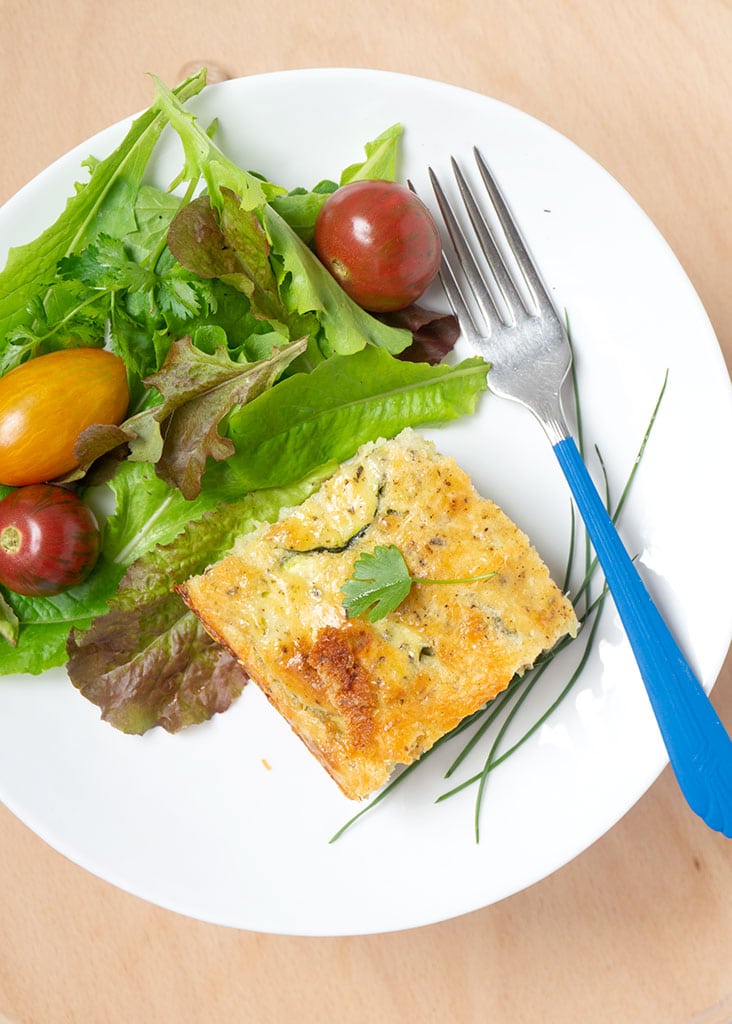 The homemade Bisquick makes the texture of this zucchini egg bake much more filling than an egg casserole. It has a bread-like structure that you can see in the close up photo below.
Like all casseroles, it's just a few easy steps to create this yummy Baked Zucchini Pie. Served room temp or hot out of the oven, you'll love this zucchini recipe!
How to Make this Zucchini Bake with Homemade Bisquick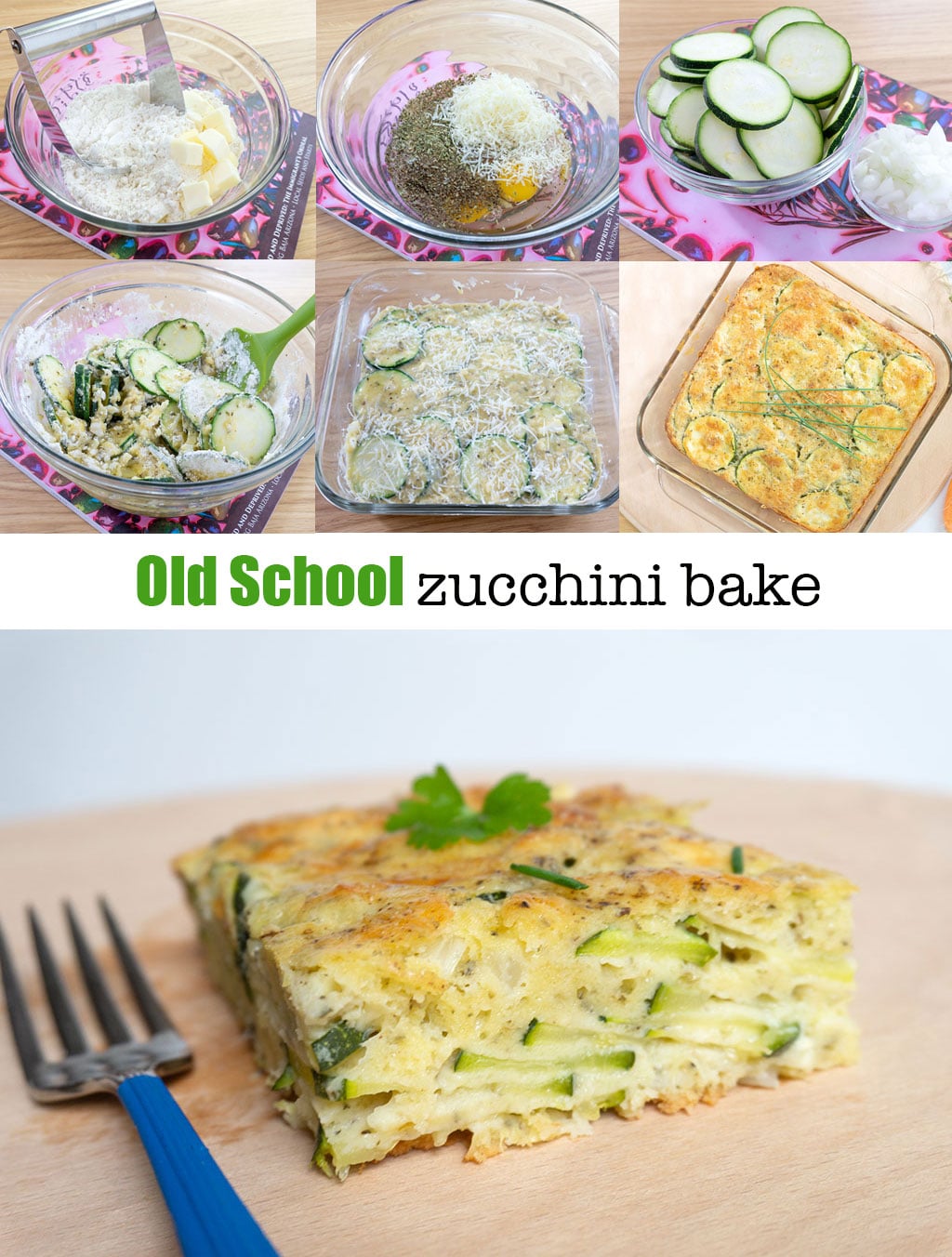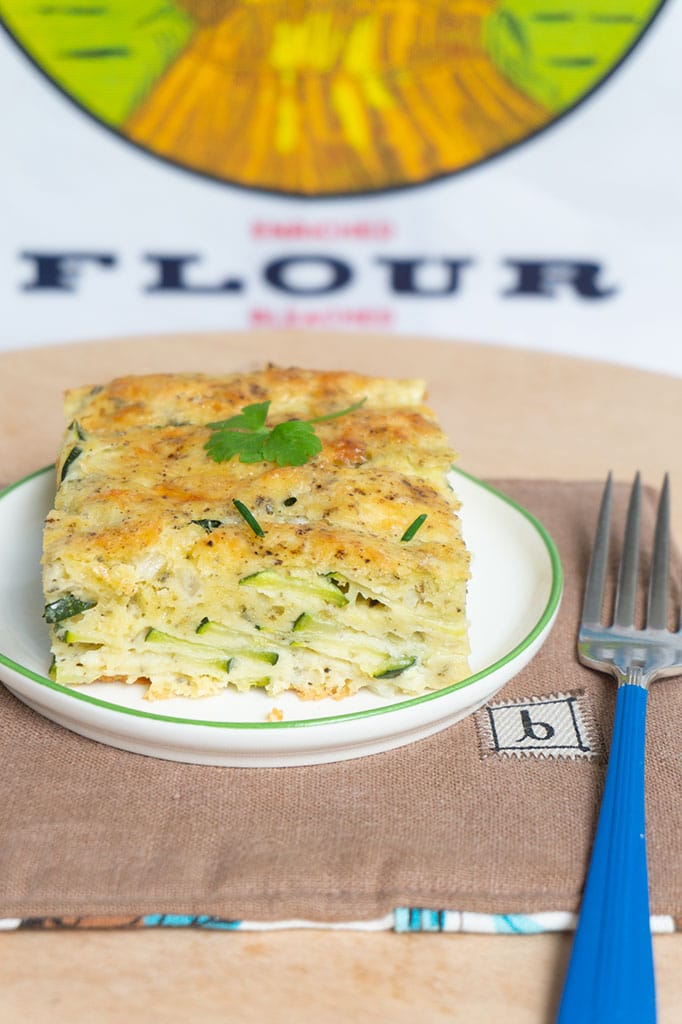 Summer is full of zucchini recipes and you can ALWAYS use more!
Enjoy my latest zucchini recipes:
Zucchini Burritos with Special Sauce
Zucchini Migas (Zucchini Breakfast Eggs)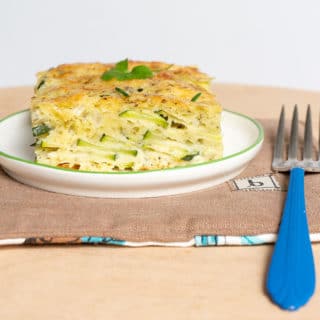 Baked Zucchini Pie
Main dish or side dish, this old school Baked Zucchini Pie is a must for summer. Layers of thinly sliced zucchini, parmesan cheese and spices mixed with homemade Bisquick and baked into a savory casserole.
Keyword:
zucchini casserole
Ingredients
How to Make Homemade Bisquick Mix
Zucchini Bake
4

eggs

1/2

tsp

dried parsley

1/2

tsp

dried basil

1/4

tsp

Kosher salt and pepper

1/4

cup

olive oil

1/2

cup

grated parmesan cheese

more to top

3

cups

thinly sliced zucchini

1

small onion chopped

1

cup

Bisquick mix (from recipe above)
Instructions
Spray a 9×9 baking dish with cooking spray.
Homemade Bisquick Mix
In the medium bowl, whisk together flour, baking powder and salt.

Add the cold, cubed butter and cut into the mixture with a fork or pastry cutter until the mixture resembles coarse crumbs.

You'll use 1 cup for this recipe, the remaining cup can be stored in the fridge until next time!
Zucchini Bake
In a separate bowl, whisk eggs. Then add spices, salt and pepper. Whisk to combine.

Whisk in grated cheese and olive oil.

Add the zucchini and onions. Mix to combine. Making sure the zucchini get fully coated and the slices aren't stuck together.

Add the flour mixture (1 cup) and mix until the flour is just incorporated.

Pour mixture into the prepared baking dish. Sprinkle with parmesan cheese.

Bake at 350 F for 50 min or until lightly browned. Serve hot or cold.
Nutrition Facts
Baked Zucchini Pie
Amount Per Serving (1 g)
Calories 250
* Percent Daily Values are based on a 2000 calorie diet.