Traditional Southern Buttermilk Biscuits rise up tall and crisp with a tender middle perfect for jam and butter. Made with tangy buttermilk, these biscuits are a crowd-pleaser!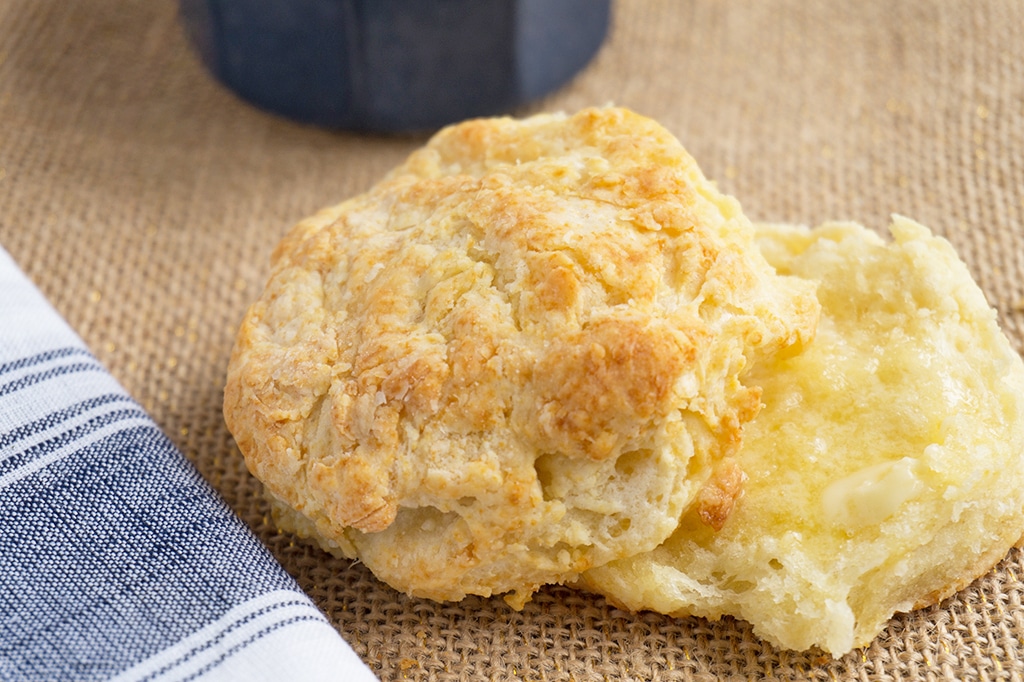 Biscuit making is usually saved for the weekend or for special guests. We put down our oatmeal spoons and allow ourselves a morning of indulgence. This usually involves crepes, pancakes or buttermilk biscuits.
With the abundance of rhubarb jam that I have on hand, I have a feeling I'll be making these for the weekend breakfast table with some frequency.
I am married to a southerner whose father makes infamous biscuits, so the bar is set quite high. I have an entire cookbook dedicated to buttermilk biscuits – I take my biscuit making seriously!
Most crispy buttermilk biscuit recipes are similar – a combination of flour, buttermilk, and lots of butter. The key to biscuits is in the method.
---
How to Make the BEST Buttermilk Biscuits
In order to create those flaky layers you have to follow some guidelines. With practice you'll get them exactly how you want them. I've shared my mainstay recipe below and along with tips that have helped me in my biscuit adventures.
Tip #1: Butter

Instead of cubing your butter, consider freezing it ahead of time and grate it into the dry ingredients instead of cutting it in. Both ways are perfectly fine – find which one works best for you.
Can I substitute unsalted butter for salted butter?
Yes! If using unsalted butter, just add 1/2 tsp salt to the flour mixture.
Tip #2: Mixing
Never overwork the dough. You want to get the dough to come together and still be crumbly when you put it on your work surface. The butter is easily cut with a pastry cutter.
Tip #3: Folding
Once the dough has come together enough to flatten into a rectangle (I always use my hands, no rolling pin here), fold the dough over itself like the photo below. Press out, fold and repeat about 3 – 4 times – changing the fold direction each time. This is creating layers for you. I use a pastry mat to press the dough onto.
Tip #4: Cutting
Never twist your biscuit cutter when stamping out the biscuits. That simple movement presses the edges of the dough together that prevents the dough from rising to maximum heights.
Tip #5: Baking
Never poke the tops of the dough like some recipes suggest and keep the biscuits close together on the baking pan. You are trying to keep the steam inside the biscuit to make them rise higher.
Tip #6: Freezing Biscuits
Freeze extra biscuits in a single layer on a cookie sheet before baking. Once frozen, move them to a freezer bag. Just a few extra minutes in the oven when you're ready to eat – no thawing required.
Traditional Southern Buttermilk Biscuits
Traditional Southern Buttermilk Biscuits rise up tall and crisp with a tender middle perfect for jam and butter. Made with tangy buttermilk, these biscuits are a crowd-pleaser!
Ingredients
4

cups

all-purpose flour

plus more for dusting (if you can find White Lily brand flour – the biscuits will have a softer and fluffier texture on the inside – use 1 cup white lily and 3 cups regular)

1

teaspoon

Kosher salt

1 1/2

tablespoons

baking powder

1

teaspoon

baking soda

1 ¾

sticks very cold salted butter

cubed and kept chilled or frozen & grated into mixture

1 1/2

cups

cold buttermilk

toppings: honey, butter, jam, eggs, cheese, bacon, spinach.
Instructions
Preheat the oven to 400° and position racks in the upper and lower thirds.

Line your baking sheet(s) with parchment paper.

In a large bowl, whisk the flour, salt, baking powder and baking soda.

Add the cubed butter or grate in the frozen butter. If using cubed, loosely toss it in the flour until coated and then use your fingers or a pastry blender to cut in the butter until it is the size of peas. Add the buttermilk and stir using a wooden spoon until a shaggy dough forms.

Place the shaggy dough on a floured surface and knead until it comes together. Keeping in mind that you don't want to overwork the dough and it's ok for it to remain a bit shaggy and dry.

Softly press out the dough to desired thickness – I go for 1″.

Using a round

biscuit cutter

, stamp out the biscuits, combining the scraps to make more biscuits.

Bake for about 20 minutes, until golden and lofty.

If you have two pans baking, switch them halfway through the baking time.

Let them cool for a minute or two and slice for sandwiches or honey, butter and jam.
Notes
adapted from honeyandjam.com
Nutrition Facts
Traditional Southern Buttermilk Biscuits
Amount Per Serving (1 g)
Calories 170
* Percent Daily Values are based on a 2000 calorie diet.
Check out my other buttermilk biscuit recipes!
Need MORE detailed biscuit making instruction?
Join my Biscuit Class & Learn to Make
Homemade Buttermilk Biscuits!
First 20 Enrollments are Free with this LINK!
---
Stay in touch!
Follow me on Instagram, Twitter, Facebook, and Pinterest
---
More Biscuit Recipes