Banana Chocolate Chip Cookies are loaded with banana chips, huge Guittard super cookie chocolate chips, walnuts and my secret ingredient for bumping up the banana flavor in baked goods!
The foundation of these cookies is a riff on my absolute favorite recipe on NYTimes.com. It does require cake flour, bread flour and at least 36 hours of your life – the time is worth it, I promise.
According to the recipe on NYTimes.com, the refrigeration of the dough "allows the dry ingredients time to soak up the wet ones, which results in a firmer dough…leads to a marvelously chewy, chocolate-rich cookie." 
That is exactly what you get from this recipe. Crisp outside, gooey dough-like interior and do not omit the sprinkle of sea salt on top of the cookies – it's integral to balancing the sweetness and elevating all the flavors. If you forget that step, you can still add it after baking when they're still warm and it will work out ok. I might have done this.
I've tried to skimp on the refrigeration time – let's face it, cookie dough in the fridge is like torture. The result is a flatter, greasy cookie without all the doughy goodness if you wait 36 hours. Don't do it.
So plan ahead, get a few workouts in while you wait to bake these – you'll need it, you're about to embark on a cookie binge like no other.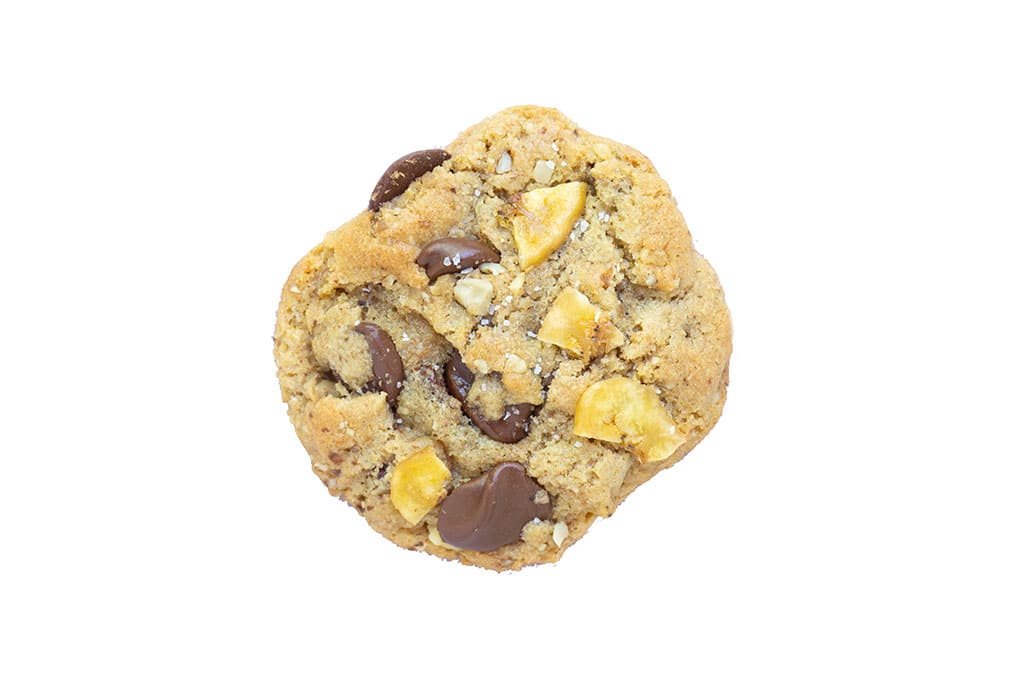 What's the secret to bump up the banana flavor?
Banana extract.  Get the good stuff, not imitation.
It's amazing in pancakes, banana bread, smoothies, etc. It just gets that extra flavor in there that sometimes doesn't come through with bananas.
I also use Guittard Super Cookie Chips – they're bigger and flatter than your Tollhouse variety – kind of like gourmet chocolate discs. It's the secret way to get big pockets of chocolate into your cookies. I've seen them at Wegman's, but since moving to Arizona, I've had to buy them on Amazon as a 4 pack. I think it's worth the investment – just look at those big, flat globs of chocolate!
I use them in this Georgia Pecan Coffee Granola recipe too!
---
Bake these Banana Chocolate Chip Cookies:
---
TIP: I find the easiest way to crush banana chips is in a plastic bag with a rolling pin. Slam it, roll it, get all kind of good textured pieces to drop into your batter. 
---
Banana Chocolate Chip Cookies
Keyword:
banana chip, chocolate chip cookies
Ingredients
2

cups

cake flour

1 1/3

cups

bread flour

1 1/4

teaspoons

baking soda

1 1/2

teaspoons

baking powder

1 1/2

teaspoons

Kosher salt

more to top cookies

2

sticks unsalted butter, softened

1

cup

dark brown sugar

1

cup

granulated sugar

2

large eggs

1

teaspoon

Rodelle vanilla extract

1.5

teaspoons

banana extract

10

oz (1 package)

Ghirardelli Super Cookie Chips

1 1/2

cup

banana chips, crushed

plus more to top cookies

1/2

cup

walnuts, finely chopped

plus more to top coookies
Instructions
Sift flours, baking soda, baking powder and salt into a bowl. Set aside.

Using a mixer fitted with paddle attachment, cream butter and sugars together until very light, about 5 minutes.

Add eggs, one at a time, mixing well after each one. Add vanilla and banana extracts.

With the mixer on low speed, add dry ingredients. Mixing until just incorporated. Fold in chocolate chips, walnuts and banana chips.

Press plastic wrap against dough and refrigerate for 36 hours. Try not to eat the batter from the refrigerator while you wait.

Remove dough from fridge and let sit for 15 minutes so it's easier to scoop.

Preheat oven to 350 degrees. Line a baking sheet with parchment paper or a nonstick baking mat.

Scoop into big 2" golf ball sized balls and place onto baking sheet.

Decorate with extra crushed banana chips, walnuts and a sprinkle of sea salt. Press to secure.

Bake until lightly golden brown but still soft, 15 minutes. Transfer sheet to a wire rack for 10 minutes.
Notes
Adapted from my favorite Jacques Torres chocolate chip cookie recipe at NYTimes.com.
Nutrition Facts
Banana Chocolate Chip Cookies
Amount Per Serving (1 cookie)
Calories 275
* Percent Daily Values are based on a 2000 calorie diet.