For National Chocolate Chip Cookie Week I decided to bake my version – Oat & Sesame Tahini Chocolate Chip Cookies. Loaded with oats and black sesame seeds, this cookie is everything you love about a chocolate chip cookie with a little sesame twist!
The little specks of black sesame and hearty oats give the a texture of a kitchen-sink type of cookie and looks really pretty! The addition of tahini and sesame seeds adds a subtle sesame flavor that doesn't overwhelm, but certainly complements the oats and chocolate chips.
So many cookies are made with tahini – which is sesame paste – however not too many use tahini + whole sesame seeds! 
And with sesame seeds being a superfood – well, it just make sense to put superfoods in cookies, right?
How to make Oat & Sesame Tahini Chocolate Chip Cookies
These cookies are just like the old-school Quaker oats chocolate chip cookies, but with the added flavors of nutty sesame seeds, tahini and rich molasses. I use pomegranate molasses here – um because it's fruity + amazing – but you can use regular blackstrap molasses. I also use Pomegranate molasses is versatile and can be used in savory dishes as well like this Turkish bulgur wheat salad recipe.
---
My #1 rule for making chocolate chip cookies?
Chill and Age the Dough
Why? It changes the flavor and texture. Read here.
---

Step 1: Cream Tahini Butter and Brown Sugar.
Step 2: Add vanilla, molasses + egg.
Step 3: Add dry ingredients.
Mix dry ingredients in a separate bowl + then add to wet mixture.
Step 4: Refrigerate or Freeze Dough.
Here is your option to freeze for 2 hours or refrigerate as suggested above for 24 – 48 hrs for maximum flavor!
Step 5: Bake.
---
Handpicked Gifts
for Bakers
---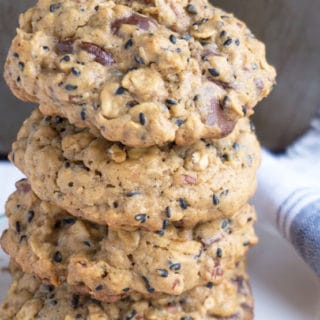 Oat and Sesame Tahini Chocolate Chip Cookies
Packed with oats, sesame seeds and chocolate, these tahini cookies will have your friends wondering what the secret ingredient is!
Keyword:
chocolate chip cookies, oatmeal
Instructions
Cream the tahini, butter and brown sugar in a stand mixer.

Add the vanilla, pomegranate molasses and egg and beat to combine thoroughly.

In a separate bowl combine the flour, salt, baking powder and soda. Add slowly to the butter mixture and combine.

Add the remaining ingredients and mix until evenly distributed.

Scoop 2 Tbs per cookie onto a parchment lined cookie sheet.

Put the whole sheet into the freezer until the cookies are solid, at least 2 hours.

When ready to bake, preheat the oven to 350°. The cookies do not spread very much, so about 9 to a sheet will work.

Bake for 15-18 minutes or until the edges begin to show color.

Cool for 5 minutes before removing from sheet.
Notes
inspired by a recipe at debspots.com
Nutrition Facts
Oat and Sesame Tahini Chocolate Chip Cookies
Amount Per Serving (1 g)
Calories 186
* Percent Daily Values are based on a 2000 calorie diet.
Enjoy Chocolate Chip Cookie Week! I'd love to hear some comments on secret ingredients that you put in your chocolate chip cookies!
---
You may also like these recipes