Chunks of semi-sweet chocolate, coconut and banana chips mixed into a toasted Georgia Pecan Coffee Granola for a scrumptious breakfast or snack!
Georgia Pecan Coffee is one of my favorite coffee flavors.
Turns out a little extra caffeine kick in my granola is just the boost my breakfast needed!
A granola craving strikes about 4 times a year for me – it's on rotation. Sometimes it's fruity + flower-scented – like my Apricot Rose Granola – sometimes they are inspired by travels – like my Boothbay Harbor Granola – and in the fall it's always Apple Granola.
This rotation called for Coffee + Chocolate. Done in just 30 minutes and not super sweet – meaning mixing in chocolate after it cools is quite acceptable! Good chocolate makes all the difference – I've been buying Guittard's super cookie chips. I'm not sure if it's the flat wide shape that make them so melty and irresistible, but I'm a fan. The addition of banana chips and coconut chips give it a hint of the tropics.
What's better than coffee, chocolate and a little tropical flair!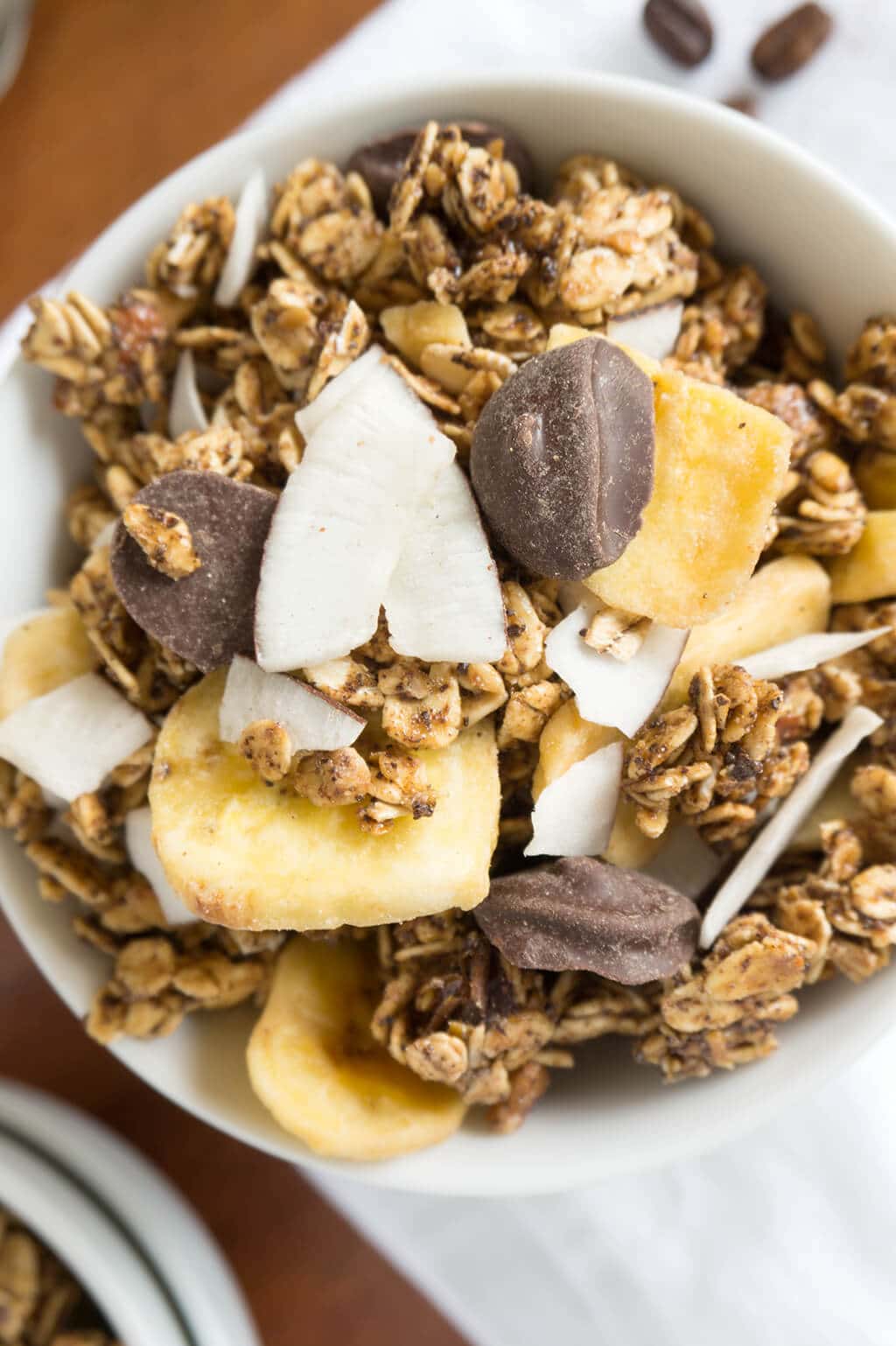 This basic granola recipe can be altered to suit any flavor combo!
PIN THIS Coffee Granola!
Warm oatmeal is a staple most of the year, but a nice crunchy granola may be just the change you need in your morning routine! Coffee is always part of mine!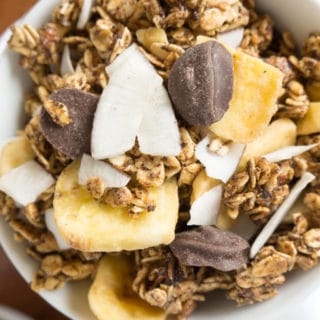 Georgia Pecan Coffee Granola
Crave this almost as much as your cup of joe. Or just go ahead and eat them together for maximum efficiency!
Instructions
Preheat oven to 325 degrees F.

In a large mixing bowl, combine oats, pecans, flaxmeal, dates, and ground coffee.

In a small pot on the stove over medium-low heat, combine the almond butter, brown rice syrup, vanilla extract, salt, cinnamon and water. Whisk until smooth. If the mixture seems thick, add 1 tbsp of water at a time to whisk to a smooth pourable texture.

Add the warmed almond butter mixture to the bowl with the oats and mix together until distributed evenly

Spread the mixture in fairly even layer onto a rimmed baking sheet so pieces are touching to create clusters.

Bake for 25 minutes until crisp and starting to brown. Stirring/flipping the mixture after 15 minutes. Note that it will continue to crisp up as it cools.

Let cool on baking sheet, then add coconut chips, banana chips and chocolate. Stir gently to incorporate without breaking up the clusters.

Store in an airtight container at room temp.
Nutrition Facts
Georgia Pecan Coffee Granola
Amount Per Serving (1 g)
Calories 337
* Percent Daily Values are based on a 2000 calorie diet.
More recipes picked for you