Chocolate Almond Pillow Cookies have a secret to reveal. Inside these puffy little gems is a pocket of chocolate almond delight. This pillow cookie recipe is stuffed with almond paste and chocolate in the center.
Almond paste + Dutch-processed Cocoa Powder create a chocolate filling that's irresistible – especially if you love almond flavor and rich chocolate. Dutch cocoa powder is key to the richness and dark color. 
The first time I had this type of cookie it was a Fresh Market pillow cookie. Theirs are just almond and are amazing, but I need more chocolate in my life. As we all do, right?
I based my stuffed pillow cookie idea from a recipe I tried a couple weeks ago. It had apple pie stuffing – so delish! (recipe here)
How to Make Almond Pillow Cookies
These Chocolate Almond Pillow Cookies have a buttery soft outer shell with a filling that tastes like chocolate almond amaretto. Tucked into each ball of cookie dough is a smaller ball of filling. The cookie dough folds around the filling and gets rolled into a smooth ball and dressed with some sliced almonds! They are a perfect almond Christmas cookie!
Step 1: Roll the chocolate dough into balls.
It's best to prepare all the chocolate dough balls first.
Step 2: Make a center well in the almond dough and Place the chocolate ball in the center.
It's a lot of fun to make these cookies! Tucking the chocolate balls into the middles is the best secret to reveal later!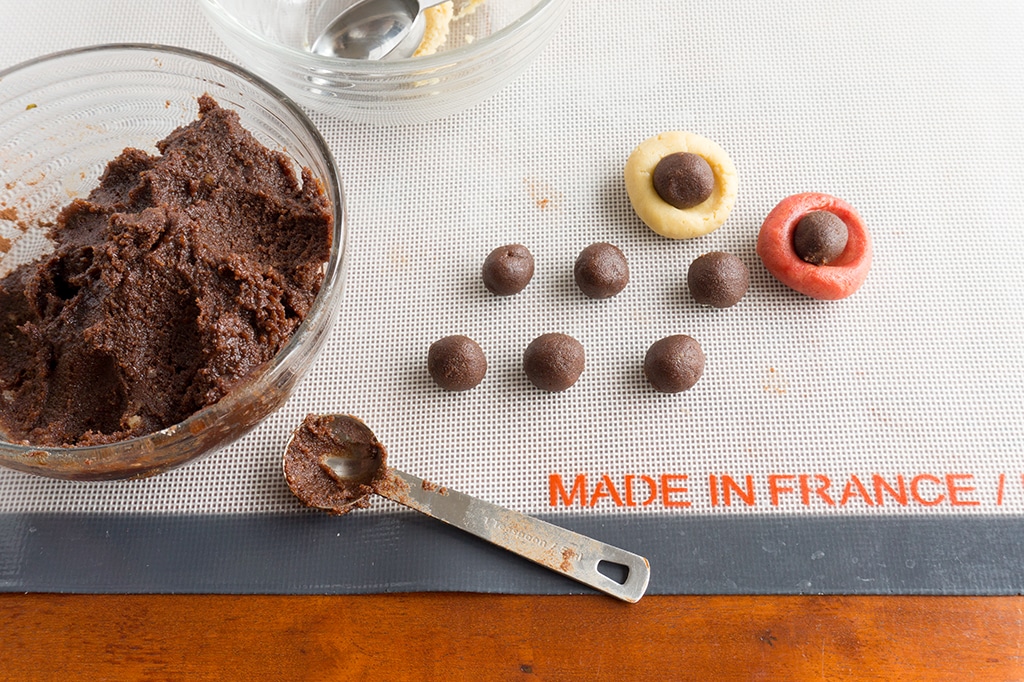 Step 3: Seal the dough around the edges and add almond slices if using.
I did a few with some red food coloring and some without almonds, but I decided I like the plain version with sliced almonds the best.
Step 4: Bake + Let Cool. Dust with sugar.
Once the cookies cooled, they were ready for a blizzard! You could even stir some cocoa powder into the powdered sugar for a chocolate blizzard.
Ok. Here comes the fun part. Slice one in half and find the secret pocket of chocolate almond. I like to tell no one it's there and let them discover it!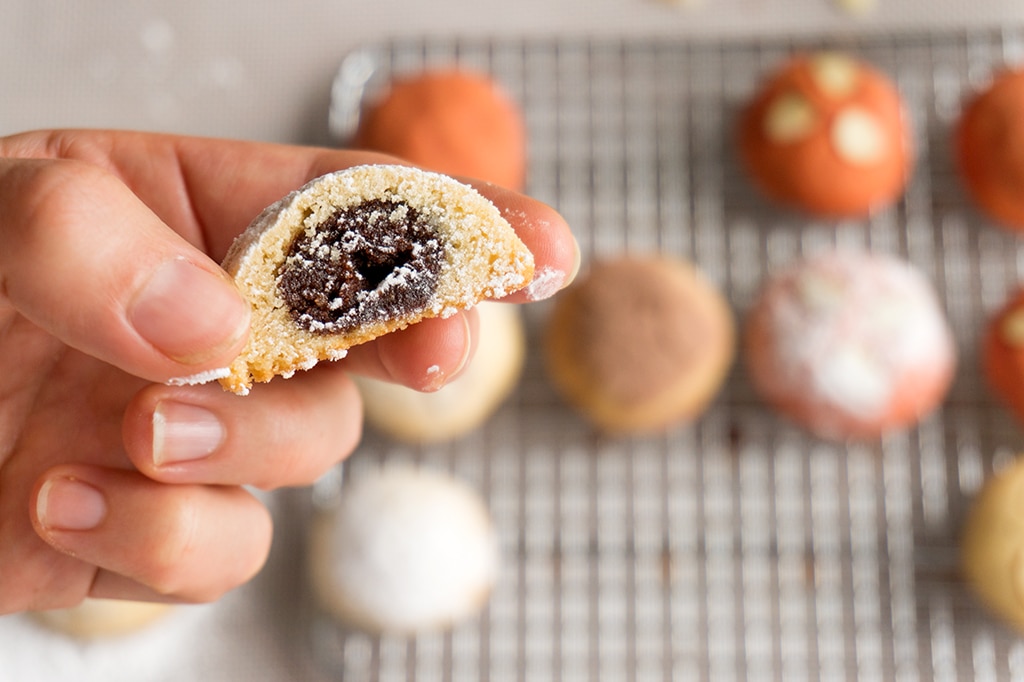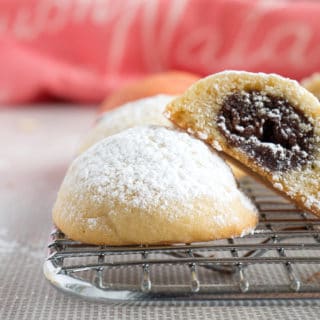 Chocolate Almond Pillow Cookies
These almond pillow cookies are stuffed with almond paste and chocolate in the center! A perfect Almond Christmas Cookie!
Ingredients
Cookies
1/2

cup

butter

softened slightly

1/2

cup

shortening

3/4

cup

granulated sugar

1/2

cup

light brown sugar

packed

2

eggs

1

tsp.

almond extract

2 3/4

cups

all-purpose flour

1 1/2

tsp.

baking powder

1/4

tsp.

salt

sliced almonds for decoration
Instructions
Chocolate Almond Filling
In the bowl of a stand mixer, blend all filling ingredients until incorporated. Place in fridge until ready to use.
Cookie Dough
In the mixing bowl, add in the butter and shortening. Using a paddle attachment on medium speed, mix until combined. Scrape down the sides of the bowl.

Add granulated sugar and the brown sugar. Mix on medium until light and fluffy.

Add in the almond extract and one egg at a time. Once both eggs are incorporated, scrape down the sides of the bowl.

Add in the flour, baking powder, and salt. Mix on low until the flour starts to combine with the wet mixture. Scraping down the sides as you go. Turn speed to medium to thoroughly combine.

Chill for 1 hour before using.
Assembly + Baking
Preheat oven to 350 degrees.

Line your cookie sheet with parchment paper.

Scoop up about 1/2 T of dough and roll into a ball. Repeat this with all dough and set aside.

Scoop about 1/2 tsp of filling and roll into a ball. Repeat this with all dough and set aside.

After all the dough is prepped, make a well in the center of the dough using your thumb, add a small filling ball into the middle.

Stretch and press the sides up over the top of the filling ball until covered. Roll to a smooth ball.

Gently press in sliced almonds for decoration.

Place on baking sheet leaving 1 to 2 inches between each cookie.

Bake for 12-15 minutes depending on the size of your cookies.
Nutrition Facts
Chocolate Almond Pillow Cookies
Amount Per Serving (1 g)
Calories 140
* Percent Daily Values are based on a 2000 calorie diet.
---
BAKING TIPS:
When baking cookies, if the bottom of your cookies seem to be browning too fast, slide another cookies sheet under the existing. This will add a little insulation and prevent over browning.
Try making homemade almond paste. Recipe here!
---
Perfect gifts for the baker in your family! As a Rodelle brand ambassador, I'm proud to use and support the use of baking products that are both top quality and socially responsible – what better gift is that?
---
This post may contain affiliate links to amazon.com and other affiliate programs. Products purchased through these links help support Oat&Sesame at no cost to you and are very much appreciated. This post was created in partnership with Rodelle. OatandSesame is proud to be a Rodelle brand ambassador to help promote social responsibility in the marketplace. 
More cookie recipes