An insider's travel guide to Flagstaff, AZ. From hiking, biking, eating and just hanging in this magnificent mountain town.
When I walk around Buffalo Park and take in the landscape here in Flagstaff, I pinch myself. We're so lucky to live in such a beautiful place.
Growing up in the flatlands of Illinois, the mountains were always calling! After college, I moved to the Blue Ridge Mountains in Asheville, NC. A few friends were living there and while visiting them, I met my husband. Asheville was good to me, but graduate school and jobs took us all over – Tucson, AZ, Tallahassee, FL, Scranton, PA and finally to the mountains of northern Arizona.
We're here to stay.
We've lived in Flagstaff for just under a year now and have a pretty good handle on our favorite places to eat, hike and bike. With our first summer underway, I'm excited to gather more amazing tips for traveling and eating here.
This is my guide to Flagstaff, AZ …so far.
---


Where to Hike in Flagstaff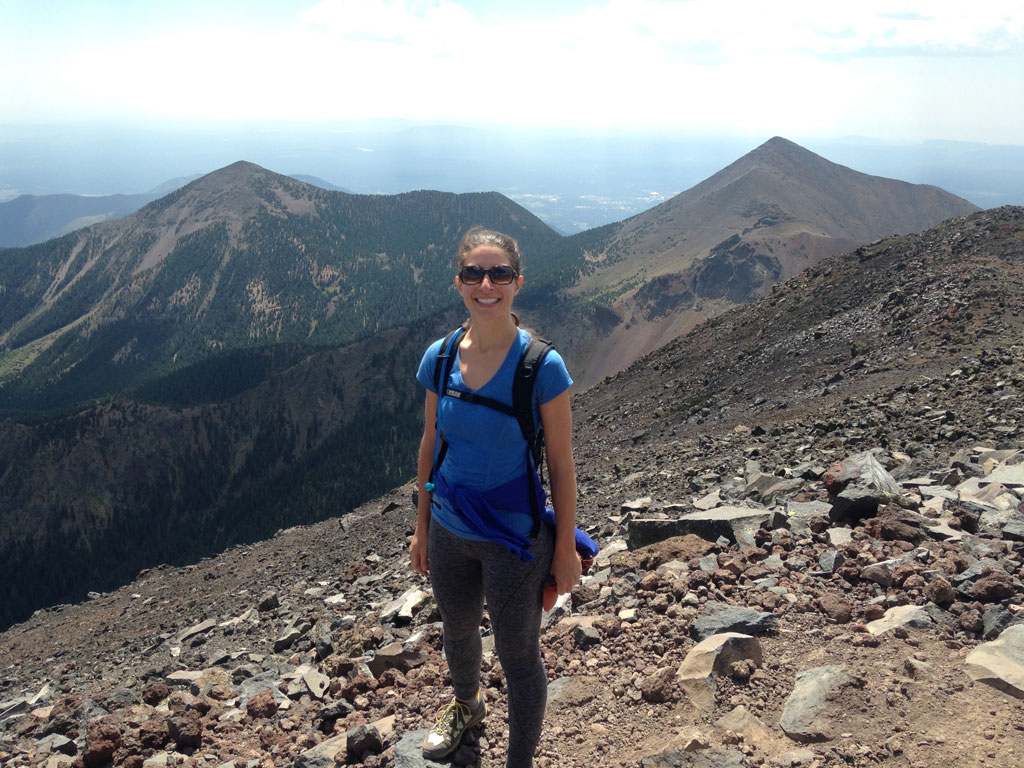 Humphreys Peak – we do this hike once a year. It's a 10 mi hike that's pretty strenuous with a 3,000 foot elevation gain. My best advice is to take it slowly, enjoy the views, bring a hat and long sleeve as it gets windy and give your legs some rest with snack time – your legs will thank you later!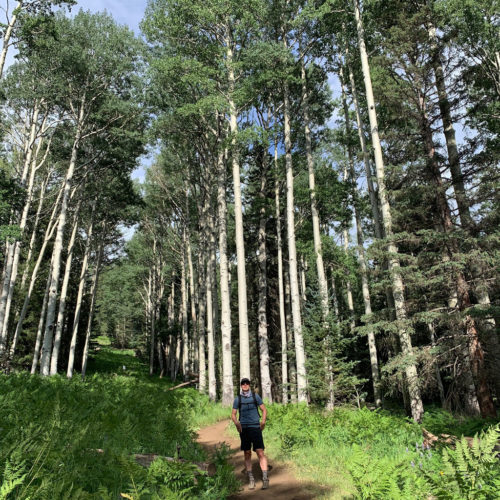 Kachina Trail – this 5 mi trail connects to Weatherford. It's a beautiful and easy trail starting at the Snowbowl parking lot that traverses through aspen groves. The first 1 to 1.5 miles are extremely easy. Then you'll get to an area where there will be some rock scrambling. It's shaded, cool and just a great hike to do all summer long. This out and back trail means you can make it as short or long as you would like!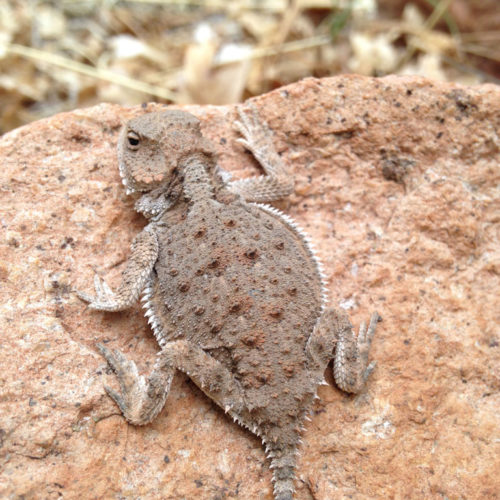 Sandy Seep – we recently discovered Sandy Seep and the trails that connect in this area are some of my very favorite. There are great views of Mt. Elden, Sunset Volcano and surrounding mountains. The last time we went, we saw colorful birds and horny toads. Did you know horny toads shoot blood out of their eyes as a defense mechanism? Watch a Youtube video – it's nuts.
Rogers Lake / Gold Digger Trail – the trails in this area open up to Rogers Lake – a wetland habitat that is currently dry. Elk migrate through this area and there is a viewing platform with binoculars. The Gold Digger to Two Spot trail is an easy 5 mi loop consisting of forested trail with a really nice covered picnic table about halfway through the hike. The highest point of the trail has a small turn off to the left up to a viewing bench. It's a nice spot to take some time to sit and relax.
Buffalo Park – with fantastic views of the San Francisco Peaks these trails are flat, smooth, wide open and are for all fitness levels. The 3 mile main loop is my go to for a lazy weekend walk. In the heat of the summer, you may see a tarantula walking across the trail. At dusk, deer graze in the meadows. A few times a year are official stargazing nights – if you're lucky you might catch one of those events and see why in 2001, Flagstaff became the world's first "International Dark Sky City."
The Arboreteum at Flagstaff – it's a dusty dirt road to get here, but an easy trail meanders through beautiful gardens. Great for bird watching. The Arb has lots of summer events – including a concert series. A new butterfly house is perfect for an adventure with the kiddos.
Where to view elk near Flagstaff, AZ?
The best place to view elk is off Lake Mary Road south of Flagstaff. There is an overlook at Morman Lake. Bring binoculars and view the herds! Plus you get a great view of the mountains from here too!
---
PIN THIS TRAVEL POST + PLAN A VISIT!
---
Historic Sites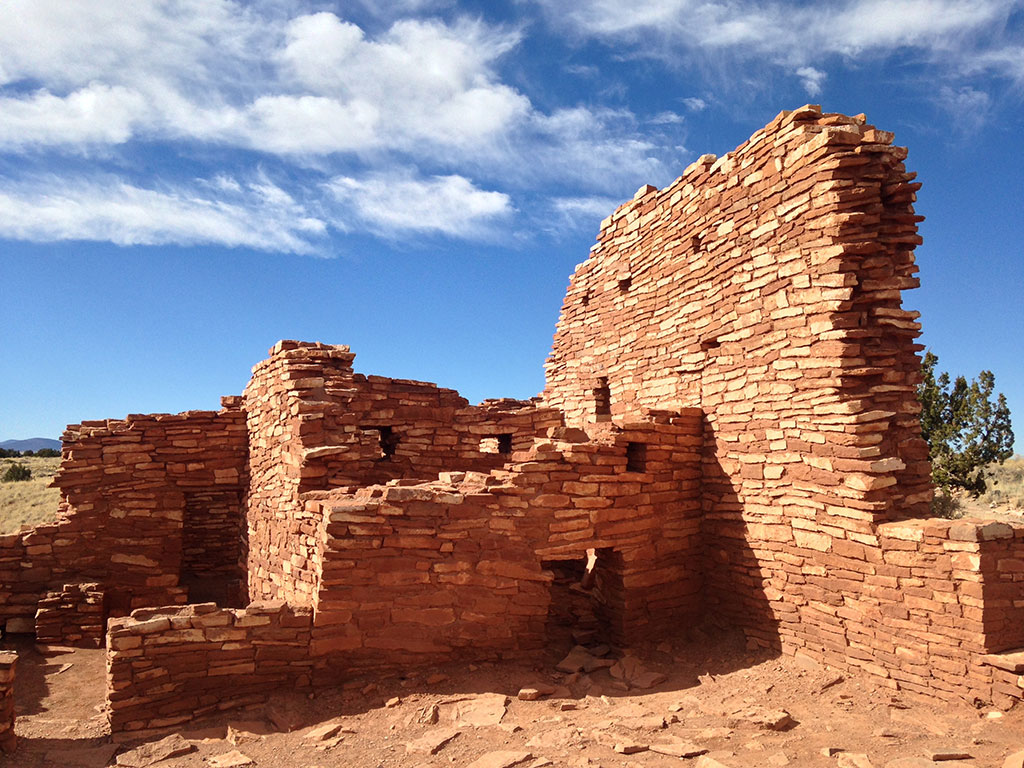 Wupatki National Monument/Sunset Crater Loop
This is perhaps one of my most favorite places to go. The 30 mi loop road within Wupatki to Sunset Crater Volcano is so incredibly beautiful.
There are views of the Painted Desert, volcanic lava fields, ponderosa pine forests and of course the back side of the San Francisco Peaks. It's amazing. And a perfect road biking ride. The monument is dotted with ancient pueblos to explore, the biggest site is located at the visitor's center. Bring a lunch + plenty of water because there is nothing out here and you'll want to spend lots of time exploring.
Walnut Canyon National Monument
Short trails hike along ancient pueblos, allowing you to get up close. It's a beautiful canyon and can easily be visited in just an hour or two if you are limited on time.
Other sites to visit:
Lava Tubes, Meteor Crater, see my other Arizona posts – Sedona, Canyon de Chelly, Tucson.
Flagstaff Biking (all trails are multi-use)
Fort Tuthill – Soldier Trail and Highland loops are perfect for beginner mountain bikers (like me!) Not too rocky and lots of rolling, smooth single-track.
Campbell Mesa Trail System  – on the east side of Flagstaff is Campbell Mesa. This is another great spot for beginner mountain bikers. The trail is smooth and wide open. There are very few rocky spots. Several loops connect to give you plenty of options.
Schultz Creek Trails – If you're up for some good climbs and more technical riding. The trails leaving from the Schultz Creek trailhead are perfect for the experienced biker. There are also lots of great hiking trails in this area. We hiked part of the Weatherford Trail to the Kachina Trail last fall to view the aspen groves.
Now that we've worked up an appetite, let's eat in Flagstaff!
Flagstaff Restaurants

Breakfast
(B)
/ Lunch
(L)
/ Dinner
(D)
Macy's European Coffee House (B + L)– all vegetarian options with outstanding biscuits + gravy. A full service coffee bar with plenty of pastries to satisfy your sweet tooth (the French cinnamon rolls will blow you away).
Tourist Home All Day Café (B + L) – bright + sunny with great outdoor seating, Tourist Home serves up some simple + healthy breakfast options. My favorite is the beet and potato hash drizzled with cilantro pesto, opting for avocado instead of chorizo. And the bakery selection here is pretty much mind blowing. I wake up thinking about eating here.
Brandy's (B + L) – with two locations in Flagstaff, Brandy's is a more traditional breakfast. Lots of egg options, pancakes, etc. They have a full coffee bar menu and a great vegan tamale. The reason I like Brandy's is the cozy atmosphere and warm, friendly service.
Coffee
Firecreek Coffee – strong + freshly roasted coffee – try a latte with cardamom syrup, a liège waffle or any of their delicious pastries. Beer, wine, local art and sometimes a show in the back room.
Single Speed – tucked next to the Motel DuBois, this is a recent rediscovery for us. Single Speed offers giant biscuit sandwiches, burritos and a delicious bakery case. However, I LOVE the dirty chai.
Potion Tea and Bakery (formerly Flagstaff Tea Co) – my newest favorite. This tiny tea (and coffee) shop has the most delicious tea combinations in town. Tucked off San Francisco, you could easily pass their small fold out sign. I loved the Green Tea Turmeric Coconut Latte. Don't pass it up if you need a great place to rest your feet!
Flagstaff Community Market
On Sundays, you can find me at the Flagstaff Community Farmers Market.  It's open 8am to Noon and delivers up some fabulous breakfast finds. I have a small addiction to Molly's Tamales – they use no lard or shortening in their tamales!
For lunch, I love the Baja Street Tacos usually next to the quiche booth.
Pizza
Pizzicletta (D) – it's a small place with only a few tables – the biggest is a community table. Order your pizza from next door at Mother Road Brewing Company – that way you can enjoy a beer too! And if you're up for a perfect trifecta – try their gelato (my fav is half vanilla/half olive oil).
Fratelli (L + D) – right around the corner from Pizzicletta, Fratelli offers up pies with a little more oomph – thicker dough, heavier on the toppings and more cheese coverage. They do have a Chicago deep dish option – which is good pizza, but being from Chicago I cannot label this as true deep dish. Let's just call it thicker.
Grimaldi's (L + D) – located at Aspen Place at the Sawmill shopping complex, Grimaldi's coal fired pizza has a big menu with plenty of seating. The pizzas are really delicious – a little on the expensive side, but worth the splurge. As an added bonus, Majestic Marketplace is just a few shops down – where you can choose from quite the selection of local beer + speciality liquor to-go or enjoy it at the bar or patio. I've heard a whiskey bar is soon to open in the same shopping center too!
Burgers + Sandwiches
Diablo Burger (L + D) – If loads of seasoned fries and burgers are what you are craving, this is the place. It's great for vegetarians too – the veggie burger (pictured to the left) is what I go for!
Proper Meats + Provisions (L + D) – from burgers to sliced deli sandwiches, Proper has a little bit for everyone – including vegetarians! My favorites are the veggie muffuletta and the veggie burger! Bahn Mi, Po' Boy, cheesesteaks all served with a side of homemade chips.
Mexican
MartAnne's (B + L + D) – portions are huge, so be prepared to fall into a food coma directly after eating here. Delicious horchata and chilaquiles. If you are ok with heading a little outside of the main downtown area, visit their other restaurant – Casa Duarte – they have many of the same menu items including the horchata, but it seems to have smaller portions. I order a couple tacos and for a treat, the Mangoneada – it's a tangy mango smoothie with swirled with tangy chamoy sauce, lime juice, and chili powder then decorated with a tamarind straw.
Asian
Pato Thai (L + D) – this place is usually packed! We really like the pad thai here and any of the flat noodle dishes.
Sosoba (L+D) – you can never go wrong stopping at a noodle shop – ramen, udon, bao buns – and they can make almost anything vegetarian. This one has some really unique dishes with lots of flavor. Surprisingly, my favorite dish is their Tokugawa Salad – the dressing is addictive. Go for halfy hour and enjoy high class cocktails and noodles bowls at great prices!
Swaddee Thai (L + D) – Swaddee is a little more cozy. Our friends who have lived in Thailand swear that this it the best Thai in Flagstaff.
Healthy + Delicious
Square Root Burger (L + D) – This plant based food truck sits in the Hops on Birch parking lot. Which means you can order up and then go grab a beer and enjoy both on the Hops on Birch patio. With some innovative combinations, these super healthy veggie burgers served with a side of tots smothered in beet gravy will satisfy your every craving, yet keep you feeling strong and healthy! That beet gravy is da' bomb!
Creative Good Food
Nomads Global Lounge (D)– tucked in the Motel Du Beau, this eclectic restaurant serves up a new menu every month – from African stew to Yucatan chicken. There's always something for everyone in this cozy restaurant – it's perfect for date night!
Shift (D) – a tiny restaurant sort of tucked amongst shops on San Francisco Street, serving up meticulously prepared small plates. The menu changes almost daily and is fresh, innovative and focuses on using local ingredients.
Brews + Cocktails
FLG Terrior Wine Bar and Bistro – Hidden spot on the second floor of a musty old building. Just enter the space and you're in a chic and modern bistro/bar. Great wine and food!
Hops on Birch – this craft beer bar has a great selection to choose from with 34 rotating taps and live music – there's not a bad night to be here!
Rendevous Coffee House/Bar – a casual hangout space for coffee or a cocktail located in the historic Hotel Monte Vista. Head to the cocktail lounge in the back for pool tables and darts, and live music.
Historic Brewing Co. – Historic is our favorite place to grab a brew. They always have an interesting beer selection and serve pretty good pub fare.
Mother Road Brewing Co. – with an award-winning IPA – Tower Station and serving up pizza from next door at Pizzicletta – Mother Road is the perfect way to spend an evening.
Other great brew pubs: Beaver Street Brewery, Dark Sky Brewing, Lumberyard Brewing Co., Wanderlust Brewing Co.
Flagstaff Shopping
Bright Side Book Shop– you know those book shops you just hang around in and browse for an hour – this is one of those places. Lots of interesting books and gifts to peruse.
Old Town Shops – Located on Leroux Street, this indoor shopping mall has a few cute boutiques – Sage Brush Trading, PJ Chilcottage and the Basement Marketplace (my niece's favorite), a bbq joint and lunch spots. It's also home to the Flagstaff Chocolate Company.
Salt + Peak Boutique has a little of everything – cards, handmade candles, soaps and bath salts. It's super cute and a great place to find gifts to take home.
Fool's Gold is mostly upscale clothing and accessories. Lots of cool items to check out. They have a jewelry making studio in the back of the store.
Shoes and Such is a small shoe and clothing boutique with a wide variety of styles for young adults through the hippest of hipsters. There are always good finds in this shop!
Outdoor Stores – if you forgot something for your Grand Canyon trek – no problem, we have a gazillion sporting goods stores here: Aspen Sports, Babbitt's, Mountain Sports, Peace Surplus,REI to name a few.