Tropical Black Beans & Rice is a plant-based rice bowl, full of tropical flavors with mangos, coconut, lime, peppers, avocados, cilantro and a surprise cameo of golden beets! 


How to make Tropical Black Beans and Rice
These vegan black beans and rice bowls combine my most favorite beets – the golden ones – with juicy fresh mango, cilantro, black beans and roasted poblano peppers.
Step 1: Roast Beets
Beets take around an hour to roast depending on their size. See instructions on how to roast beets for tips. Once they are cool enough to handle, you can peel them.
You may even get some picky eaters to eat beets in this recipes since the golden beet pieces look just like mango pieces!
Step 2: Make Coconut Rice
By adding shredded coconut on top of the rice while it steams you infuse an extra bit of coconut flavor into the rice.
Step 3: Roast Peppers on a gas stovetop (or use broiler method).
For quick roasted peppers, simply use metal tongs and hold each pepper over a gas flame. Blacken each side and place in a bowl covered tightly with plastic wrap. This steams the pepper and make the skin just slide right off when cool enough to touch. If you don't have a gas cooktop, no worries, just pop them under the broiler in your oven – keeping a close eye and flipping them as they blacken on each side.
Step 4: Prepare + Chop all other ingredients.
Rinse the black beans, peel and chop mangos,  chop cilantro, and slice the avocados and lime wedges.
How to peel a mango quickly
I have a favorite kitchen hack for peeling mangos with a drinking glass. See this post for step-by-step instructions on how to peel a mango.
Step 5: Combine all into a large bowl + enjoy!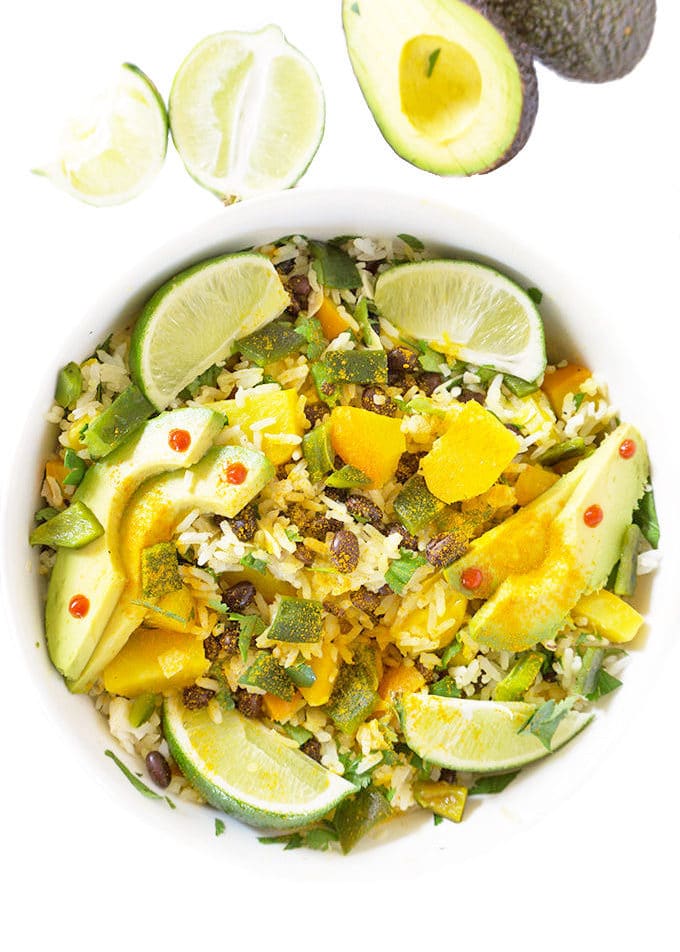 CHEERS to a healthy week ahead with healthy food in bowls!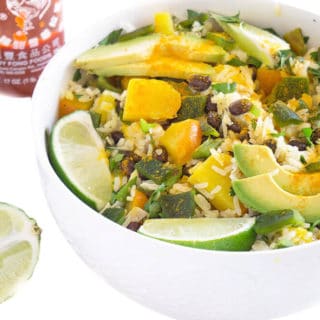 Tropical Black Beans and Rice
Tropical Black Beans & Rice is a plant-based rice bowl, full of tropical flavors with mangos, lime, peppers, avocados, cilantro and a surprise cameo of golden beets! 
Keyword:
black beans, mango, rice, vegetarian
Ingredients
6

small golden beets

roasted, peeled and cubed

2

poblano peppers

roasted, peeled and chopped

1

cup

dry jasmine white rice or brown rice, cooked

1/4

cup

unsweetened coconut flakes

pinch

salt

1

can black beans

rinsed

2

ripe mangoes

peeled and chopped into bite sized pieces

2

ripe avocados

sliced

1

bunch cilantro

rinsed and chopped

2

limes

sliced in to wedges

salt to taste

turmeric

sprinkle on top

sriracha

optional for topping
Instructions
Wash and trim the greens off the beets. Wrap in foil and roast at 400F for about 60 minutes depending on the size of your beets.

While the beets are roasting, prepare your rice and roasted poblano peppers.

In a medium saucepan, bring 1 cup of rice and 1.5 cups of water to a boil. Adding a pinch or two of salt.

Turn the heat to low, add coconut flakes to the top layer and cover. Approx. 20 min for white and 30-40 for brown followed by a 10 minute rest. (Follow the rice package instructions.)

Next roast the poblanos on a gas cooktop with tongs over an open flame. Turning with the tongs as each side blackens - the whole process should take about 3-4 minutes per pepper. (You may also roast these in the oven on a rimmed baking sheet alongside the beets - the cooking time will be much shorter than the beets)

Once blackened, place peppers in a sealed container - tupperware or plastic bag - seal and let rest for about 10 minutes. Once cooled, remove the peppers, peel off skin and chop.

Prepare all the other ingredients: rinse beans, chop mangos and cilantro, slice the avocados and limes.

Combine everything into a large bowl except for the avocado which should be place on top of each serving.

Liberally squeeze with lime juice and a sprinkle of salt and turmeric.

Top with an extra lime wedge. Squeeze of sriracha optional.
Notes
*I also like to squeeze the pit of the mangos to get any extra juice into my rice bowls!
Nutrition Facts
Tropical Black Beans and Rice
Amount Per Serving (1 g)
Calories 347
* Percent Daily Values are based on a 2000 calorie diet.
More salad recipes for you