Have you ever tried Avocado Brown Rice? It's rice mixed with a creamy avocado sauce and it's delicious just by itself. For this easy meal prep recipe, avocado brown rice is tossed with roast sweet potatoes, fresh mango, and black beans for a tropical, packable lunch that will get you out the door to conquer your work week.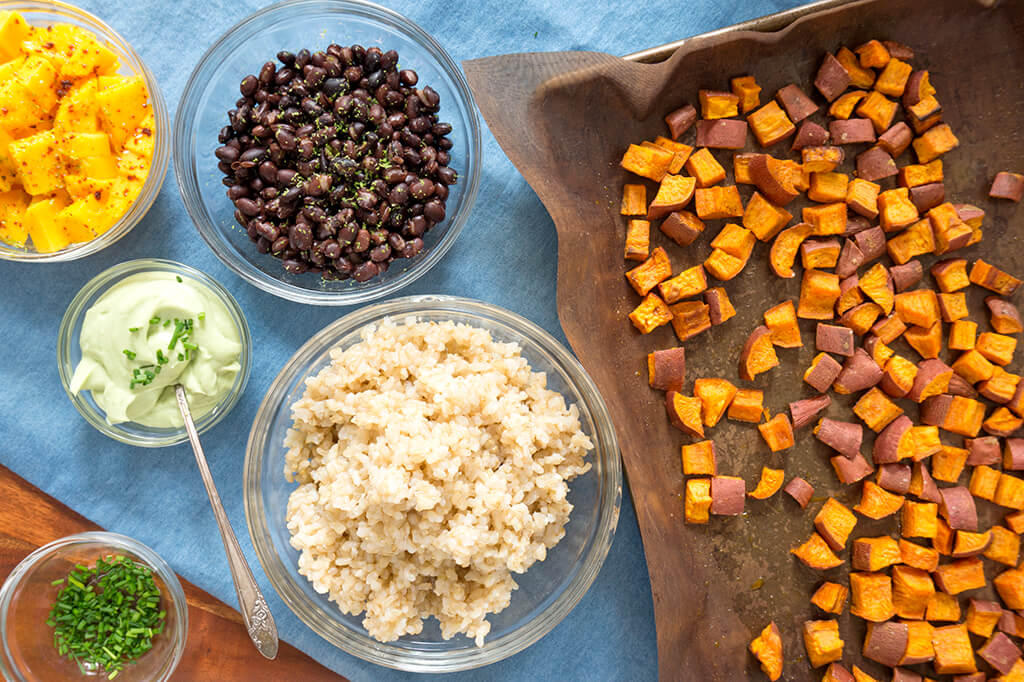 We all struggle with peeling mangos, right? They're slippery and have that annoying center pit that seems impossible to figure out where it exactly is located in the center of the mango. On the other hand, the end result is bright, juicy chunks of sunshine. And then if you're like me, you get a little messy biting off all the leftover bits stuck to the pit.
I saw a kitchen hack for peeling mangos and I've started using it – it does work! You'll still have a few pieces that you'll trim from the pit, but the rest is a cinch.
How to Peel a Mango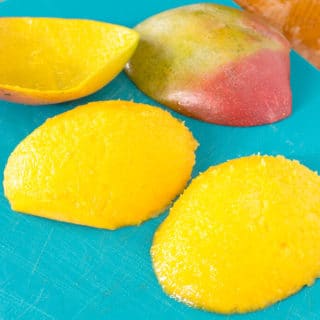 Slice off each side of the mango as close as possible to the pit.
Using a rimmed glass that's roughly the same width as your mango slice, wedge the edge of the glass between the mango skin and flesh. Don't be afraid to push a little hard to get it going.
Put pressure down on the skin to slide the flesh into your glass. As a bonus, there will be a few sips of juice in the bottom of the glass, so drink up!
You get perfectly peeled mango halves – ready to dice into chunks, no peeling required – yay!
Note: the mango needs to be ripe to make this work well.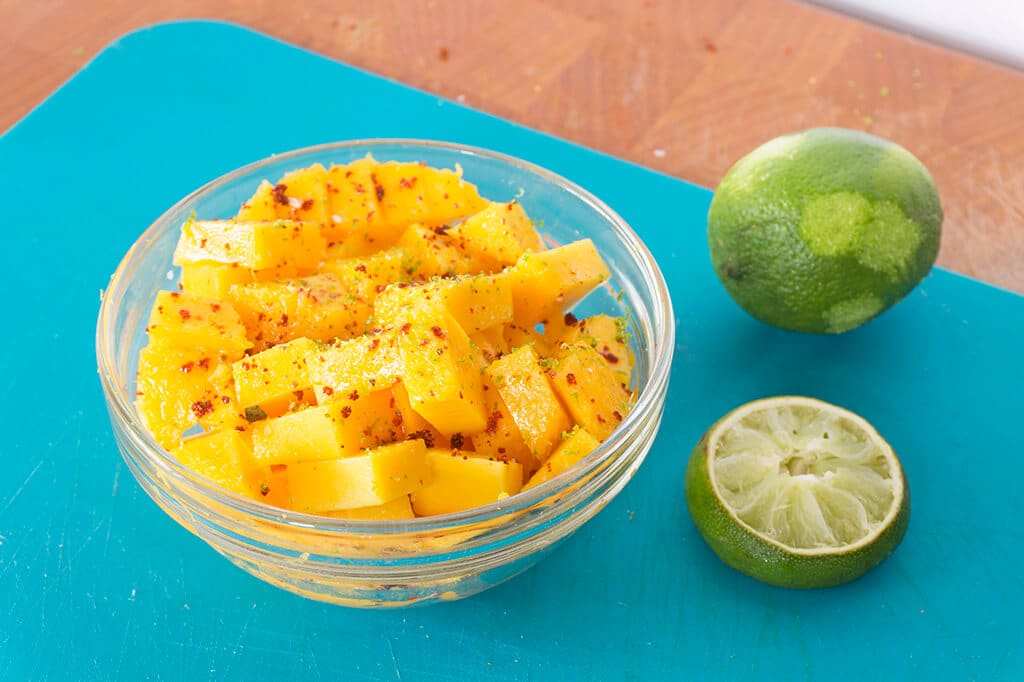 Mango is delicious with chili powder and lime zest. Serve it as a topping or side dish for taco night – yuummm – these shrimp tacos with spicy sriracha mayo go well with a side of mango salad.
And of course, you can just be a purist and eat it straight. Onto the Avocado Brown Rice…
---
How to Make Avocado Brown Rice
Avocado Brown Rice is one of my favorite bases for vegetarian meals. Mixing creamy seasoned avocado dressing into cooked rice is all it takes to create the next level of yumminess.
Add a variety of seasonings to create so many different flavor profiles:
for Mexican flavors try chili powder, cumin and lime juice
for garlicky flavors – well, add garlic!
for bright salads – try lemon juice and oregano
any fresh herbs can be added, I prefer to chop them and mix them in gently rather than blend them in the Cuisinart.
Check out these recipes for Marinated Portabella Mushroom Caps.

How to Make Avocado Dressing
To make this Simple Avocado-Lime Dressing you'll need:
2 Limes
1 Avocado
Kosher Salt
Mayo
Water
Seasoning/Herbs of your choice
Will Avocado Dressing turn brown?
Typically Avocado Dressing is made with lemon or lime juice, the citric acid from the lemon/lime juice helps prevent browning. I've kept mine in the refrigerator – plastic wrap placed on the surface to prevent air from touching it – and that's kept it from browning for days.
How long will Avocado Dressing last?
Avocado Dressing will last 3-5 days. I guarantee you'll finish it off before then.
---
PIN IT
you'll be very happy when you remember to make it!


Avocado Brown Rice with Sweet Potato and Mango
Roasted sweet potatoes, fresh mango, black beans and brown rice with a creamy avocado dressing for a tropical, packable lunch.
Course:
Lunch, Main Course
Ingredients
4

cups

chopped sweet potato (about 2 medium potatoes)

1

mango, peeled and diced

1

tsp

chili powder

1

15 oz can

black beans, drained and rinsed

1.5

tsp

Kosher salt (divided)
Avocado-Lime Dressing
1

avocado

1

Tbs

mayo (vegan or regular)

2

limes, zest and juice (about 2.5 Tbs)

2-3

Tbs

water

1/2

tsp

kosher salt

pepper

4

Tbs

chives, cilantro or parsley
Instructions
Prepare brown rice according to package instructions. My favorite brown rice is Lundberg Short Grain Brown Rice - which takes 45 minutes to cook - and I use a small dutch oven to cook brown rice because they have nice, tight fitting lids.

Add salt to the cooked rice, to taste. Once your rice is simmering, move onto the potatoes.

Chop sweet potatoes into 2" cubes. Toss with 2 Tbs olive oil and 1 tsp Kosher salt. Roast for 30 min @ 400F.

While the potatoes are roasting prep all the other components.

Peel and chop mango. Season mango with 1 tsp chili powder and zest of 1 lime. Set aside.

Drain and rinse black beans. Add zest of 1 lime to the beans. Set aside.

Prepare the the Avocado- Lime Dressing below.

Avocado-Lime Dressing
Combine avocado, lime juice, mayo, salt and pepper in a small Cuisinart. Blend until smooth adding water 1 Tbs at a time until desired consistency. Mix in any fresh or dried herbs. I used chives and saved some to top the finished dish. Season with more salt and pepper. Set aside.

Divide each component into 4 containers for meal prep - I add the avocado dressing to the top and mix when ready to eat.

Or divide between 4 bowls and top with avocado dressing. Mix everything together and enjoy immediately!


Don't forget to rate this recipe with 5 stars if you like it! It helps other people find this delicious dish!
Nutrition Facts
Avocado Brown Rice with Sweet Potato and Mango
Amount Per Serving (1 g)
Calories 520
* Percent Daily Values are based on a 2000 calorie diet.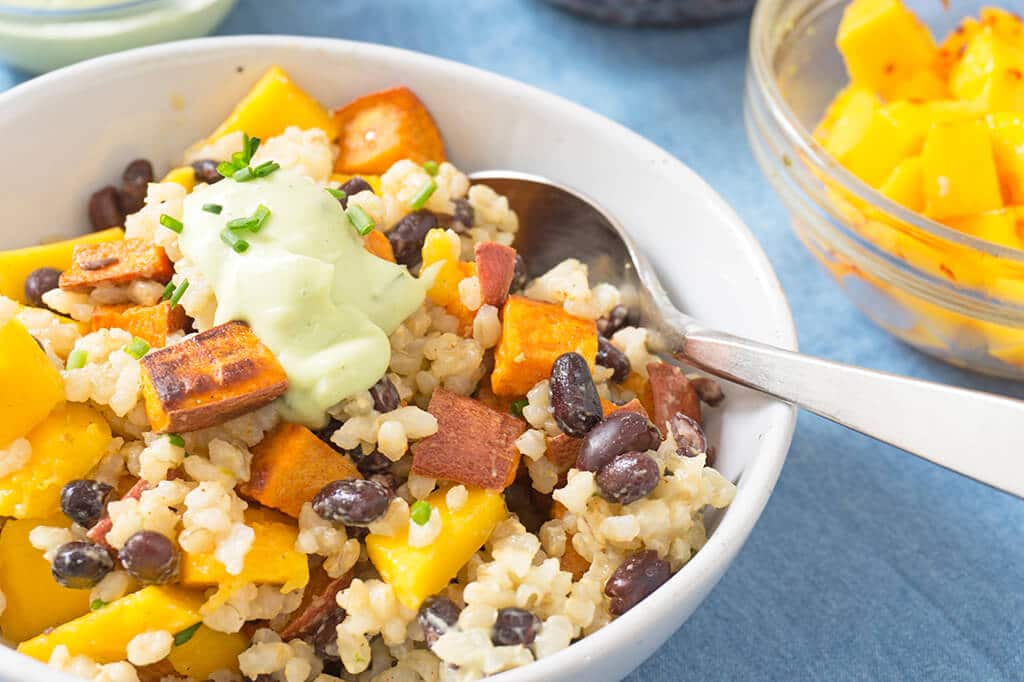 You may also like these recipes