A savory, Healthy Waffle Recipe with shredded zucchini. These vegan and gluten free waffles are made with garbanzo bean flour, flax eggs and shredded zucchini – then topped with juicy diced tomatoes + avocado. Nutrient packed, this healthy waffle recipe will keep you full all morning and is a great new addition to your breakfast routine. Freezable and toast-able, these waffles can be made ahead of time.
Egg tacos are our go-to breakfast and we almost eat them every single day. It's a little excessive – I know – but who doesn't love egg tacos loaded with veggies and topped with hot sauce? I small dice onions, potatoes, veggies and then get them all browned and crispy in a cast iron skillet…ok back to the real purpose of this post which is to share this egg-free breakfast recipe that is packed with plant based nutrition.
I needed something that would fill me up all morning, was loaded with savory ingredients, and that could stand up to this incessant craving for egg tacos.
Since beans are a super important part of our everyday diet – with the whole health benefits of soluble fiber thing and all – and I had a bag of garbanzo bean flour that I wanted to use up, I began a search for garbanzo bean flour waffle recipes.
After much searching, I found a savory waffle recipe that was packed with shredded zucchini! It was just my luck that I had an extremely late harvest of zucchini in my garden and I knew this recipe was the perfect base for my own take on a healthy waffle recipe.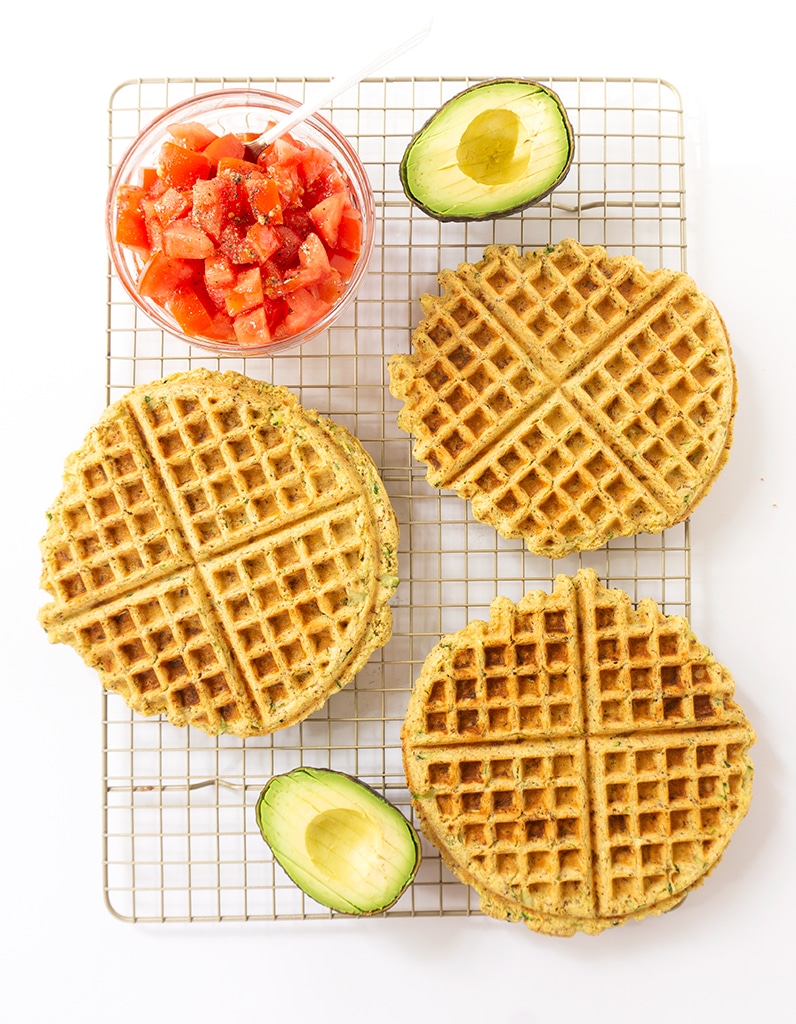 So here we are friends. The vegan and gluten-free Healthy Zucchini Waffles. Topped with diced tomatoes and their juices that soak into the waffle like syrup as well as healthy chunks of avocado. These are good, real good.
How to make healthy waffles
STEP 1: Prepare all ingredients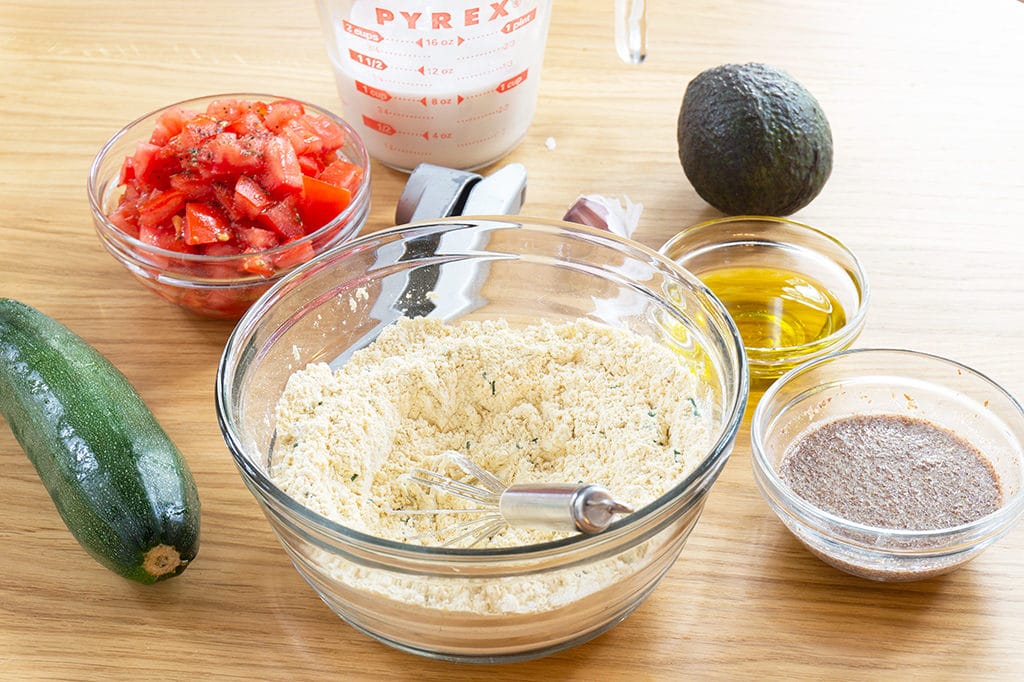 STEP 2: Mix dry ingredients in one bowl and wet ingredients in another bowl.
STEP 3: Mix together + waffle it!
Now don't go thinking that this is a light and airy waffle. It is most definitely not. It's crispy on the outside and the inside has substance. You won't be hungry after eating this waffle. I'm not saying this is a heavy waffle. I'm just saying that this waffle is nutrient packed that will fill you up. It's a healthy and delicious plant based meal.
If you're trying to go gluten free, egg-free or vegan or just want to change up your breakfast game, this Healthy Waffle Recipe is for you! They even make a great lunch or dinner – because we all know that waffles are for any time of the day.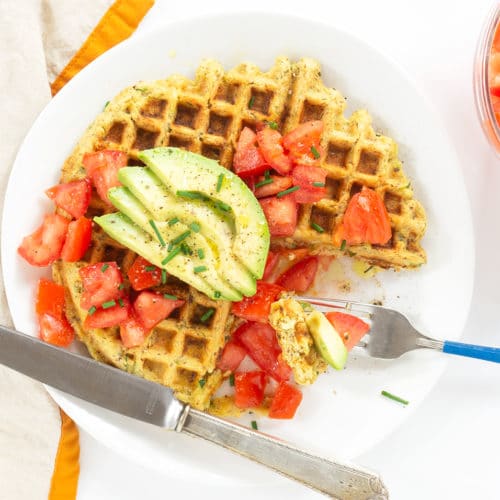 Healthy Waffles with Zucchini – Gluten Free and Vegan
A savory + healthy waffle recipe with shredded zucchini. These vegan and gluten free waffles are topped with juicy diced tomatoes, + avocado.
Course:
Breakfast, dinner, Lunch
Keyword:
healthy, savory, waffle
Ingredients
2

cups

garbanzo bean flour (recipe works with all-purpose flour as well)

1 1/2

teaspoons

baking powder

3/4

teaspoon

Kosher salt

1/4

teaspoon

freshly ground pepper

2

flax eggs

(1 flax egg = 3 Tbs water + 1 Tbs ground flax seed)

1

small zucchini

(about 2 cups grated using the course holes on a box grater)

1

cup

unsweetened almond milk

3

tablespoons

extra virgin olive oil + plus more to drizzle

2

tablespoons

fresh basil, finely chopped

(or other fresh herbs)

1

clove

garlic, minced
TOPPINGS
4

medium tomatoes, diced

2

avocados, sliced

olive oil, salt and pepper to top
Instructions
Make the flax egg by mixing water and ground flax seed – set aside.

Shred zucchini – pressing the shredded zucchini with paper towels to remove some of the moisture.

Mix dry ingredients – flour, baking powder, salt, pepper – in a bowl.

Mix flax eggs, zucchini, almond milk, olive oil, garlic and herbs in another bowl.

Combine both together in one bowl. Mix until all flour is incorporated.

Spoon into hot and greased waffle iron + waffle it!

While the waffles are cooking, prepare the toppings. Chop the tomatoes (make sure to include the tomato juice in the bowl with the tomatoes – it soaks into the waffle and it's so good). Sprinkle tomatoes with salt, pepper and a drizzle of olive oil. Slice the avocado.

Once the waffles are ready, top with chopped tomatoes and avocado, option to drizzle with olive oil and extra herbs and salt and pepper. Then SERVE IT UP!
Nutrition Facts
Healthy Waffles with Zucchini – Gluten Free and Vegan
Amount Per Serving (1 g)
Calories 423
* Percent Daily Values are based on a 2000 calorie diet.
more breakfast recipes for you