These fluffy Whole Wheat Apple Cinnamon Pancakes use the season's best apple cider to add extra apple flavor. Vegan and whole grain, these are more than just your typical sweetened pancake. Drizzled with an apple cider peanut butter sauce to add a little plant based protein makes them hearty and low in sugar. All the goodness of pancakes with ingredients that will nourish you!
This apple season I am definitely missing my yearly road trip through upstate New York and Vermont.
Since we just moved to Arizona I was really worried that there wouldn't be any apple farms, but there are. And I can definitely count on my local farmers market and Whole Foods to stock some fresh local cider.
What a relief! I love drinking a cup of warm cider throughout the fall season.
To make these vegan whole wheat pancakes:
I've used apple cider in place of milk.
Added ground flax seeds to boost the Omega-3s and act as an egg replacer.
And a little extra baking powder gives them extra fluff and cinnamon or pumpkin pie spice (make your own here) add fall flavor!
How to Make Apple Cinnamon Pancakes
Step 1: Slice Apples.
The first step is to slice your apples and start cooking them on your pancake griddle.
This is when an apple corer/slicer like this one comes in handy. Makes the job much faster and more consistent.
Step 2: Sauté apples.
While the apples are cooking on the first side mix all other ingredients in a large bowl.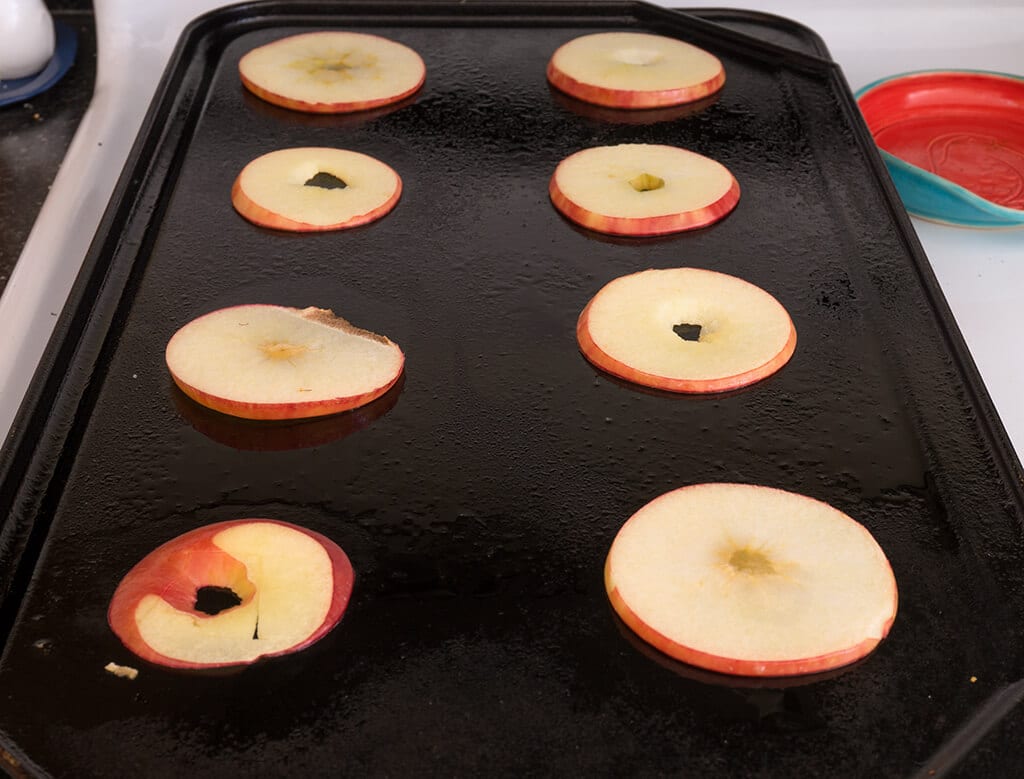 Step 3: Add pancake batter.
When the apples are slightly browning on one side, flip each one and pour approximately 1/3 cup scoop of batter over the top.
Cover the entire apple slice and let the batter spill over the edges to completely submerge it.
Step 4: Flip pancakes.
Flip when the edges have firmed up and you'll end up with a fancy whole wheat apple pancake with an apple piece in every bite!
Step 5: Apple Cider Peanut Butter Topping.
Here comes the good stuff – the apple cider peanut sauce!
A simple mix of warmed apple cider and peanut butter – just whisk it together and pour over the top.
Using Apples as a Sweetener
Apples may be nature's most perfect sweetener.
One of the best ways to sweeten baked goods is to use applesauce. It also acts as an oil replacement. Healthy + Delicious!
Making homemade applesauce with the season's best apples ensures that your baked goods will have lots of flavor and depth. This homemade applesauce recipe will get you just that!
Check out all my apple recipes here and find fall inspiration from salads to smoothies to cookies!
Hope these vegan Apple Cinnamon Pancakes fill your belly with goodness and start your weekend adventures with a smile! My weekend adventure will be hiking the aspen groves in Lockett's Meadow here in Flagstaff – enjoying some fall color and blue skies. #GetOutside
Whole Wheat Apple Cinnamon Pancakes - Vegan
Fluffy Whole Grain Apple Cinnamon Pancakes use the season's best apple cider to add extra apple flavor. Dairy free and whole grain and drizzled with an apple peanut butter sauce.
Keyword:
apple pancakes, whole grain pancakes
Ingredients
1

cup

fresh apple cider

1

tbsp

apple cider vinegar

2

tsp

vanilla extract

1/2

cup

all purpose flour

1/2

cup

whole grain flour

(whole wheat, oat, any combo works)

2

Tbs

ground flax seeds

2

tsp

baking powder

1

tsp

cinnamon or use pumpkin spice

1/4

tsp

salt

2

tbsp

sugar

1

large apple

sliced into 1/4" thick rings, tossed with 2 tsp sugar and 1/2 tsp cinnamon
Peanut Butter Drizzle + Optional Toppings
1/3

cup

fresh apple cider

warmed

1/4

cup

peanut butter

dusting of powdered sugar and/or nuts

to top
Instructions
Preheat a large griddle or pan on medium heat. Spray with non-stick cooking spray or a bit of coconut oil.

Slice the apple into twelve 1/4" thick slices using an apple corer or mandoline. A sharp knife will work as well, but is a little more difficult to get perfect slices and thickness.

Toss the apple slices with sugar and cinnamon.

Place on hot griddle, well spaced to accommodate the size of the pancakes.

While the apple slices are cooking on one side, whisk the apple cider, apple cider vinegar and extract together in a medium size bowl.

Mix the flour, flax seed, sugar, spices, baking powder, and salt together in a large bowl.

Add the wet ingredients to the dry ingredients. Whisk together until pancake batter is just combined.

When the apple slices have begun to lightly brown on one side, flip them.

Then pour 1/4 cup (more of less depending on the size of the apple slice) of the pancakes batter over the top of each apple slice, completely coating the slice and extending over the edges.

Cook on the first side for 2 minutes until several bubbles start to appear at the top of the pancakes and edges are firmed up.

Flip and cook for another 1-2 minutes on the other side until the apples have a nice brown color. Repeat until you have used all the pancake batter.

Top with apple-peanut butter sauce. To make this, warm 1/3 cup of cider in a pyrex measuring cup in the microwave. Stir in 1/4 cup peanut butter until emulsified, adding more warm cider if necessary. The sauce will firm up a bit as it cools.

Add a dusting of powdered sugar and optional nuts.
Nutrition Facts
Whole Wheat Apple Cinnamon Pancakes - Vegan
Amount Per Serving (1 g)
Calories 105
* Percent Daily Values are based on a 2000 calorie diet.
breakfast recipes selected for you