Athens, Greece Vacation Tips + A Tour of 3 Greek Islands. Where to go and what to do on mainland Greece and the Greek islands.
After two weeks traveling with my mom and sisters all over Greece, I highlight our favorite activities and destinations with helpful tips for traveling to Greece.
Our trip begins with two full days in Athens! Follow me on my Greece vacation itinerary as I try to see as much as I can in 12 days.
Last summer I met my mom and sisters in Athens where we started off on a two week Greek adventure. As you might imagine, I like to plan my travel itineraries around food. Mapping out all the new foods I want to try, restaurants I hope to find and, for this trip, a guided food tour of Athens!
Things to Do in Athens, Greece
Most vacations to Greece begin with a stay in Athens. Two full days in Athens was plenty to visit museums, ancient sites and just walk around the city. Three days if you want to see it leisurely and like to spend more time inside museums.
Take a Food Tour!
Alternative Athens Food Tour
I booked a food tour for our first full day in Athens. I figured we would be jet lagged, hungry and deliriously figuring out how to get around Athens. Having someone show us around sounded perfect for our first day.
While I am not a huge fan of tours, in this case, I think it was the best way to get acclimated to the city. Especially since everything was in the Greek alphabet.
Our tour guide was Katerina of Alternative Athens. She brought us all around the city into different neighborhoods, tasting everything from street food (like the Greek Sesame Bread rings in the photo above called koulouri) to gyros and moussaka and of course, plenty of desserts.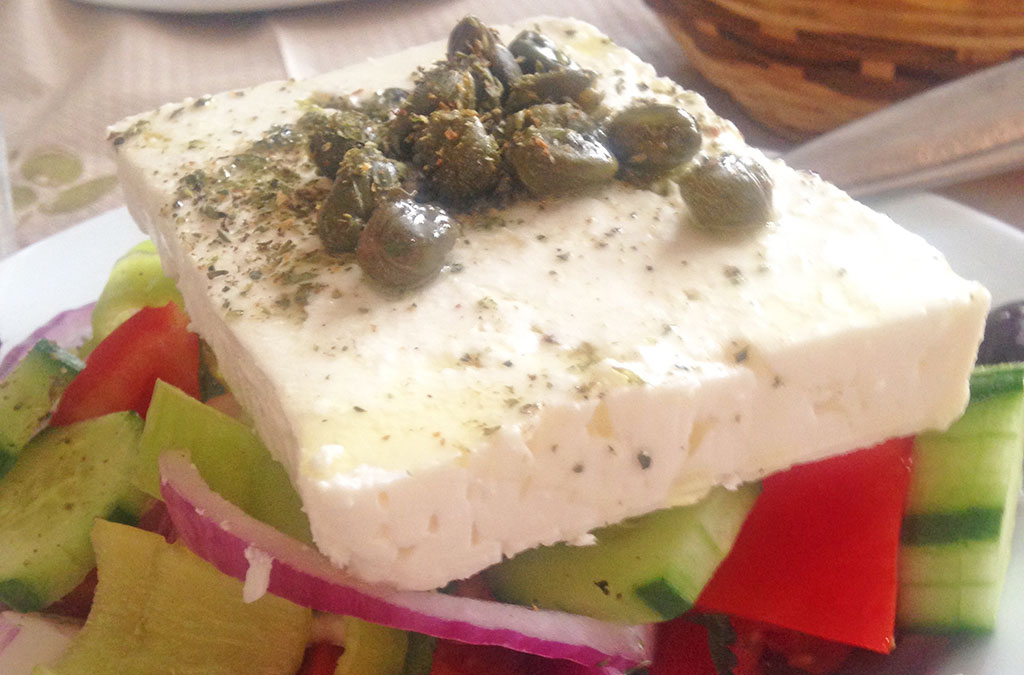 One thing I grew to appreciate is the massive hunks of feta cheese that came with every Greek salad.
We enjoyed a strong Greek coffee at a traditional kafenion, or coffee house. Oraia Ellas is one of the most historic cafés in Athens. Many influential public figures used to socialize here in the 19th century. You can make an entire coffee house itinerary for yourself using this kafenion guide.
One of my favorite stops was a tasting at the olive oil shop – Malotira Deli. They bring small organic producers from around Greece in one tiny little shop. We drank spoonfuls of olive oil and learned about Greek olive oil with the highest certifications of polyphenols. Yep, came home with a few small bottles of this liquid gold.
Katerina gave us small tidbits of history as we walked the streets of Athens. Which was a nice little side tour to all of the eating!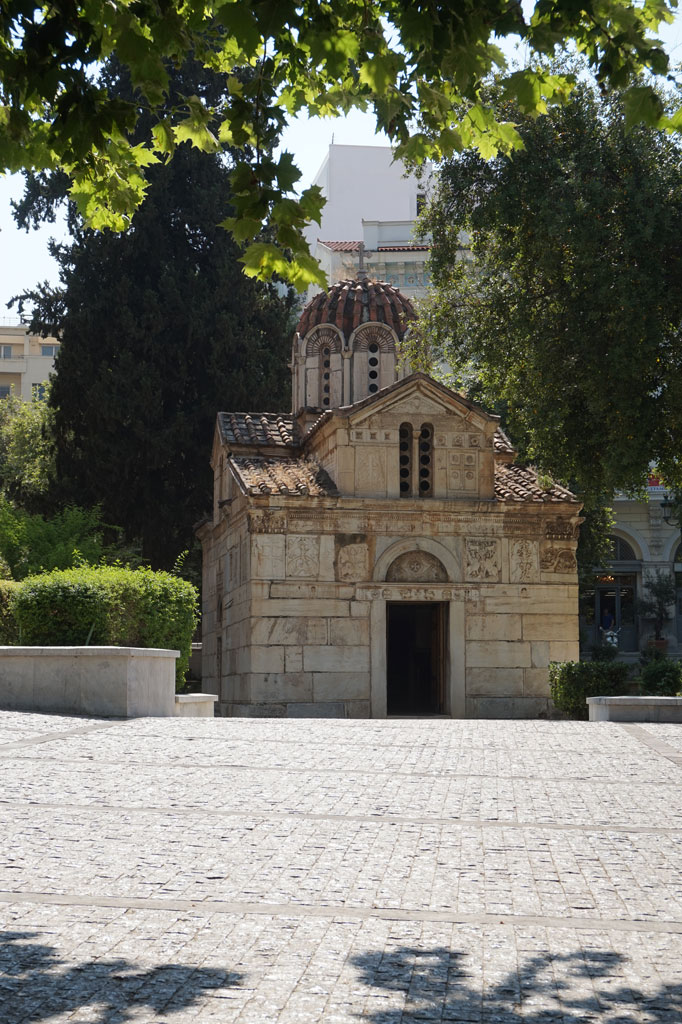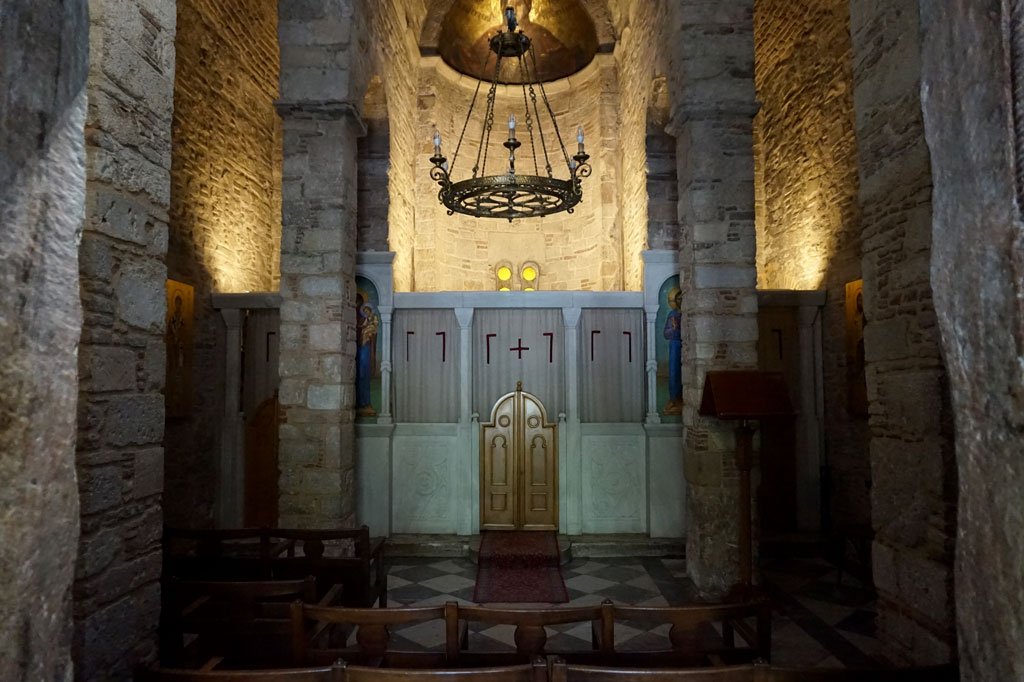 ---
Exploring the Acropolis
Towering over Athens, you'll see the Acropolis peek out when walking around Athens.
It's recommended to buy tickets ahead of time with a set tour time for entry to the Acropolis. Plan about 3 hours to leisurely explore the Acropolis and prepare for a crowd.
I'd recommend purchasing the Skip the Line Acropolis Tour which is basically a half hour historical tour ending at the Acropolis and then you get to go straight in, skipping all the folks waiting in line for tickets.
The hike up to the Parthenon is hot and super crowded; in some spots it was like herding cattle.
There are nice 360 degree views of Athens from the top!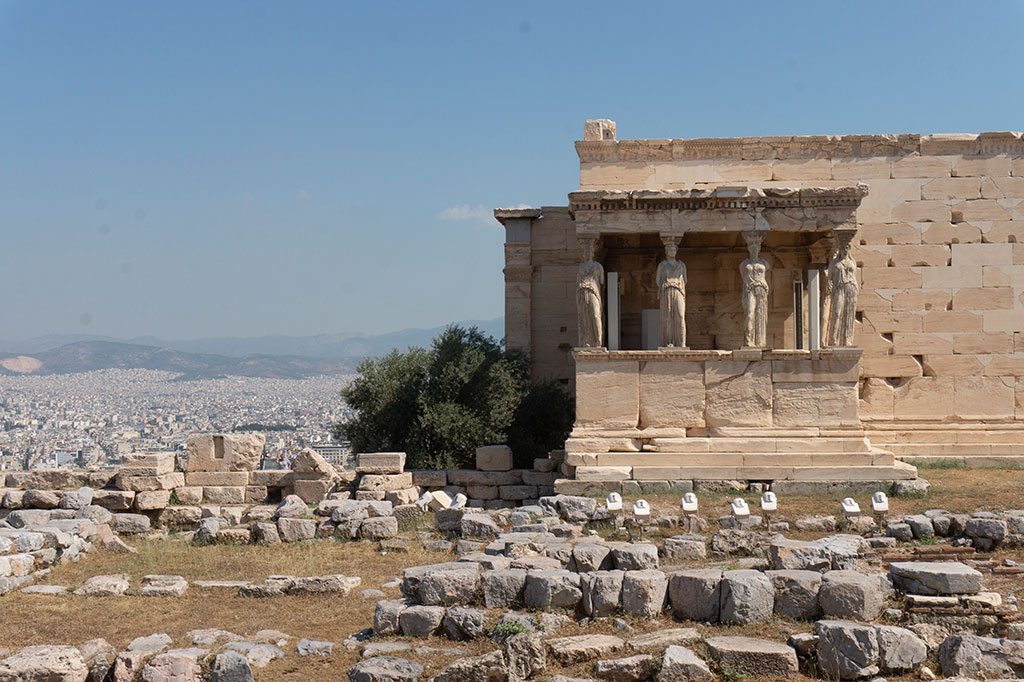 Afterwards we walked to the Plaka Stairs (Anafiotika steps) where there are little cafes that run the entire way up.
The next day we spent the early evening touring the Acropolis Museum, once again purchasing tickets online to have a timed entry.
There are hundreds of statues and the pieces of the marble Parthenon frieze that once adorned the temple are displayed here. It was sculpted between c. 443 and 437 BC!
If you plan it well, you'll see the Acropolis lit up at night from the huge glass windows.
Walking Around Athens – Guided Walking Tours
Rick Steve's Athens guide book has some great walking tours that make sightseeing in Athens pretty easy. Just walk, eat and enjoy getting lost in all the different neighborhoods of Athens. Sometimes you don't need a specific itinerary – just walk and take in what it feels like to be there.
Surprisingly, Athens has quite a lot of graffiti. One of our guides told us not to be worried, there are no gangs in Athens, just expressive youth.
Visiting The Ancient Agora and Museum
We spent an afternoon walking the Ancient Agora and the museum. There was a nice view of the Acropolis from the top.
Most of the agora is just large stone remains, but a nice walk through history.
Afterwards take a break to enjoy a Greek frappé at a café and people watch! There are a lot of cafés right off Adrianou street next to the Agora entrance. We enjoyed a coffee at Moma Rest & Cafe.
Eating in Athens
Deciding where to eat in Athens can be overwhelming with so many choices. Even with plenty of research beforehand, you really can't predict where you'll be when hunger strikes.
My best advice is just take a chance and be adventurous. Pick a few places to target and then be flexible. When in doubt, you'll always find a restaurant with souvlaki, potatoes and greek salad and gyros. Go simple. It will be less expensive and will probably be tastier!
For a nice, light meal I recommend Ergon House. It's a small cafe in a huge glass atrium. It has a small upscale grocery area, specialty items, wine, olive oil, etc. And desserts!
This appetizer was gruyere cheese wrapped in kataifi pastry, paprika, pistachios and Greek honey.
Ergon House was the first place I tried Mastiqua – which is a Greek sparkling water flavored with mastiha – a pine tree resin native to the Mediterranean. It is said to be healthy for your digestive system. It was a pleasant surprise to find Mastiqua available online after I got home!
It's also made into a liquor that's often "gifted" to you at restaurants in small shot glasses. It makes a great gift to bring home and Ergon House has it in very small bottles for super easy packing.
After two full days in Athens, we were off to visit the Greek Islands!
How to get from Athens to Santorini
We traveled by GoldenStar ferry to Santorini. Leaving at 7am, the trip took about 5 hours on a nice, comfy boat that was large enough not to feel the waves. Tickets are purchased at www.ferryhopper.com.

On to Santorini >>