Apricot Rose Granola is light & crispy with clusters of nuts, oats, and apricots – scented with rosewater for a delicate granola.
If you've ever bought a bottle of rosewater for a recipe and then had it sit around in your pantry for awhile, well, then you're like me!  I finally decided to dig it out from the back of the cabinet.
Speaking of digging – this weekend was filled with my favorite activity – Digging in dirt!
Saturday was volunteer day at the community garden that I've been working on since last spring. It's been such a slow process to get the project going and my impatience does not make the project go faster it just makes my brain go faster. Thank goodness there is a free mindful meditation class at work – it's helped keep me balanced. I think. 
There were a few yellow tulips and unidentified bulbs that I saved from the bulldozer. Now they are planted in my yard and a few in vases (like the one in the photos!)
Today we walked around the lake and then planted carrots, beets, broccoli and kale in my raised garden beds. We also rigged up a nice bean trellis. The winter apparently cracked my outdoor faucet so now I have a project for next weekend.
There are so many ways to prepare granola and each way produces a slightly different texture.
There is soft and chewy – like my Boothbay Harbor Granola.
There is crunchy cereal-like granola like this Almond Flax version.
For this one I wanted delicate crispy pieces that held together. After a little bit of research I concluded the best way was to use 1 egg white.  Well, I didn't want to include an egg white, so this recipe uses ground flaxseed and water to create a "flax egg" – keeping this granola an option for vegans and providing some healthy omega-3s.
I love the way rosewater smells. While the granola bakes it fills your kitchen. This granola has a wonderful mix of flavors that are soft and spring-like with the scents of orange and rose.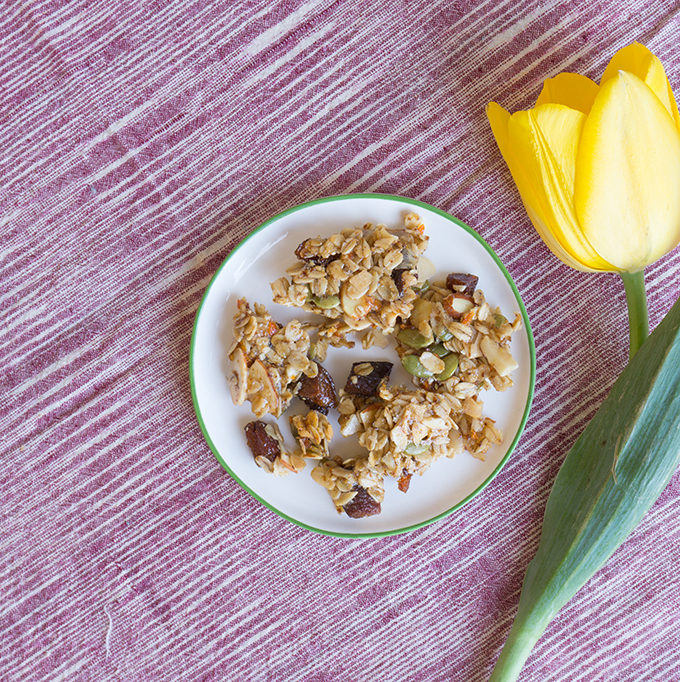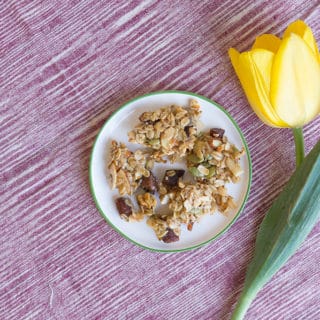 Apricot Rose Granola
A light & crispy granola with clusters of nuts, oats, and apricots - scented with rosewater for a delicate granola.
Instructions
Combine ground flax seed and water in a small bowl. Set aside.

Heat oven to 225F convention bake or 250F standard bake.

In a large bowl, add the dry ingredients: oats, coconut, nuts and apricots. Set aside.

In a saucepan, combine the coconut oil, brown rice syrup, brown sugar, salt and orange zest. Heat on medium-low and mix until the oil and sugars are throughly mixed. Remove from heat and whisk in the flaxseed mixture and rosewater.

Mix the dry ingredients with the wet ingredients and spread on a parchment lined rimmed baking sheet.

Press ingredients into an rectangle about 1/2" thickness.

Bake for 1 hour. Turn off heat and let cool in oven with door ajar.

Break into pieces and store in an airtight container.
Nutrition Facts
Apricot Rose Granola
Amount Per Serving (1 g)
Calories 365
* Percent Daily Values are based on a 2000 calorie diet.
More recipes picked for you