This Vegan Granola is crispy and slightly sweet with almonds, flax seed and dried fruit. It's a great base recipe for all kinds of delicious granola experiments.
Have you ever made homemade granola?
It's so expensive to purchase at the grocery store and you can't really control how much sugar they add. That's reason enough to make your own granola!
Making Vegan Granola
This Vegan Granola is perfectly crisp and lightly sweetened for a healthy breakfast or snack. It's so simple, you'll never buy it packaged again.
This recipe is a basic granola formula. Make any combination of flavors that you're craving!
Substitute or add any nut.
Select any dried fruit.
It's so much fun to experiment with different combinations and textures. Try these different types of granola recipes I've created over the years – soft cranberry granola, apricot granola clusters, and of course coffee granola with chocolate chips.
In this recipe I used baobab as the dried fruit of choice (photo above). Baobab is hailed as a super fruit. For the past year I've been obsessed with them. They taste like tiny diced mangos. In reality they are a combination of mango and apple puree mixed with with baobab powder. If you see them, try them – they're so good!
Other dried fruit that works well with this recipe include:
You should always mix in dried fruit to granola AFTER you bake the granola. If you bake with it mixed in, it will become super dry and sad.
Step 1: Mix wet ingredients in a large saucepan.
Heat honey, maple syrup, and mix together until a uniform syrup forms.
Step 2: In a large bowl, mix dry ingredients.
Step 3: Pour warm mixture over dry ingredients and stir until combined.
Spread the uncooked granola out on a parchment lined baking sheet.
Step 4: Bake for 30 minutes. Stirring occasionally.
Bake until starting to become golden brown. The granola will firm up as it cools.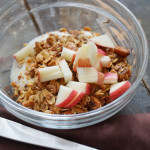 Homemade Vegan Granola with Almonds, Flax and Dried Fruit
Crunchy almonds, oats, flax seeds – sweetened with maple syrup and brown rice syrup for a buttery, maple flavored granola. Add dried and fresh fruit to top.
Instructions
Heat the oven to 325 degrees F. Line a rimmed baking sheet with parchment paper.

In a medium saucepan over, combine the brown rice syrup/honey, maple syrup, orange juice, coconut oil, and almond extract. Bring to a boil over medium heat, watching it so it doesn't boil over. Reduce heat, and simmer for 5 minutes, stirring often, until the mixture thickens a bit.

Mix the oats, flax seed, coconut, almonds, and sea salt in a large bowl.

Pour the hot honey mixture over the oat mixture. Stir to coat thoroughly, and spread evenly on the baking sheet.

Bake for 30 minutes, stirring occasionally until golden brown.

Remove from the oven, mix in your dried fruit of choice and let it cool completely. It will get crispier as it cools.

Serve with milk or on top of yogurt. Add some chopped fresh fruit for extra yum!
Nutrition Facts
Homemade Vegan Granola with Almonds, Flax and Dried Fruit
Amount Per Serving (1 g)
Calories 500
Calories from Fat 180
% Daily Value*
Fat 20g31%
Sodium 324mg14%
Protein 10g20%
* Percent Daily Values are based on a 2000 calorie diet.
More recipes selected for you