For a make ahead breakfast this week, try this Strawberry Rhubarb Baked Oatmeal. Rhubarb is now in season and you'll find ruby red stalks available at the grocery store or vigorously growing in your garden! Rhubarb is a vegetable, so adding it at breakfast means you'll get a little veggies in!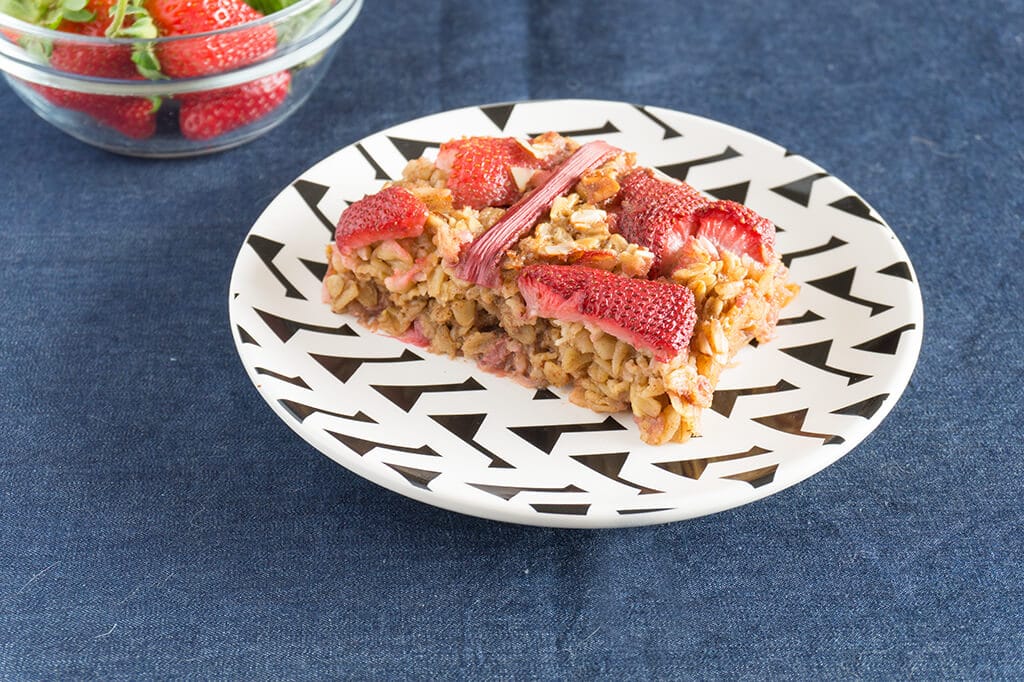 Need some ideas of what to do with fresh rhubarb?
Rhubarb Week has commenced and I'm ready to share everything related to my favorite spring vegetable.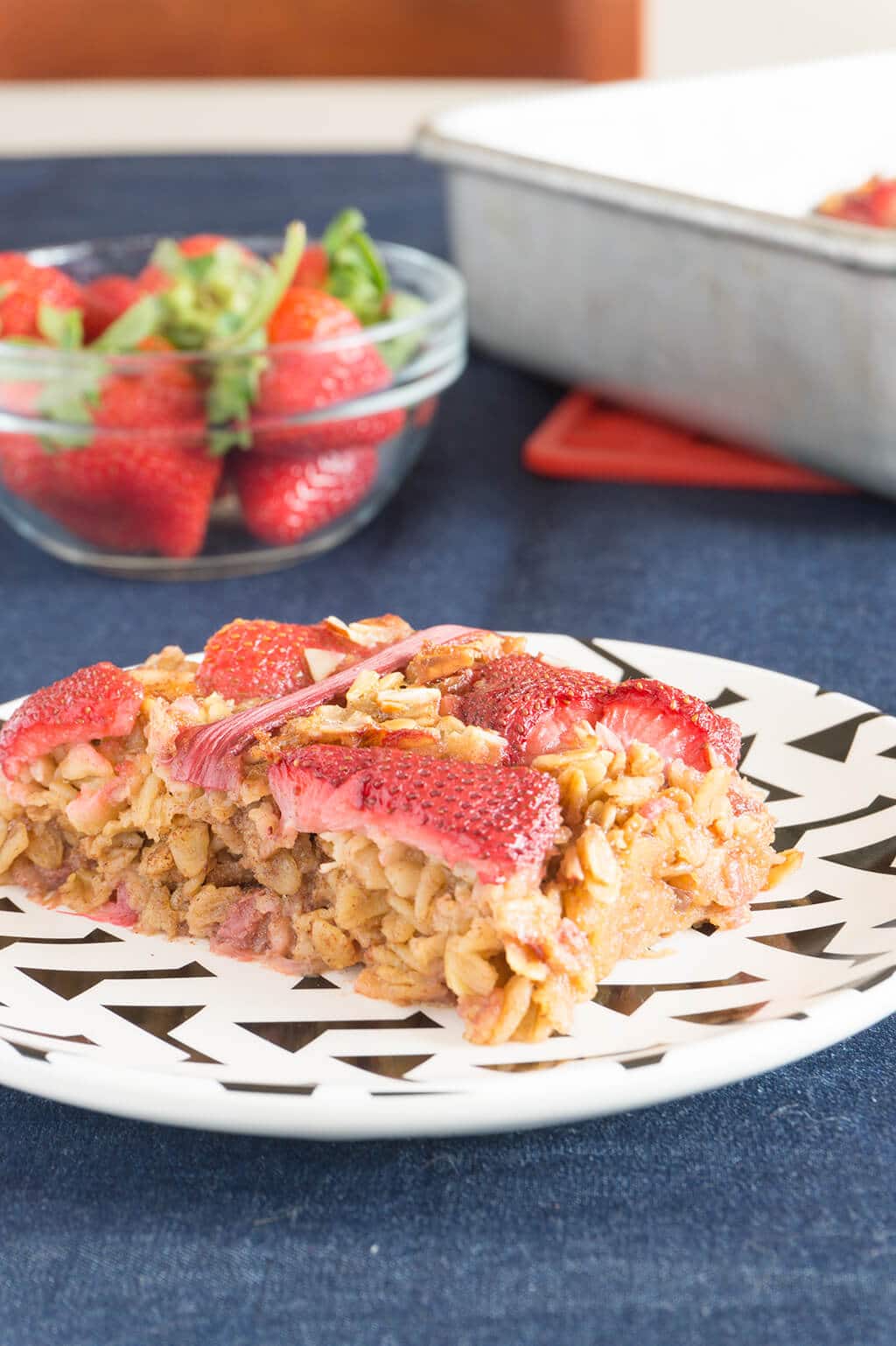 What does rhubarb taste like?
Growing up in the midwest I was always around rhubarb. I don't think you're allowed to have a garden without rhubarb!
The thick, tart stems were bright red and perfect for dipping straight into sugar. So as you might guess, rhubarb is tart and bright like lemons. As you bake rhubarb, it becomes slightly sweeter, but it always needs sugar!
The stalks are similar to celery – juicy and crunchy –  which makes it easy to chop into small pieces for baking. Below are some easy rhubarb recipes:
How to Make Strawberry Rhubarb Baked Oatmeal
This Strawberry Rhubarb Baked Oatmeal is a twist on my favorite baked oatmeal recipe from Super Natural Everyday. The flavors are bright and the sliced almonds give it just the right amount of crunch.
Step 1: Chop rhubarb and strawberries. Toss with sugar.
It's a pretty well known fact that strawberries always go well with rhubarb. Their natural sweetness helps balance the tartness of rhubarb. It's important that you choose good quality, sweet strawberries to start with, otherwise you might find yourself needing to add extra sugar.
Step 2: Mix dry ingredients.
This oatmeal bake is layered. After layering the fruit in the baking pan, evenly sprinkle dry mix over the top.
Step 3: Mix wet ingredients.
After combining all the wet ingredients, pour gently over the fruit + oat layers so not to disturb the layers.
Step 4: Top with Sliced Strawberries + Almonds
A final layer of sliced strawberries and almonds makes a pretty topping. Sprinkle with brown sugar for a sweet crunch.
Step 5: Bake + Enjoy!
I do not include a lot of sugar in this recipe – it is breakfast after all. After baking a small drizzle of maple syrup is all you need in this healthy baked oatmeal to get just the right amount of sweetness.
---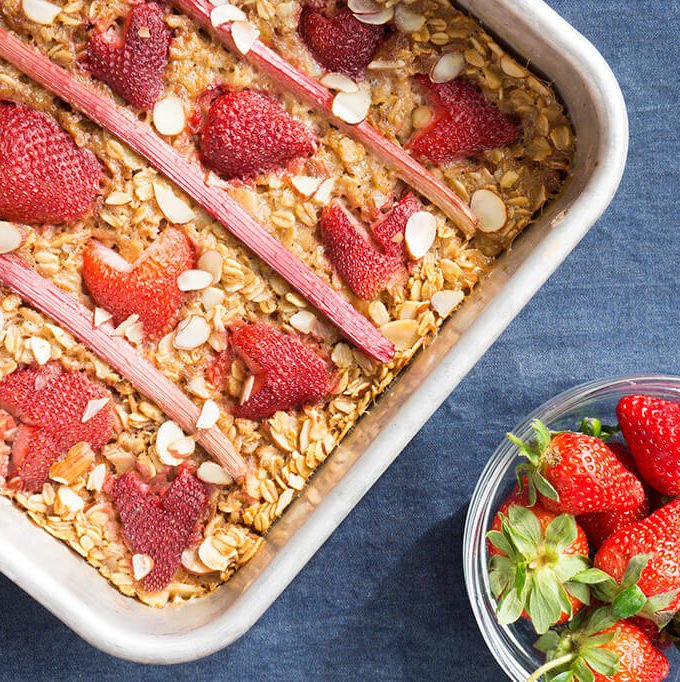 Strawberry Rhubarb Baked Oatmeal
When rhubarb season hits, start off your day with a healthy strawberry rhubarb oatmeal bake! Broil the top for extra crispiness!
Keyword:
strawberry oatmeal bake
Ingredients
4

stalks fresh rhubarb

about 8" long, finely chopped (save a whole stalk for topping if desired)

1

tsp

granulated sugar

juice of half a lemon

1.5

cups

diced strawberry, plus more halved pieces top top

2

cups

old-fashioned rolled oats

1/2

cup

sliced almonds

lightly toasted and divided

1.5

tsp

ground cinnamon

1

tsp

baking powder

1/4

tsp

kosher salt

2

cups

milk of choice (oat milk, almond milk, light coconut milk, etc)

1/3

cup

maple syrup

1

large egg or flax egg

1

tsp

almond or vanilla extract

a couple pinches of brown sugar
Instructions
Preheat oven to 375F. Rack on top third of oven.

Grease an 8" square baking dish.

Place chopped rhubarb and strawberries on the bottom of the dish, sprinkle with 1 tsp of granulated sugar and juice of half lemon. Set aside.

In a large bowl, mix oats, HALF of the toasted almonds, baking powder, cinnamon and salt. Distribute evenly over the strawberry rhubarb layer in the pan.

In another bowl with a handheld mixer, blend maple syrup, milk, egg, and extract until a little bit frothy.

Pour slowly over the oat mixture, letting it settle into the oats and shaking the pan a little to distribute the milk through to the bottom of the oats.

Place the remaining sliced strawberry pieces over the top (and thinly sliced rhubarb stalk if using). Sprinkle with remaining toasted almonds. Add a few pinches of brown sugar over the top.

Bake for 45-50 minutes until the top is golden and mixture has set. Scoop into bowls and drizzle with maple syrup for extra sweetness if desired.
Nutrition Facts
Strawberry Rhubarb Baked Oatmeal
Amount Per Serving (1 g)
Calories 230
* Percent Daily Values are based on a 2000 calorie diet.
more rhubarb for you