This Beet and Avocado Salad is bright and healthy! Slices of roasted beets, fresh grapefruit, avocado and a tangy dressing topped with nuts and seeds for an outstanding flavor-packed salad!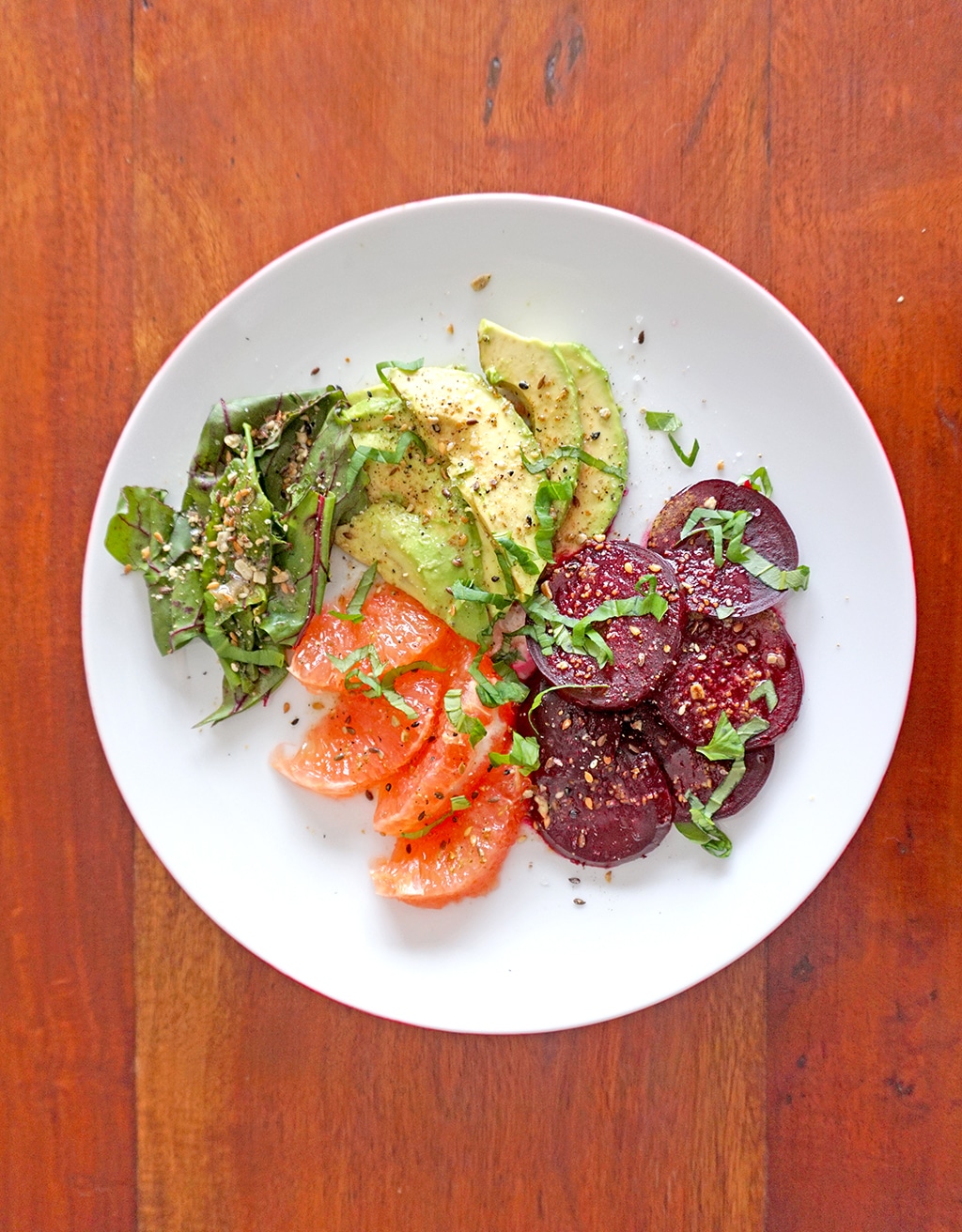 I came across this Beet and Avocado Salad in the NY Times.  I had never had an avocado grapefruit salad. And definitely not one with beets!
---
How to Cut a Grapefruit for Salad
I admit that I'm usually pretty lazy about sectioning grapefruit or any citrus really. My in-laws have it down to a science and their sections are always perfect.
This it their tried and true method to section fruit:
Using a paring knife, trim all the skin off the fruit down past the white pith.
Keeping the fruit whole, use the paring knife to slice vertically down each segment directly next to the thin skin that sections off each segment.
You'll want to do this over a bowl so you can catch all that delicious juice and use it or drink it when you're done!
---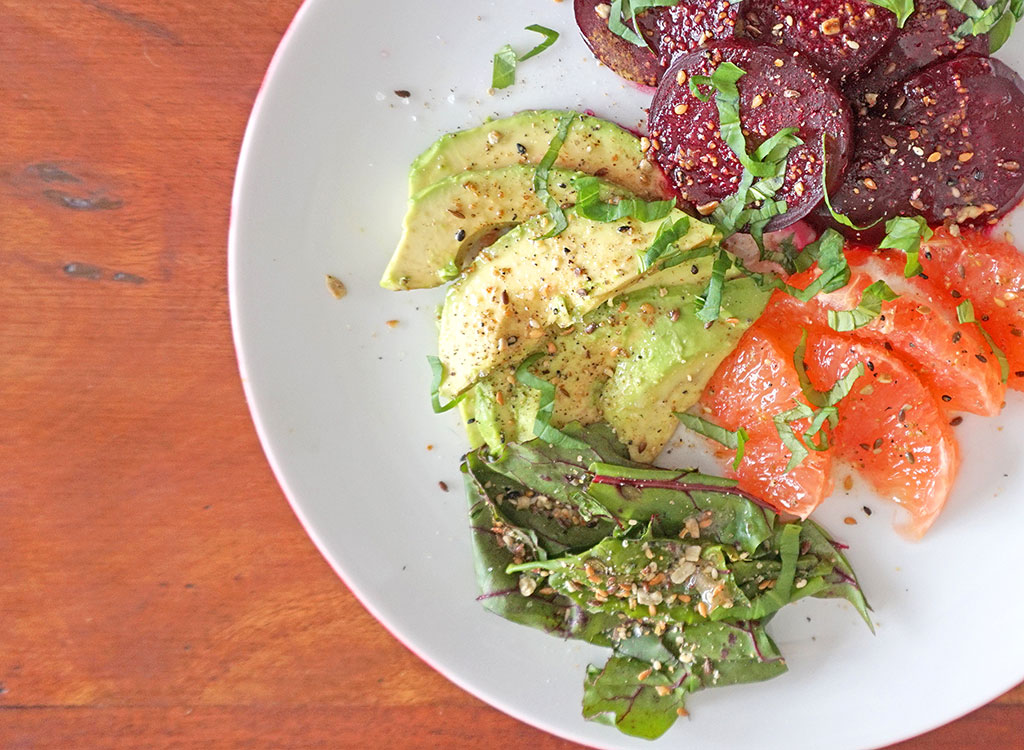 This beet salad recipe had all the elements I was looking for – brightness, flavor and freshness to drag me out of this winter dreariness. 
January seems like the end of winter, but it's just the midpoint really. There's all the New Years hype and then it just seems like it takes forever to get back into a healthy groove.
By the time March rolls around I am ready for sunshine and gardening.  I can barely wait to rip open my new seed packets and get those little seedlings going.
In the meantime, while the snow continues to fall, I crave something fresh and light – a salad with bursting flavors that reminds me of the colorful flowers that will soon bloom.
This combination of sweet winter grapefruit, roasted beets and creamy avocado had me licking the plate clean. I'm not sure if it was the combo of all the flavors or just the tangy dressing. It was just so fresh that I couldn't stop swooning over this salad!
The seed + nut topping added the perfect savory crunch and I utilized the beet greens as part of the plated salad.  It seems like such a shame not to include those nutritious beet leaves.
I'm sure you'll agree that this Beet, Citrus and Avocado Salad will boost your energy level!
Beet and Avocado Salad with Grapefruit
Beets, grapefruit and avocado create a simple winter salad that celebrates all the best of the winter season. Any citrus fruit is easily substituted in this awesome salad.
Ingredients
Dressing:
2

tablespoons

lime juice

or lemon

1

teaspoon

cumin seeds

lightly toasted and ground

Salt and freshly ground pepper

1/2

teaspoon

Dijon mustard

1

tablespoon

walnut oil

2

tablespoons

canola oil
Salad:
1

bunch beets

about 1 pound, scrubbed and roasted, retaining the raw beet greens - chop them as part of the salad.

1

pink grapefruit

1

medium-size or large ripe but firm Hass avocado

sliced

2

tablespoons

slivered fresh basil
Nutty Topping:
1/4

cup

sesame seeds white and/or black

1/4

cup

flax seed

1/4

cup

sunflower seeds

1

tsp

sea salt
Instructions
For the Dressing: Mix together the lime juice, the ground cumin seeds, salt, pepper and Dijon mustard. Whisk in the walnut oil and canola oil.

Prepping the Salad Parts: Peel the roasted beets (*see notes for easy peeling) and slice. Toss with 2 tablespoons of the dressing. • Cut away both ends of the grapefruit so that it sits flat on your work surface. Cut the skin and pith completely away from the fruit, following the natural curve of the fruit from top to bottom. Hold the grapefruit in your hand over a bowl to catch the juice, and cut away each segment from between the membranes. • Chop the leftover beet greens.

For the Nutty Topping: Roast all the seeds separately in a pan on the stovetop. Each set should only take a minute or two. Be especially careful with the sesame seeds - they brown quickly! Let the seeds cool.Grind all the seeds with some salt. *this will make more than you need. Store the rest and sprinkle it on whatever suits you! It's very versatile.

Plate the salad: Arrange the beets, grapefruit and avocado slices in a circle around the plate. Add a bit of chopped beet greens on the side. • Give the beets, avocado and greens a dash of salt and pepper. • Drizzle on the remaining dressing, and drizzle any grapefruit juice over the grapefruit and avocado. • Sprinkle on the basil, nutty topping and serve.
Notes
How to roast beets:
To roast the beets, heat the oven to 400 degrees.
Wash and scrub beets.Trim beet greens and stems,
Toss in a little olive oil, salt and pepper.
Wrap tightly in foil with seam on top so the juice doesn't drip in your oven!
Roast for 30-45 min depending on size of your beets. Stick a fork in them to test if they are ready!
Once slightly cooled, the skins will slide right off if you rub them with a dry paper towel.
Roasted beets will keep for several days in the fridge.
Nutrition Facts
Beet and Avocado Salad with Grapefruit
Amount Per Serving (1 g)
Calories 250
* Percent Daily Values are based on a 2000 calorie diet.
more beet recipes for you to enjoy