These fresh Salmon Burgers are mixed with halloumi cheese and fresh dill. It's a fast weeknight meal that seems gourmet!
Cooking with Dill
Dill is quite possibly my favorite herb.
It produces beautiful flowers which then dry out into billions of seeds for next year's crop. And it usually reseeds itself wherever it wants to grow. What can be easier than that?
And it's so delicious with salmon.
Have you tried my creamy smoked salmon pasta with dill? Comfort food heaven. Or maybe you're in the mood for something lighter like this orzo salad topped with dill. Still comfort food, but healthier.
Halloumi cheese
What is halloumi? Let's talk about this delicious block of salty goodness.
Halloumi is a white cheese that is semi-hard. I like to call it a squeaky cheese because it has a somewhat rubbery texture. It's that texture that makes it ideal for grilling. It's high melting point means you can sear the outside without it melting all over the place. There are a lot of recipes for grilled halloumi. It's pretty delicious.
+ You can even put slabs of halloumi straight onto your waffle iron and have toasty cheese, waffle style! Oh my!
These salmon burgers are packed with shredded halloumi cheese. It's a salty cheese, so it perfectly seasons your recipe for you, no need to add more salt!
How to make salmon burgers
Step 1: Mix ingredients in a large bowl.
Start with the salmon, cheese, scallions and garlic.
Step 2: Add egg.
Mix it all up. Then add bread crumbs and dill.
Step 3: Form and divide into patties.
Don't be afraid to really squish these into a solid patty.
Step 4: Cook on Stovetop griddle.
Brown each side nicely. Then serve these salmon burgers on a nice warm bun or on top a bed of greens.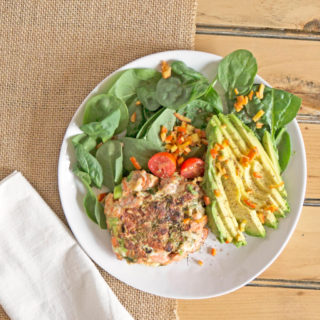 Salmon Burgers with Halloumi and Dill
Fresh dill, salmon and a good portion of halloumi cheese create a fantastic burger!
Course:
Lunch, Main Course
Ingredients
1

lb

give or take wild salmon filets, cut into very small cubes (I use frozen wild caught filets, defrosted)

6

oz

halloumi cheese

cubed or shredded into very small pieces

4

scallions

finely chopped

2

cloves

garlic

minced

salt + pepper, to taste

1

egg

1/4

cup

fresh chopped dill

add more if you love it like I do!

1/2

cup

bread crumbs

panko or regular (you can use 1/4 cup ground flax seed for a gluten free option)
Instructions
Prep all the ingredients.

In a large bowl, mix salmon, cheese, scallions, garlic, and a dash of salt and pepper.

Add the egg. Mix well.

Add the dill and bread crumbs for the final mix.

At this point the mixture may seem like it's not holding together well. It's true, the mixture is a bit loose, but don't be afraid to give it a few squeezes. It actually holds together quite well when cooking despite it's crumbly appearance. Fear not!

Form your mixture into 6 evenly divided patties. Make sure to press them out into an uniform thickness so they cook evenly.

At this point you can refrigerate them for a few hours if you're not ready to make them.

To cook the burgers, heat a greased flat stovetop griddle on medium heat.

Cook the burgers about 3 minutes on each side until cooked through.

Serve with slices of avocado, tomatoes, peppers, spinach - whatever you've got! A wedge of lemon to squeeze on top is nice too!
Nutrition Facts
Salmon Burgers with Halloumi and Dill
Amount Per Serving (1 g)
Calories 240
* Percent Daily Values are based on a 2000 calorie diet.
more burger recipes