These easy, homemade Spinach Burgers are a healthy weeknight option. Topped with grilled onions, shoestring carrots and a tangy thousand island dressing.
To commence our journey with spinach this month, I will begin with a lunchtime favorite – Popeye Spinach Burgers. Topped with a homemade thousand island dressing, this burger is ready in 15 minutes.
It all began in 2000. I was living in Asheville, NC. Dating my now husband of 17 years. We frequented the Asheville Brewing Company…what we called 'the brew and view' – you watch a movie while eating dinner. A perfect restaurant in my opinion. I strongly recommend you go if you're in the area.
Anyways, they had these spinach burgers served with a side of potato salad. I loved them to no end. I still do. Sigh…
They still make the burgers, but the potato salad – much to my disappointment when we visited a few years ago– has changed. I'll work on the potato salad, but in the meantime, I've managed to put together the burger recipe.
In addition to the homemade thousand island dressing and grilled onions. We LOVE adding oven roasted shoestring carrot fries – they add color, crunch and salty french fry like goodness!
Steps for easy Spinach Burgers: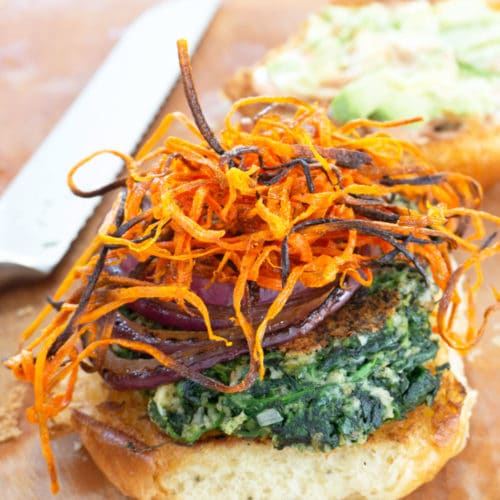 Popeye Spinach Burgers with Homemade Thousand Island Dressing
Spinach, cheese, breadcrumbs and spices all topped with an easy homemade thousand island dressing.
Course:
Lunch, Main Course
Ingredients
1

bag, 16 ounces chopped frozen spinach, thawed

2

egg whites

1

whole egg

1/4

cup

finely diced onion

shallots preferred

1/2

cup

shredded cheddar cheese

1/2

cup

bread crumbs

panko or regular both work

1

tsp

salt

1/2

tsp

garlic powder

buns or serve over mixed greens

1

large red onion, grilled

4

large carrots, julienned and oven roasted

(or use store-bought julienned carrots)

1/2

tsp

garlic powder and salt

(for carrots)

2

avocados, smashed

thousand island dressing (see recipe below)

slices of cheese

optional
Easy Homemade Thousand Island Dressing (yields about a cup):
Instructions
Thaw spinach, drain and squeeze excess moisture out. Chop the spinach into bite size pieces. (I know the spinach is already cut in the frozen packs, but giving it another chop helps keep the spinach from being stringy).

Mix first 8 ingredients in a bowl.

Shape into patties and cook over medium high heat in a non stick skillet or stove top griddle coated with olive oil or cooking spray.

Cook 3-4 minutes on each side until golden and firm. The onions can be grilled at the same time. Grill until soft and browned on the edges, flipping once.

To make the carrot shoestring fries, heat oven to 400F. Julienne the carrots or use store-bought julienned carrots. Toss with olive oil and 1 few dashes of salt and garlic powder. Roast until very brown on the edges, tossing once or twice, about 10 minutes depending on the thickness of your carrots. Keep a close watch!

Top with onions, carrots, avocado and thousand island dressing. Or whatever you plan on using!
Thousand Island Dressing:
Mix all ingredients together. Enjoy!
Notes
This recipe can be easily doubled. Also, they can be made ahead of time and frozen for quick meals in a pinch!
Nutrition Facts
Popeye Spinach Burgers with Homemade Thousand Island Dressing
Amount Per Serving (1 g)
Calories 290
* Percent Daily Values are based on a 2000 calorie diet.
---
Love Southern Cooking?
more recipes to love