Creamy Smoked Salmon Pasta  uses just six ingredients and 30 minutes to create this creamy comfort food. Smoked salmon, fresh dill and cream make a light sauce that welcomes all the lightness of spring into a pasta dish!


During his college days, my husband used to work in the kitchen at The Speckled Trout Cafe in Blowing Rock, NC. Maybe it was his southern charm that won me over, maybe it was his fine recreation of this dish that he served there. Either way, when fresh dill is sprouting in my garden, this pasta dish is always on the menu.
When I've got an extra hour or so, I make my own pasta – it's so much lighter and softer, it puts store-bought pasta to shame, but there's not always time for that sort of commitment.
I recommend using this pasta – it's the closest to homemade that I have been able to find. Either way, you'll enjoy this dish. You can use dried dill in this recipe as well – see my tips below for preserving fresh garden dill for year round use.
---
Ways to Use Fresh Dill
Dill can go into any meal at any time of the day.
For breakfast, add a little bit on top of scrambled eggs with veggies.
For lunch, create a lemon-dill chicken salad sandwich or add it to a cucumber and orzo pasta bowl like this one.
For dinner, how about a creamy dill sauce over chicken and mushrooms.
Dill goes anywhere…I've seen it in popsicles! (here)
---
How to Preserve Fresh Dill
I love to plant dill everywhere…some of it I harvest and the rest I let flower to attract beneficial insects and to save seeds for next year.
To preserve dill for use all year long, I have two methods to share with you:
Hang freshly picked dill upside down to dry. Make sure it's clean and bug free. Then once bone dry, break it into large pieces and store in a airtight glass jar. Dried dill from the summer garden is almost more delicious than fresh dill – at least it seems that way in the dead of winter! WAY better than anything you can buy in the store.
To preserve fresh dill in its soft/fresh state, chop it and add it to an ice cube tray filled with water. This allows you to thaw out dill when you need it or add it directly to a pot of simmering soup!
---
How to make Creamy Smoked Salmon Pasta
Making a creamy sauce like fettucine alfredo is actually pretty simple. Butter, olive oil, cheese, cream
Step 1: Sauté shallots and garlic in olive oil.
The start of any good pasta sauce – onions + garlic.
Step 2: Add cream. Bring to a low boil.
Step 3: Add parmesan and smoked salmon.
The heavy cream will begin to thicken as it simmers. As soon as it starts to bubble add the parmesan and smoked salmon.
Step 4: Stir in dill.
Fresh dill is best, but using dried dill is an option I've used many times.
Step 5: Toss with cooked pasta.
Top with extra dill and parmesan for a creamy bowl of pasta.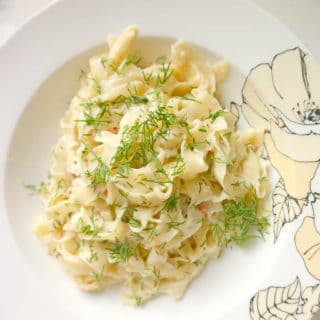 Creamy Smoked Salmon Pasta with Dill
Rich and creamy smoked salmon pasta with plenty of fresh dill.
Course:
Main Course, Pasta
Ingredients
1

whole shallot

finely diced

3

large cloves garlic

minced

2

Tbs.

olive oil

1.5 -2

cups

heavy cream

1/4

cup

fresh dill

chopped, more to taste (dried dill can be substituted - adjust amount to about 1 Tbs dried)

1 to 1.5

cups

grated parmesan

1 - 4

oz

package smoked wild sockeye salmon

cut into bite sized pieces

salt and pepper to taste

1

lb

pasta

fresh or dry
Instructions
Heat a pan over medium-high heat.

Add olive oil. When the oil warms, add shallot and garlic and saute for 2-3 minutes until fragrant.

Add cream. Bring to a low boil stirring occasionally.

Sprinkle in parmesan, smoked salmon and season with salt and pepper. Lower the heat a bit and stir continuously until sauce begins to thicken, about 5-7 minutes.

Stir in dill and adjust salt and pepper to taste.

Cook pasta according to package directions.

Combine with sauce and sprinkle the top of each dish with additional dill and parmesan, if desired.
Nutrition Facts
Creamy Smoked Salmon Pasta with Dill
Amount Per Serving (1 g)
Calories 500
* Percent Daily Values are based on a 2000 calorie diet.
more pasta recipes picked for you