Black Bean Beet Burgers are a healthy, vegetarian meal made with fresh roasted beets, black beans and brown rice.  Top with smashed avocado and served with a side of greens for a nutrient dense meal that can easily be made ahead of time and frozen for fast weeknight meals.
These Black Bean Beet Burgers are vibrant in color and taste!
Layers of greens, creamy smashed avocado, mayo if you please, all  on top of a pink patty dotted with black bean and brown rice. It's packed with goodness. I don't think I've seen a prettier burger than this one! 

When my parents were in town, I tried to fool my dad into believing this was a real burger. The color is there, but he didn't buy my plot to feed him vegetables.  Even though I covered it with melted cheese and a bun.  He still ate it, but there was some grumbling. He's a meat and potatoes kind of guy.
On the other hand, I love veggie burgers. I could eat them anytime of the day. Pop a fried egg on top with salsa and call it breakfast!
What does a beet burger taste like?
Beet burgers taste like whatever seasonings and toppings you put on them. Even though many people think beets are too earthy, when shredded and mixed with so many other flavors in this beet burger, the beet flavor isn't front and center. It's pretty mild and incredibly healthy + delicious.
---
5 Easy Steps for HOW to Make Beet Burgers
Step 1: Roast Beets. See this beet recipes for how to roast beets.
Step 2: Boil Brown Rice. Mash black beans which act as the binder.
Step 3: Add cooked rice and shredded beet to black bean mash with all other ingredients. Mix until well combined.
Step 4: Shape patties and bake. These are freezable at this step.
TIP | for perfectly shaped patties use these stainless steel rings. These make it easy to get a uniform size and shape to fit on a bun.
Step 5: Pan fry on each side to create crisp brown edges.
Are beets healthy?
Beets are just as versatile as other veggies. And they're hearty enough to be the star of your meal!
Beets are incredibly healthy – full of vitamin C and the B vitamin folate. They also contain healthy sugars to feed your brain. Consuming beets has been linked to improved cardiovascular health, reduction in oxidative stress and inflammation and brain health.
So let's eat them weekly!
What to do with a bunch of beets
10 Ways to Eat Beets
Beets are just as versatile as other veggies.
Just look at the variety of recipes listed below. And they're hearty enough to be the star of your meal! Roast them, steam them, boil them and even bake with beet puree!
---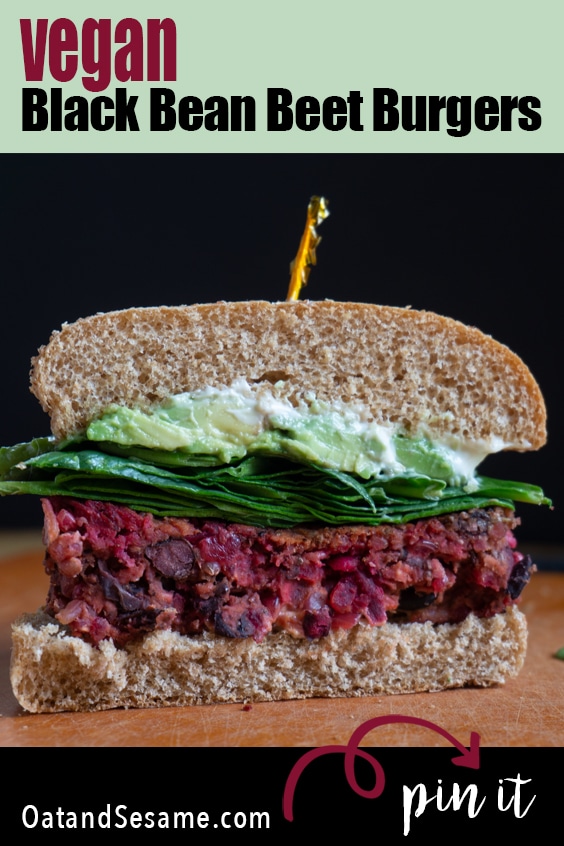 Black Bean Beet Burgers
Beans, red beets, brown rice and oats create a veggie burger worth making again and again!
Course:
Lunch, Main Course
Servings
:
6
large, 12 slider size
Ingredients
Optional Toppings
avocado, smashed

fresh spinach, layered on top

mayo
Instructions
Prepare the ingredients by roasting the beets (400F for 1 hr...I make extra for other recipes) and boiling the brown rice (follow package instructions).

Meanwhile, mash black beans in a large bowl. When the beets and rice are cooked, peel and shred the beets and add both rice and beets to the bowl with the black beans.

Add all other remaining to the bowl. Mix until incorporated. The mixture will be slightly sticky and have a lot of texture - it will not be smooth.

Divide the mixture into the size and amount of burgers desired. Flatten them to an even consistency.

Lay the burgers on a parchment lined baking sheet and bake for approximately 10 minutes at 350 F.

At this point you can freeze them for future meals or fry them on the stove in a griddle pan with a little olive oil until the sides are crisp and griddle lines form on each side. A few minutes per side.

Top with avocado, salt, pepper, salsa...anything you would like - it's your burger!
Notes
recipe adapted from http://www.includingcake.com/blog/2012/05/black-bean-beet-burgers.html
Nutrition Facts
Black Bean Beet Burgers
Amount Per Serving (1 g)
Calories 239
* Percent Daily Values are based on a 2000 calorie diet.
---
Stay in touch!
Follow me on Instagram, Twitter, Facebook, and Pinterest to get the latest!
---
more recipes to love