Chili Lime Shrimp Tacos with Spicy Sriracha Mayo – all wrapped up in homemade pink tortillas made with all natural beet dye!

I'm thrilled that Valentine's Day falls on #TacoTuesday this year. I didn't have to think twice about making tacos, of course I should, Pink Shrimp Tacos.
You can also make these shrimp tacos with store-bought tortillas. They just won't be as fun!
So how did I make these amazing pink tortillas?
Beets! Using beets to create natural beet food coloring produces the most vibrant and beautiful color. And they are way better for you than the chemical stuff. Plus you then have cooked beets to eat as a side salad with your tacos! Dice and toss with lime juice, salt and a little cilantro for a quick side. Or try them in this beet salad or in this chocolate dessert.
To Make the Natural Beet Food Coloring Follow These Steps:
Trim + Peel 3 small beets. Cut into quarters.
Place in a small saucepan with water to cover the top of the beets. About 2 cups.
Bring to a boil, then simmer until the beets are tender.The water will turn bright red and reduce as they cook. Stir a few times while cooking to turn the beets.
The cooking time may vary depending on your beets, but should take about half hour. There will be about 1/4 cup of liquid left over after the beets are cooked.
Once they are cooked, use a fork to remove the beets and set aside.
Reserve the liquid for making tortillas or whatever master plan you have for your food coloring. The liquid can also be boiled down further to make a concentrate more suitable for dyeing frosting, etc.
This can be stored in the fridge for a week or frozen for future use.
Have you seen my Electric Beet Pizza?
It the same concept as these tortillas! So fun!
---
Onto the amazing pink tortillas…
Last January I was in Tulum, Mexico learning to make homemade tortillas. Every since then I've been hooked on making them. See my tutorial here. 
These tortillas are made exactly the same way, except instead of adding all water to the masa mixture, you replace it with the 1/4 cup natural beet food coloring you just made above.
Making tortillas is so simple and you don't need a tortilla press, but they make the process much quicker! The only rule is to make the tortillas the same day you plan to eat them – they don't stay fresh too long!
---
How to Make Shrimp Tacos + Spicy Mayo
If you saw my post earlier in the week, you know I made some Pickled Red Onions to add to the pinkness of these tacos and because they add so much flavor!  So check that post out if you'd like to have that condiment ready to go for #TacoTuesday. If not, skip this and continue on…
The first step is to make the Spicy Sriracha Mayo. This can be made ahead and you should take advantage of that!
---
Then PREP any toppings and sides you would like to serve along with these chili lime shrimp tacos. I did three additional toppings/sides:
Shredded Red Cabbage (about 2 cups) tossed with the juice of 1/2 lime, salt and chopped cilantro.
Beet Salad – chopped cooked beets tossed with the juice of 1/2 lime, salt, chopped cilantro and a sprinkle of cheese – I suggest queso fresco/feta/goat cheese.
Strawberry-Mango-Lime Fruit Salad – chop up fruit, add the zest of 1 lime and just a drizzle of lime juice. Sprinkle the top with chili powder if you dare (it's so good). You can toss in some cilantro as well.
---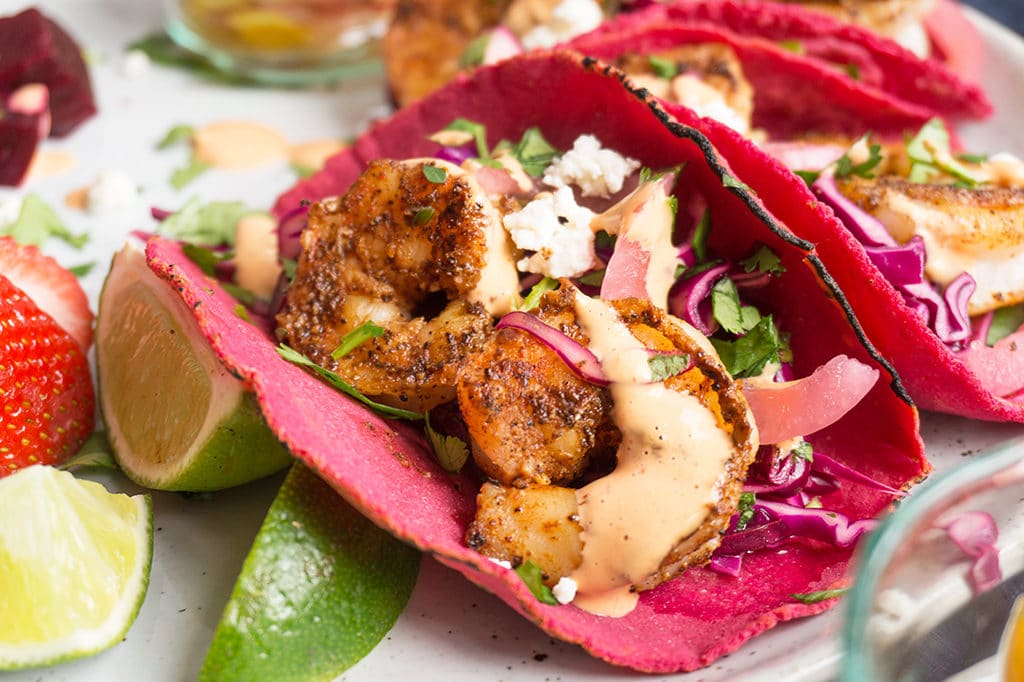 The FINAL STEP
Now that all the toppings and sides are prepped, it's time to make homemade tortillas (if that's in your plan), followed by the chili lime shrimp.
It might seem like a lot of little steps, but it's simple ingredients that come together quickly. Plus what's a taco night without an amazing spread of toppings and sauces?
Chili Lime Shrimp Tacos
Chili Lime Shrimp Tacos with Spicy Sriracha Mayo - all wrapped up in an optional pink homemade tortilla!
Instructions
Pat each shrimp dry with a paper towel.

Coat each side with the seasoning mixture.

Add 1 tbs canola oil to a pan/griddle. Heat on medium-high.

Once hot, add shrimp and sauté until cooked. About 1 - 2 minutes per side.

Squeeze the juice of half a lime over the shrimp and serve.

Fill your pink tacos with all your prepared toppings, shrimp, more cilantro, cheese, etc.
Spicy Sriracha Mayo
In a bowl, combine all of the ingredients and mix well.

Store up to 2 weeks in the fridge.
Notes
I used jumbo shrimp and placed 2 shrimp in each tortilla for a serving size of 3 tacos each. If you use smaller shrimp, you should make more and add an extra shrimp into each taco.
Nutrition Facts
Chili Lime Shrimp Tacos
Amount Per Serving (2 g)
Calories 450
* Percent Daily Values are based on a 2000 calorie diet.