Pickled Red Onions add a burst of flavor to any taco. Plus the color is fabulous! Ready within 1 hour or prep ahead – these make every #TacoTuesday amazing!
What do Pickled Red Onions have to do with Valentine's Day? After days of contemplating what to cook for Valentine's Day dinner, I realized that V Day was going to be on #TacoTuesday!
It became very clear what I was making for dinner…PINK TACOS with homemade pink tortillas! Homemade tortilla recipe here.
Start this pink themed taco party by prepping a jar of pickled red onions.
How to Make Pickled Red Onions
With very little effort, you can add BIG flavor (and color) to your taco night and beyond. A single batch is enough for two to three weeks worth of #TacoTuesdays.
Step 1: Slice Onions.
Thinly slice red onions with a mandoline. You can use regular onions, but you'll miss out on the beautiful color!
Step 2: Combine onions with salt, sugar, + vinegar.
In a large jar, combine vinegar salt, sugar, peppercorns and any other herbs. Add sliced onions and let sit for at least 30 minutes before using.
Can I use other vinegars? Yes. Any vinegar over 5% acidity will work for pickling onions, distilled white vinegar is most commonly used. This article will help you choose the best vinegar for your pickling projects and explains the differences in types of vinegar.
How long do quick pickled onions last in the refrigerator? 
They'll last about a month, but are best eaten in the first 2 weeks.
What do you do with pickled onions?
The bright acidity of pickled onions elevates almost any dish!
Tacos

– especially bean tacos
Sandwiches – think grill cheese, chicken salad, BLT or veggie sandwiches
Pizza – add pickled onions as a topping after baking
Pasta Salad – using pickled onions instead of raw eliminates the raw onion bite.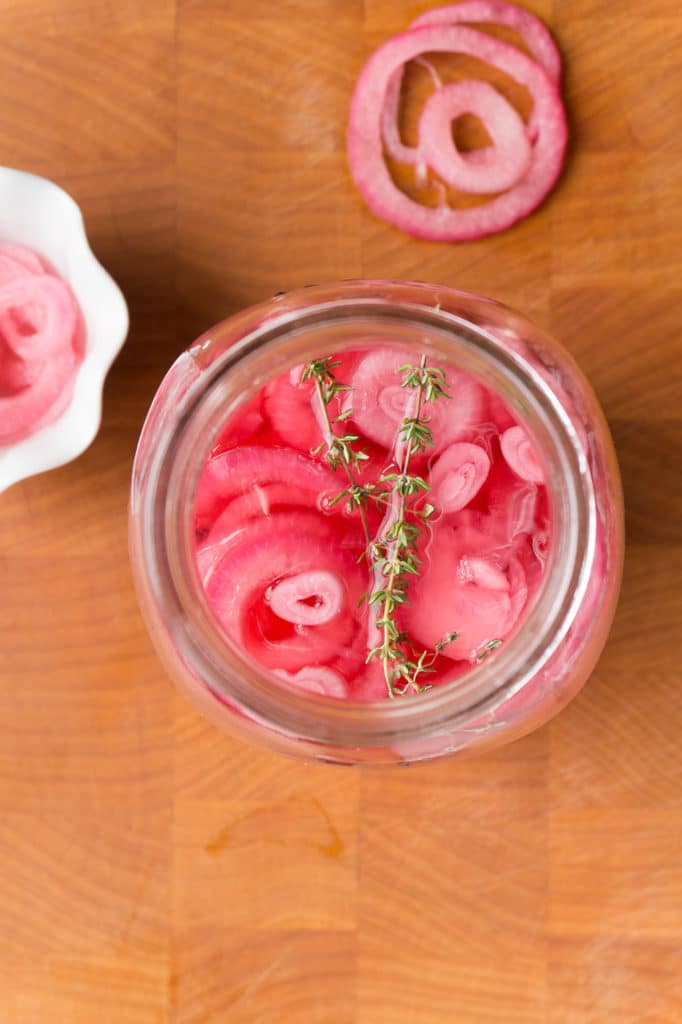 Ready to make pink tacos? Read this tutorial for Shrimp Tacos with Pink Tortillas.
Pickled Red Onions for #TacoTuesday
Pickled onions can be used within an hour or stored for a few weeks. Top tacos, sandwiches, anything that needs an extra zing!
Ingredients
1

medium red onion

sliced (about 1.5 cups)

1

cup

white wine vinegar

1

tsp

kosher salt

1

tsp

sugar

1

tsp

black peppercorns

2

garlic cloves

halved

herbs

optional
Instructions
Thinly slice red onion using a knife or use a

mandoline

for nice even slices.

Place vinegar, salt, sugar, peppercorns, garlic and optional herbs in a jar. Stir until salt and sugar dissolve.

Add onions so they are fully immersed in the liquid. Cover and store until ready to use.

Onion will be slightly pickled within an hour or place in refrigerator for storage up to two weeks.
Nutrition Facts
Pickled Red Onions for #TacoTuesday
Amount Per Serving (1 g)
Calories 15
* Percent Daily Values are based on a 2000 calorie diet.
more taco recipes