Meteora means "suspended in air" and this is exactly how these incredible 14th century monasteries appear. Precariously built on top of "stylos" or rock pillars, Meteora is well worth the 5-hour train ride from Athens.
After spending about a week in the Greek islands, we flew back to Athens to start our adventures on mainland Greece. While I immediately missed the sea, the sites in Meteora were pretty amazing.
Meteora is a world heritage UNESCO site where 14th century monasteries sit on top of towering sandstone peaks. Originally the area was inhabited by recluse monks who built rudimentary cliffside cave homes (as pictured in the hiking photos below).
The views are quite spectacular and the Meteora monasteries are home to century old frescoes and religious treasures.
How to visit Meteora
To get to Meteora, we decided to book a tour that would secure all our accommodations and travel arrangements.
We chose a 3-Day Athens to Meteora to Delphi Tour.
Our adventure began by traveling from Athens to Kalambaka by train. Kalambaka and Kastraki are the two towns surrounding Meteora. Kalambaka is slightly larger.
It was quite a scramble to get to the rail station for our 7am departure. Our flight from Mykonos to Athens the night before was delayed and we arrived at our AirBnb in Athens at 1am. Then woke up at 5am to get to the train station on foot!
We arrived in Kalambaka weary and hungry!
What to do in Kalambaka
Kalambaka is a beautiful little village with plenty of shops and restaurants. Our first stop was at Platanos Restaurant for lunch.
The stuffed tomatoes here were absolutely amazing. I'm still thinking about this dish!
Meteora Sunset Tour
After refueling, we prepared for our sunset tour. A mini-bus picked us up and we drove the winding roads of Meteora. Stopping for cliffside pictures of monasteries seemingly clinging to giant rock formations.
It seems a tourist's day is not complete without an official sunset pic.
Again finding ourselves starving, our tour guide kindly made some restaurant suggestions and the mini bus dropped each group off where we wanted to dine for dinner.
We choose Taverna to Paramithi. Ordering a bunch of little plates, tapas-style, we were entertained by traditional Greek musicians.
Meteora 1/2 day hiking tour
Our second day began with a 1/2 day hiking tour. A moderate hike, we climbed the sandstone formations to seek amazing valley views and see the remains of hermit monks living in cliffside caves.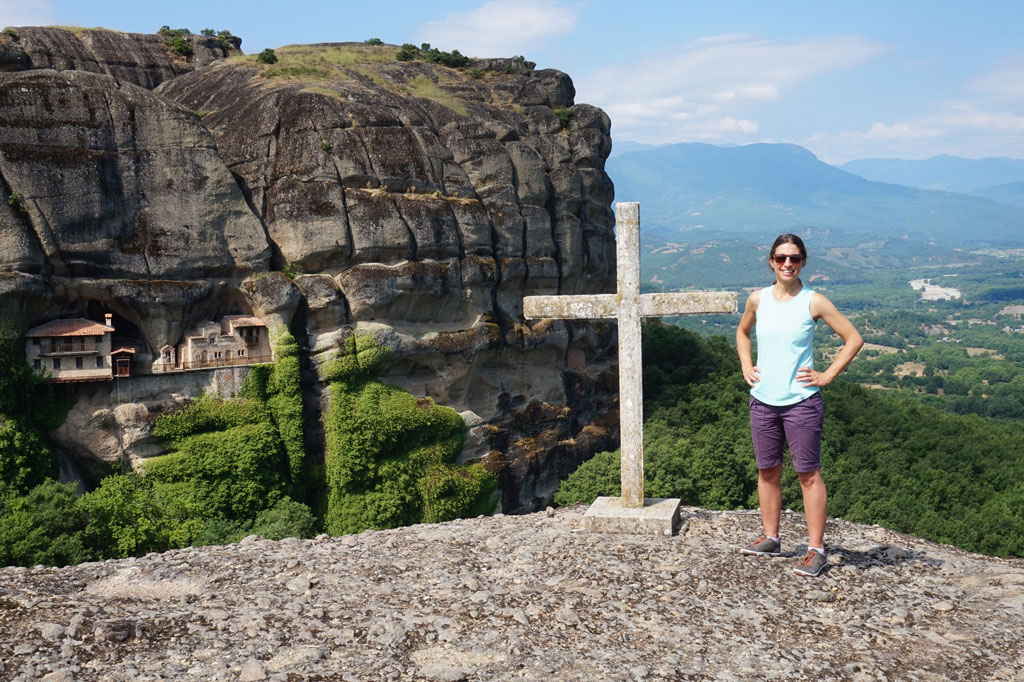 Our hike ended touring this monastery, Megalo Meteoro, one of the best known of the monasteries and is built upon the highest rock.
This site was restored by the nuns who currently reside and run this national treasure.
Unfortunately, our trip was cut short. My sister fell ill with a kidney stone and we had to skip Delphi, the final part of this tour. I guess that means I'll have to go back!