Bruschetta Lentil Salad combines fresh greens, protein packed lentils and is then topped with a tomato bruschetta dressing and nuts.
I've been digging on pulses (dry beans, lentils, etc.) for quick and easy lunches this week.
With the declaration of 2016 as International Year of the Pulses by the United Nations, I'd better get to work on some #IYP2016 recipes!
This Mediterranean lentil salad recipe is a recreation of a salad I enjoyed on a recent visit to a friend's home. It's a great one for all of us busy people – lentils are quick cooking and you could use pre-made store bought ingredients for the lentils and/or bruschetta if you have a Trader Joes, etc.
The best part is that you are filling yourself up with delicious plant-based protein, iron and fiber. Don't forget to pair all your pulses with something that has vitamin C – tomatoes, oranges, etc. – vitamin C helps your body uptake the iron in plant based foods. Just remember this formula beans + salsa – they just go together naturally!
With citrus season in full swing, my mandarin orange craze is really a perfectly paired side for my bruschetta lentil salad – we get vitamin C from the oranges and from the tomatoes. Win – Win!
How to Cook Green Lentil Salad
Step 1: Cook Lentils.
Bringing green lentils to a boil + simmering for 15 minutes is all it takes to prepare the bulk of this vegetarian lentil salad.
Step 2: Prepare Tomato Bruschetta.
While the lentils cook, combine the tomatoes, garlic, olive oil and salt in a large bowl to create a super simple bruschetta recipe. It's the same way I prepare bruschetta to top bread.
Step 3: Combine Salad Ingredients.
Fresh spinach, warm lentils and bruschetta are tossed in a salad bowl. Then topped with walnuts and optional feta.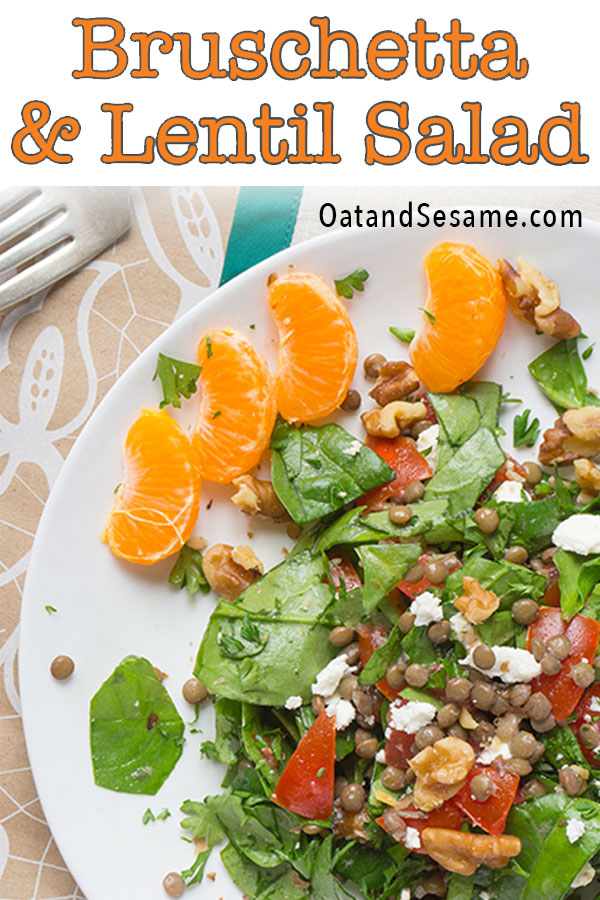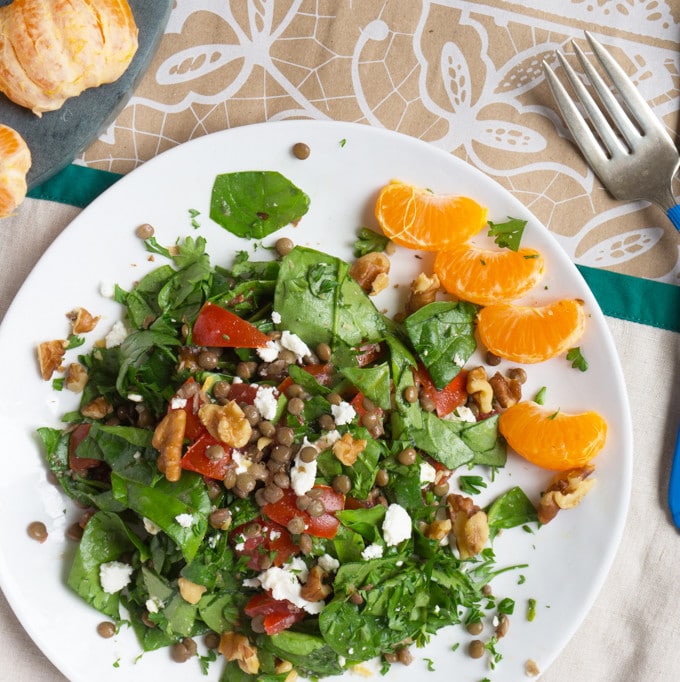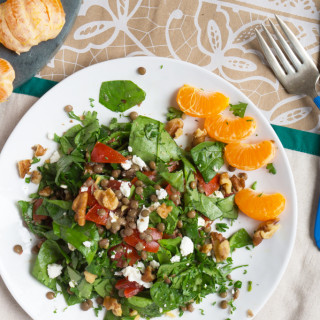 Bruschetta Lentil Salad
A fantastic lentil salad made with fresh greens, protein packed lentils and then topped with a tomato bruschetta dressing and nuts.
Course:
Main Course, Salad
Ingredients
1

cup

dry lentils

cooked

8

small-medium tomatoes

diced, seedy pulp removed

2

cloves

garlic

minced

11

oz

baby spinach

loosely chopped

1

cup

finely chopped parsley

1/2

cup

chopped walnuts

feta cheese to top

optional

2

Tbs

olive oil

more to drizzle

salt and pepper
Instructions
In a medium saucepan, bring 3 cups of water (or stock) and 1 cup of dry lentils to a boil. Once boiling, turn down heat to a low simmer (barely bubbling at all) and cook lentils for about 15 min. Since these are for a salad, we want to stop cooking them before they are super soft. Drain any excess water and season with salt and pepper.

While the lentils are cooking, combine the garlic, tomatoes and 2 Tb olive oil in a bowl. Season with salt and pepper and set aside. This can be done in advance. As the mixture sits and the tomatoes release their juices it will serve as your dressing.

In a large bowl, toss the chopped parsley, drained lentils and all of the tomato mixture.

Add the spinach and lightly toss.

Top with walnuts and feta. Perhaps an extra drizzle of olive oil, salt and pepper, if needed.
Nutrition Facts
Bruschetta Lentil Salad
Amount Per Serving (1 g)
Calories 420
* Percent Daily Values are based on a 2000 calorie diet.
More salad recipes for you