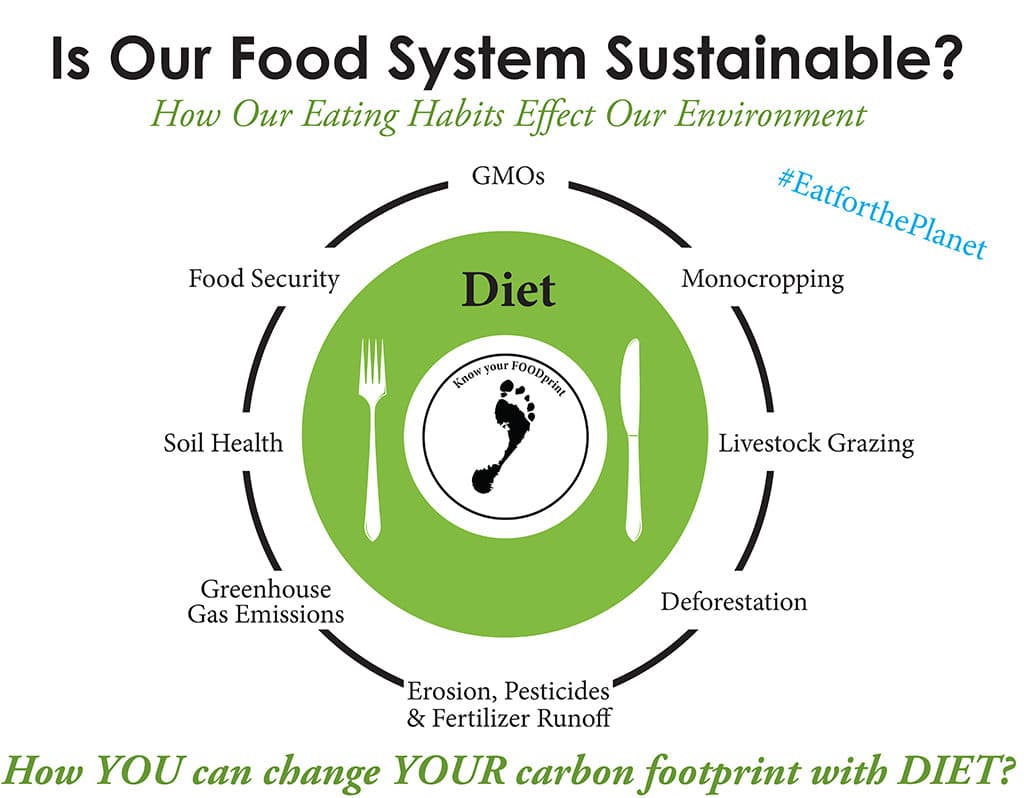 Let's celebrate Earth Day 2016! Small changes CAN have a BIG impact.
For the past month or so I've been working on a volunteer project with some college students at the university I work for. We created a research poster to showcase at our Earth Day booth on campus.
Our research examined the question:
"IS OUR FOOD SYSTEM SUSTAINABLE?" You can probably guess the answer to this. 
We set up our booth on Tuesday and it was a windy, chilly morning. I ended up holding up our poster against the wind for the duration of the event – my hands were freezing! At least we had a nice turnout and got the chance to have some conversations with both students and community members.  A perfect conversation to continue here on the blog.
So here's what you should know, our agriculture system – the livestock industry in particular – is responsible for more greenhouse gas emissions than the entire transportation industry put together (Fao.org. Spotlight: Livestock impacts on the environment). Our soil, if managed through sustainable farming practices (no till, using cover crops, etc) has the unique ability to mitigate our carbon emissions. And guess what drives how our agriculture system operates – we the eaters. Well and a whole lot of politicians and industry lobbyists.
In addition to the Earth Day festivities, I attended two presentations on preventive medicine and I don't think it was coincidence that they occurred during Earth week. Both the university and the medical college held back to back lectures by world-renowned researchers in the field of diet and disease – Dr. T. Colin Campbell and Dr. Caldwell Essylestein. Both relaying the undeniable benefit of a plant based diet.
My message for Earth Week 2016 is simple – reduce the amount of meat & dairy that you consume – it has a direct impact not only on your own personal health but the health of the planet as well. This alone will have greater impact and boost all the other environmentally friendly efforts you are doing – recycling, using less water, etc. Want to see our booth graphics, fact and figures? click here.
The Guardian recently published an article that sums up why we need to pay attention. Read it here. 
Need some plant based meal ideas to help you celebrate? You've come to the right post!
---
While you're busy planning out what plant based meals you'd like to eat for Earth Day, stock up on some of my favorite environmentally friendly stash from my affiliates to round out your sustainable you. 🙂