This Norwegian Vanilla Rhubarb Cake captures the colors of the rhubarb varieties that grow in my garden. You may be familiar with the red varieties – the greens are just as flavorful and create a colorful palette to top this upside-down cake.
The tart flavors of rhubarb sit on top of a delectably moist and tender vanilla cake. The Norwegians are experts at fruity, moist cakes – trust me. In fact they claim that their national cake is indeed the world's best cake. (you can try it for yourself here – let me know if you agree!)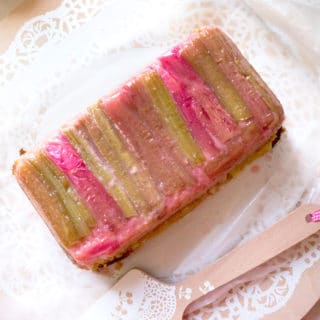 Vanilla Rhubarb Cake
If you like vanilla, rhubarb and pound cake, in any order listed, this is the cake for you.
Ingredients
3

or 4 stalks of rhubarb cut into strips equal to the width of your loaf pan

1

cup

sugar + 4 tbsp more to sprinkle on the rhubarb strips

1

cup

sifted all purpose flour

6

tablespoons

butter at room temperature + more for pan

3

eggs at room temperature

3/4

cup

light sour cream at room temperature or plain yogurt

2

teaspoons

pure vanilla extract

plus option to scrape 1 vanilla bean pod into the mix.

1

teaspoon

baking powder

1/4

tsp

baking soda

1

pinch

Kosher salt
Instructions
Place the rhubarb pieces in a single layer in a baking dish and sprinkle with 4 tbsp of sugar. Let it sit for about an hour or more until the rhubarb releases its juice and sugar starts to dissolve into a little bit of syrup.

Butter a WIDE* loaf pan (I recommend a 5" x 10") and line it with parchment paper. Butter the paper as well.

Place the rhubarb on the bottom of the pan making sure to completely cover the bottom with plenty of rhubarb. Scrape any leftover juices and sugar over the top.

In a bowl beat butter and sugar until fluffy. Add eggs, one at a time, beating with each addition until the batter is airy.

Beat in half of the flour, sour cream, and then the other half of the flour. Beating with each addition.

Stir in vanilla and/or vanilla bean.

Add baking powder and baking soda.

Spoon batter over the rhubarb into the prepared pan and bake for 40 minutes at 350F or until a stick comes out clean.

Let the cake cool.

Invert the pan over a plate. Enjoy!
Notes
adapted from Missingflavor.blogspot.com
*If you don't have a wide loaf pan, just don't use all the batter. It will overflow in your oven.
Nutrition Facts
Vanilla Rhubarb Cake
Amount Per Serving (1 g)
Calories 175
* Percent Daily Values are based on a 2000 calorie diet.