It's Rhubarb Week at OatandSesame and we're off to a great start with this Old-Fashioned Rhubarb Crunch! A sweet family recipe that's great over ice cream!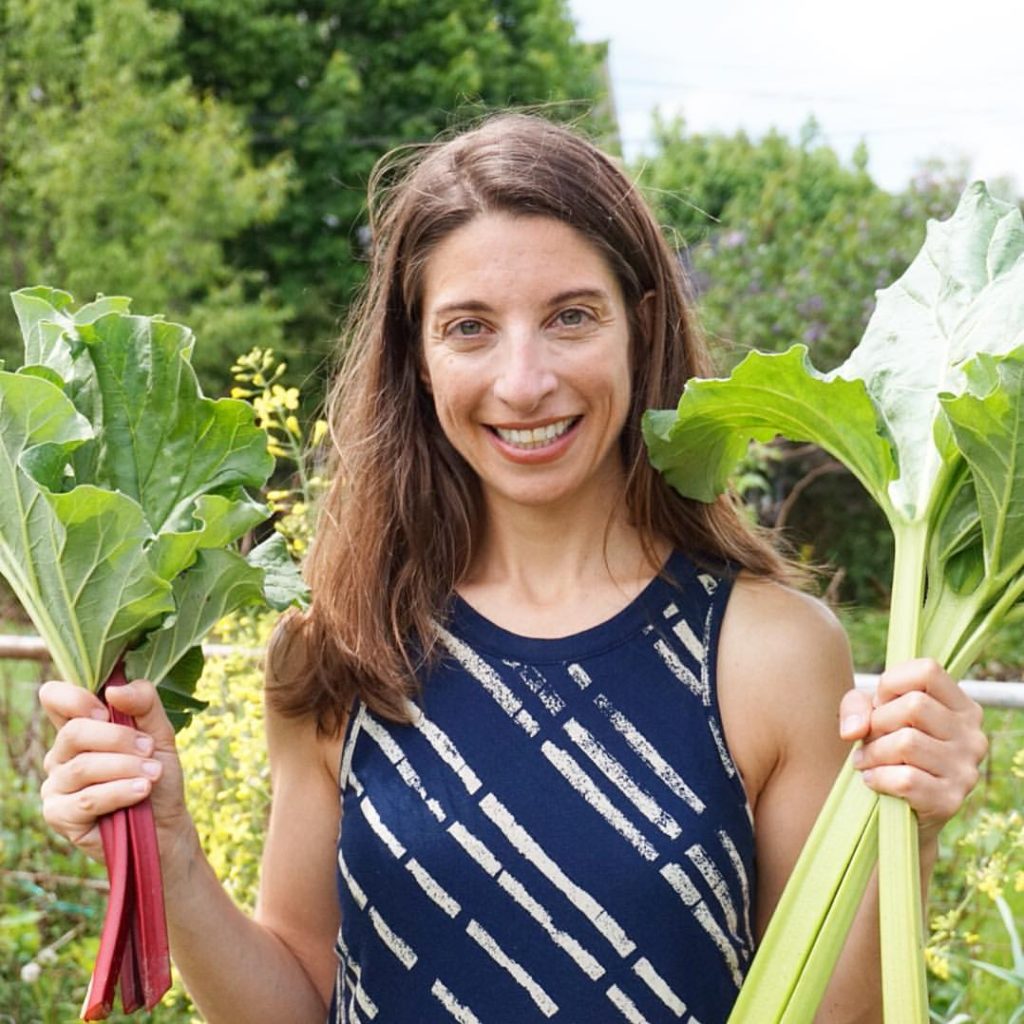 Fellow Rhubarbians can follow my Pinterest feed for everything rhubarb. Aptly named Rhubarbia – my imaginary land of rhubarb that I'd love to live in. One day I'm going to write a children's book about this dreamy land where the stalks grow so big you can run underneath their leaves.
Ok. Back to reality where my rhubarb is producing lots of thick stalks to create rhubarb crisps! My sister-in-law shared this family recipe with me last season and I finally got a chance to try it out.
This Rhubarb Crunch recipe different from classic rhubarb crisp, at least from the one I grew up with. It has one has a bottom crust and a top crumble – which is maybe why it's called a crunch instead of a crisp!
There is also a syrup poured on top of the rhubarb – a technique I have never used. It was exciting to try this out!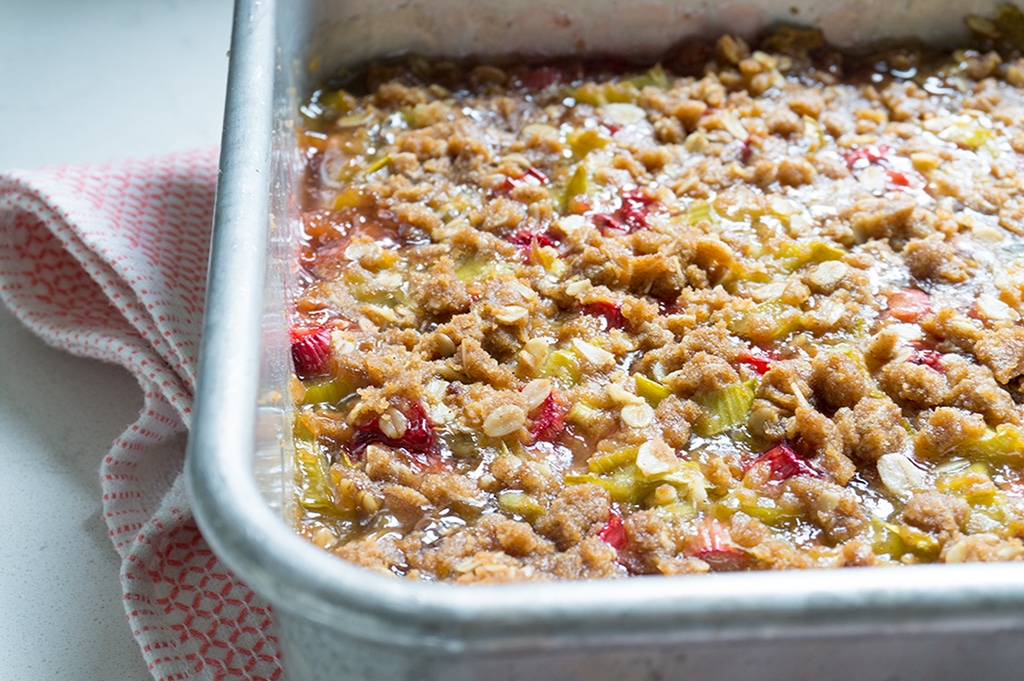 How to Make Rhubarb Crunch
STEP 1: Bottom Crunch Layer.
Mix all ingredients for the bottom crunch layer. Press half into pan.
STEP 2: Chop Rhubarb.
Add chopped rhubarb on top of the crunch layer.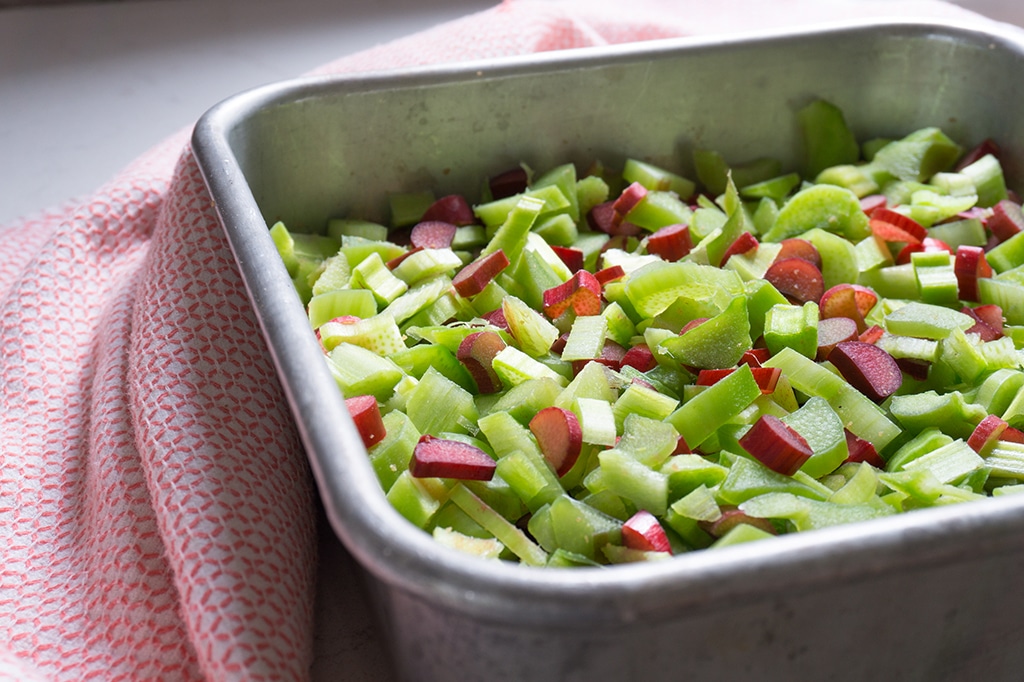 Step 3: Make syrup.
Heat syrup ingredients on the stovetop until it starts to thicken. Pour over chopped rhubarb. 
NOTE: The syrup is very sweet. I only use about 1/2 when I make this. Stacy makes a comment below that she added sweet peaches, skipped the syrup and there was plenty of sweetness.
Step 4: Top with remaining crunch topping.
Sprinkle the remaining pieces of crumble to top the rhubarb.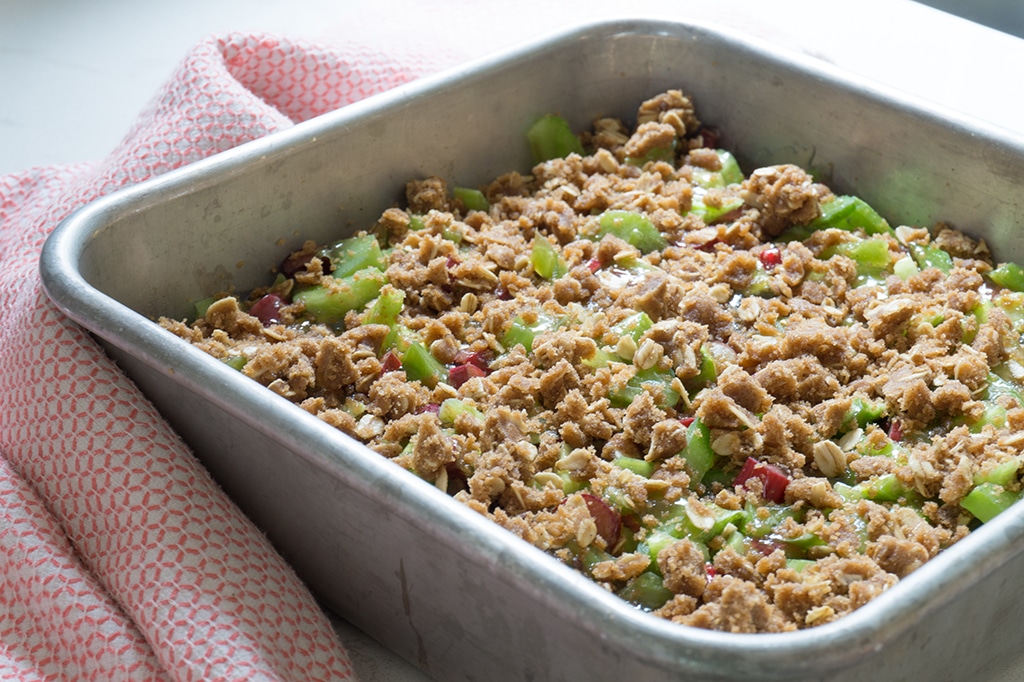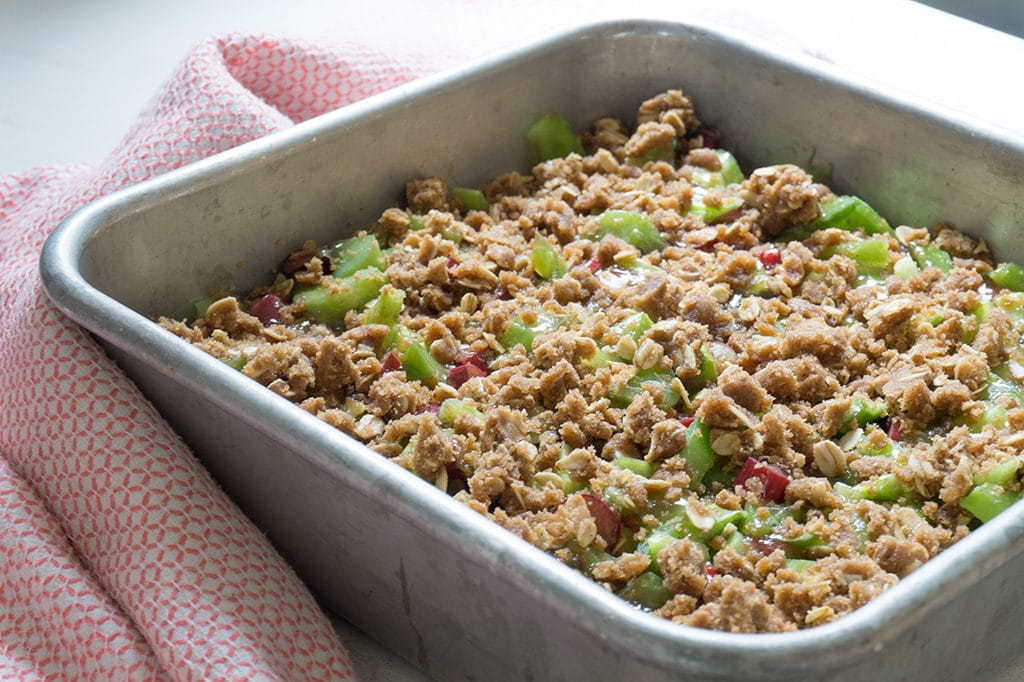 Step 5: Bake.
Bake until golden and crisp. Serve over vanilla ice cream.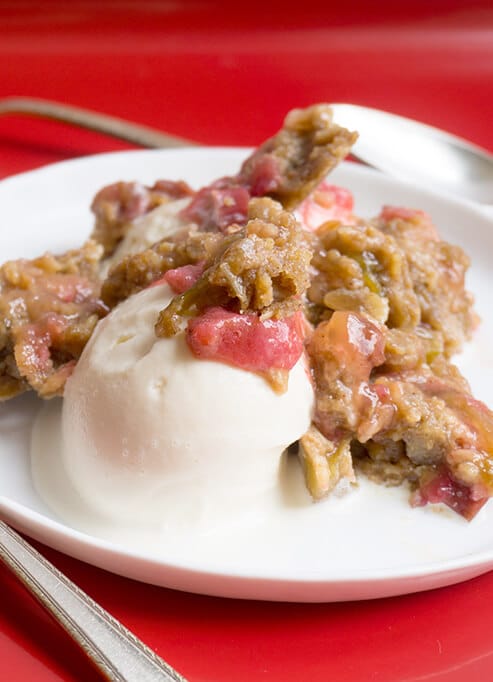 PIN IT!
It is a great start to rhubarb week.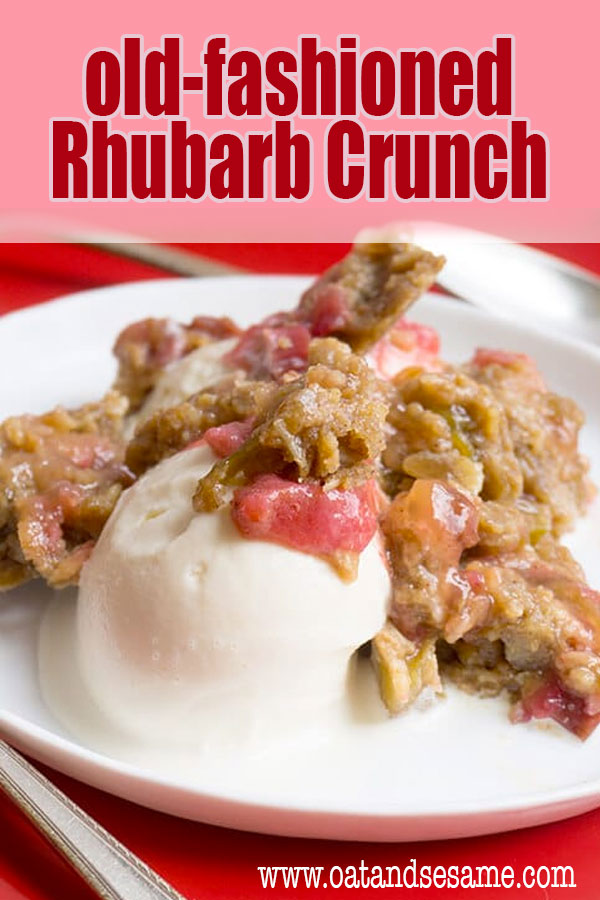 Go all out with these
rhubarb essentials!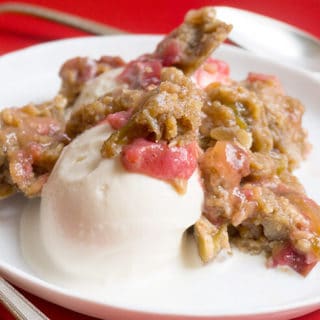 Old Fashioned Rhubarb Crunch
A family recipe for rhubarb crunch with loads of rhubarb and a thick, crumbly oat layer.
Keyword:
crisp, dessert, rhubarb
Ingredients
Bottom Layer + Crunch Topping
1

cup

all-purpose flour

GF option to sub oat flour

3/4

cup

oatmeal

1

cup

brown sugar, firmly packed

(reduce sugar to 3/4 cup for a less sweet topping)

1/2

cup

melted butter

or coconut oil

1

tsp

cinnamon
Syrup:
1

cup

sugar

2

tbsp

cornstarch

or tapioca starch

1

cup

water

1

tsp

vanilla extract
Instructions
Mix the bottom layer/topping ingredients in a bowl until crumbly. Press 1/2 to 3/4 of the mixture into a greased 8″ pan.

Cover with chopped rhubarb.

Make the syrup: Put just a portion of the water into the cornstarch and mix – this will prevent lumps. Then add the remaining water, sugar and vanilla. Heat on the stovetop over medium heat until the liquid begins to thicken into a syrup. About 5 -8 min.

Pour about three quarters of the syrup over the rhubarb (see Notes). Top with remaining crunch topping.

Bake at 350° for 40 minutes.
Notes
*This recipe is super sweet – I would suggest cutting back on the sugar within the crunch and I only used 3/4 of the syrup.
Nutrition Facts
Old Fashioned Rhubarb Crunch
Amount Per Serving (1 g)
Calories 400
* Percent Daily Values are based on a 2000 calorie diet.
more rhubarb for you