This healthy guacamole recipe is by far my favorite dip, appetizer, condiment, etc. At breakfast, avocado makes my egg sandwich come to life and for lunch don't even get me started on avocado toast recipes! As a snack it tops brown rice cakes to create a healthy alternative to chips and then of course there's the taco party which can happen pretty much any time of the day.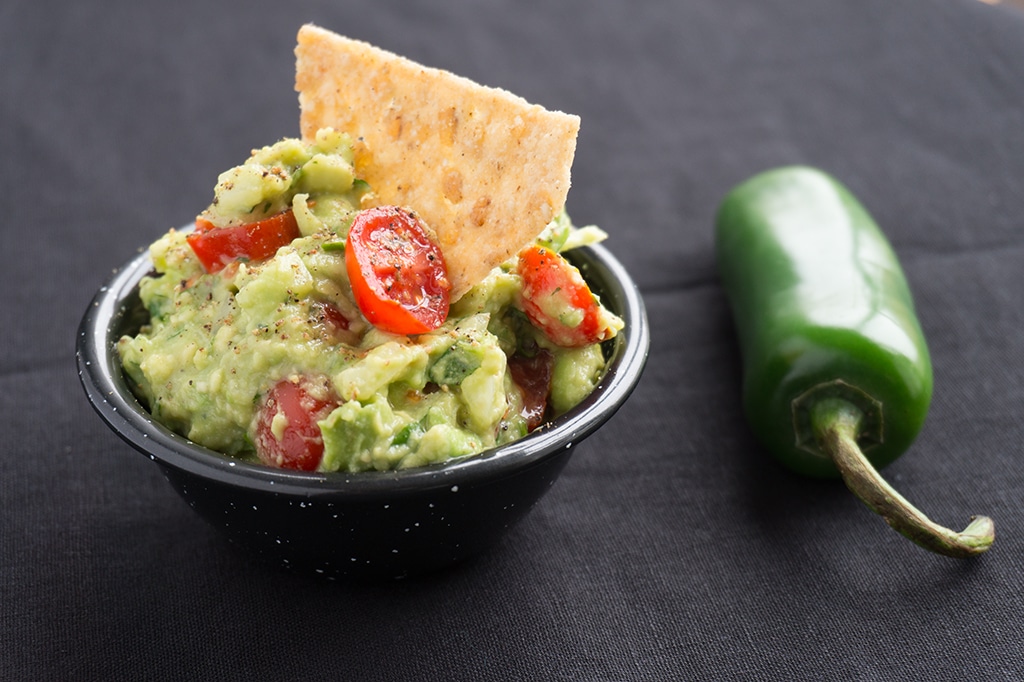 GUACAMOLE ROCKS!
packed with healthy fats
full of fiber
lots of vitamins
make you happy
Authentic guacamole can be as simple as avocado, lemon/lime and salt. Or it can tomatoes, onions and jalapeños depending on your preference.
I use two tricks to make this healthy guacamole 1) make the raw onions milder + 2) make sure I store the guacamole so it doesn't brown.
How to make raw onions milder
I have a hard time eating raw onion. There are a few tricks to tame that strong onion flavor. You'll end up with nice onion flavor without the sharpness.
Give them a 10 minute ice bath. Chop them and them submerge them in a bowl of ice water. Give them a stir and let sit. Drain and pat dry with a paper towel before adding them into the guacamole.
Sauté chopped onion in a little water over high heat for approx. 2 min.
How to keep an avocado from turning brown

Slice a large onion in half and place the onion cut side down on the top of the avocado or guacamole so it covers the surface.

Place plastic wrap directly onto the surface of the avocado or guacamole. Pressing down gently to secure.
---
RECIPE TWIST: one of my favorite ways to switch up this recipe is to mix in queso fresco! We normally keep it dairy-free, but when we want to splurge, cheese it is!
---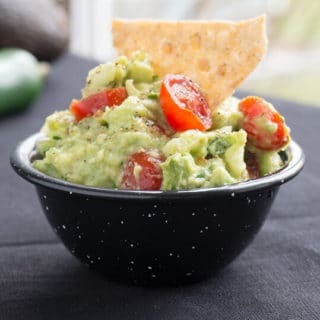 Healthy Guacamole Recipe
Chunks of avocado, sliced cherry tomatoes, lime and onions. This healthy guacamole recipe is our favorite game day dip!
Ingredients
1

pint

about 1 cup quartered cherry tomatoes

1.25

cups

diced onion

3

small limes

juiced

1

tsp

coarse sea salt

more to taste

freshly ground black pepper

to taste

4

ripe avocados

cut in to large chunks

1

medium-large jalapeño

finely diced

1

cup

chopped cilantro

stems and leaves
Instructions
Dice onion and place in a small bowl with lime juice, 1 tsp salt and pepper. Toss and let sit for 15 minutes. This helps tame the onion flavor.

Place quartered tomatoes in a small bowl. Sprinkle with sea salt. Toss and set aside.

After onions have rested, combine them with all ingredients except tomatoes and cilantro.

Using a fork, mix and mash until you reach desired consistency.

Drain any juice from bowl of tomatoes and gently mix into the guacamole with the cilantro.

Add more salt and pepper to taste.
Notes
TIP: to keep guacamole from browning too fast, place a cut onion on the top of the bowl so it covers the surface. It works!
Nutrition Facts
Healthy Guacamole Recipe
Amount Per Serving (1 g)
Calories 293
* Percent Daily Values are based on a 2000 calorie diet.
Avocado Themed Gifts for Everyone on Etsy!
Food for Thought: With the rise in demand from the US and China for this "green gold", avocado forests have been overtaking land in Mexico which in turn threaten native forests, the monarch butterfly habitat and create water issues. Grown primarily in the state of Michoacan, the environmental protection agency has started dialogue to protect the state's natural resources in an effort to grow avocados in harmony with nature.
---
More Mexican recipes you may like