Inspired by my travels to Morocco, this Wild Blueberry Smoothie with Orange, Fig + Walnut is thick and creamy – full of healthy ingredients. Layers of orange, blueberries, avocado, figs and walnuts and naturally sweetened with dates.
Bring on the WILD Blueberries!
It's time for the wild blueberry smoothie contest again! Last year I submitted this delicious Wild Blueberry Chai Smoothie.
This year I have some great new inspirations from my recent travels to Morocco!
Every single day I had fresh juice. Starting with fresh squeezed orange juice at breakfast, a smoothie at lunch and more juice at dinner.
Every restaurant had a juice or smoothie of the day.
Some thick, requiring a spoon, some drinkable with a straw. It was heaven.
January is citrus season and I find oranges irresistible (I made a Cara Cara Orange Creamsicle Smoothie last January).
In Morocco, the tangerines tasted like orange candy. A day did not go by without eating at least two tangerines.
Did you know that tangerines are named after the port city of Tangier? So many were exported through its port, it resulted in the name tangerine!
During one of our city walks, our Moroccan guide, Oumaima, told me about a blueberry avocado smoothie her mom frequently makes for her.
Avocado smoothies are very popular in Morocco!
While blueberries weren't part of her smoothie, they're a perfect addition.
Layered with a mixture of dried figs and toasted walnuts, this wild blueberry smoothie is thick and substantial. Almost like pudding with a sweet nutty middle layer. It's the avocado that makes it so creamy.
From all of this inspiration I've created this Wild Blueberry Smoothie with Orange, Fig + Walnut!
WHY WILD Blueberries?
Wild blueberries are different. You can't go out to your local plant nursery and purchase a wild blueberry bush for your backyard. They occur naturally in certain habitats – usually formed by glaciers that left behind sandy soils perfect for low forming shrubs like wild blueberries. They are smaller in size, but pack 2x the antioxidants compared to the cultivated blueberries found in your local grocer's produce section.
You can purchased wild blueberries in the frozen section of the grocery store. I find them tastier and easier to use for making blueberry pancakes or blueberry coffee cake because they are smaller in size. Which makes them easier to distribute evenly in baking since they aren't as big.
Wild Blueberry Smoothie with Orange, Fig + Walnut – inspired by Oumaima, her mom and all the wonderful fresh juices I consumed while traveling in Morocco.
This smoothie was voted TOP10
in the WildBlueberries.com Recipe Contest!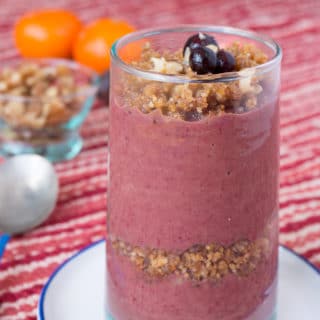 Wild Blueberry Smoothie with Orange, Fig + Walnut
This smoothie has layers of flavors inspired by travels to Morocco - orange, figs, walnuts, and blueberries. 
Keyword:
blueberries, smoothie
Ingredients
5

dried figs

chopped into small pieces

1/2

cup

walnuts

toasted

1

cup

wild blueberries + more to top

1

avocado

4

tangerines

4

dates

pitted and chopped into small pieces

1

cup

water

1-2

tbs

honey

optional: a couple dashes of turmeric
Instructions
Combine toasted walnuts and chopped figs in a food processor. Blend into a fine crumble - texture should be like a grainy sand. Set aside.

Combine all other ingredients into blender. Blend until smooth and creamy.

Spoon into glasses or bowls, layering the walnut/fig mixture and smoothie.

Top with extra blueberries.
Notes
This can be made ahead and stored in the refrigerator overnight.
Nutrition Facts
Wild Blueberry Smoothie with Orange, Fig + Walnut
Amount Per Serving (1 g)
Calories 570
* Percent Daily Values are based on a 2000 calorie diet.
---
By posting this blueberry smoothie recipe I am entering a recipe contest sponsored by the Wild Blueberry Association of North America and I am eligible to win prizes associated with the contest. I was not compensated for my time. This post contains affiliate links which help support Oat&Sesame.
You may also like these smoothies: