These Zucchini Noodles with Creamy Vegan Tomato Sauce are quick + super healthy. Pan sautéd in olive oil, tossed with toasted pine nuts and finished with a cashew-based, vegan tomato sauce and fresh basil. When lots of zucchini pops up in your garden or market, this zoodle recipe makes an easy meal.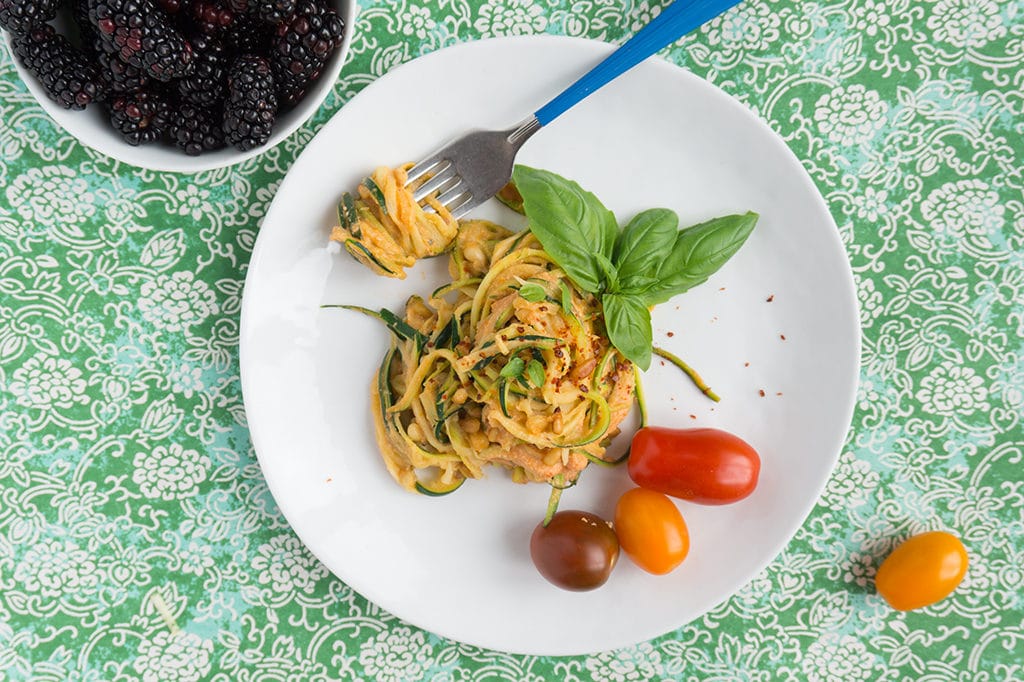 In just 15 minutes of prep time you can create a cheery + healthy summer meal packed with lots of fresh flavors! Since zucchini noodles become soggy when refrigerated, I like to make just enough to eat for 1 meal – no leftovers.
What is the easiest and best way to do that? Here's what I do!
The Best Way to Cook Zoodles (Zucchini Noodles)
First off, let's start with this rule – zucchini noodles are never any good cut ahead of time. They get soft and soggy – nobody wants that.
Zoodles can be prepared quickly with a spiralizer (I finally bought one!) But for a 1-2 portion serving, a julienne tool – like the one pictured below – works just fine.

How long should I cook Zoodles?
Zoodles cook FAST! One to three minutes in a sauté pan with olive oil is all you need to heat them up. Any longer than that and you'll end up with soggy, watery noodles that break apart don't work well with any sauce.
The best zoodle recipes are the ones that require very little cooking time. Simple is better for zoodles.
---
BONUS Recipe: Zoodles with Cherry Tomatoes
An even simpler preparation that I make often is zoodles with the cherry tomatoes from my garden. I'll grab a bunch, slice them in half then sauté the zoodles with them in plenty of olive oil. That's a delicious recipe in itself.
---
How to Make Vegan Tomato Sauce
Since my garden tomatoes were not ripe and my zucchini are small but ready to eat, I developed this Vegan Tomato Sauce using sun-dried tomatoes.
This tangy sauce is easily made ahead of time and can be stored for at least a week in the fridge. Which means you can harvest a zucchini each day and toss the noodles in your prepared sauce.
Once the zucchini start flooding your garden or farmer's market, you'll be happily munching away on these easy zucchini noodles!
Zucchini Noodles with Creamy Sun Dried Tomato Sauce
Super healthy zucchini noodles with a vegan cashew based creamy tomato sauce. Healthy comfort food!
Course:
Main Course, Pasta
Keyword:
zucchini noodles
Ingredients
Creamy Sun Dried Tomato Sauce
1/2

cup

raw cashews

soaked overnight

3

whole peeled San Marzano tomatoes from a can

1/2

lemon

juiced (about 1 Tb)

1/2

tsp

kosher salt (more to taste)

1

Tb

water

+/- to thin sauce

freshly ground pepper, to taste

(I use Aleppo pepper - it adds a bright + complex flavor.)
Zucchini Noodles
4

small/medium zucchini

spiralized or julienned

1

Tb

avocado oil or olive oil

4

Tb

pine nuts

fresh basil to top

kosher salt and pepper
Instructions
Creamy Sun Dried Tomato Sauce
Drain the cashews. Place in a high speed blender and grind until almost smooth.

Add tomatoes, sun dried tomatoes, lemon juice, salt and pepper. Blend until it's as smooth as your blender can make it!

Thin with water if needed. Taste and adjust any seasoning. Refrigerate until ready to use.

Zucchini Noodles
Heat a large 14" sauté pan over medium heat. Add pine nuts and sauté them until they start to turn golden ~ approx. 2 min. Watch them carefully as they start to turn quite quickly.

Remove from heat into a bowl and set aside.

Add avocado or olive oil to the pan.

Add zucchini noodles. Toss to coat in oil. Mix them well and add a couple pinches of salt and pepper. Sauté for 1 min and then add the creamy tomato sauce. Mix well for another minute or 2 - just until heated through.

Top with pine nuts and serve with Aleppo pepper (or any spicy pepper you'd like!) and fresh garden basil.
Notes
This recipe is easily scalable. The sauce makes 1 cup, 4 servings. So if you want to store the sauce and make 1 or 2 servings, the rule of thumb is one zucchini, 1 Tb pine nuts and 1/4 cup sauce per serving.
Nutrition Facts
Zucchini Noodles with Creamy Sun Dried Tomato Sauce
Amount Per Serving (1 g)
Calories 220
* Percent Daily Values are based on a 2000 calorie diet.
6 Ultimate Zoodle Recipes You'll Love
You may also like these recipes