Traveling to Amsterdam?
Take a look at some of the highlights of this amazing trip to the Netherlands!
Bikes. Canals. Windmills. Nature. Art. Flowers. Shopping. Breweries. Chocolate.
The Netherlands has a lot packed into a tiny country!
Here's a fun video that lays out the difference between Holland and the Netherlands. Wait, what difference? Just watch the video – it's pretty amusing.
I absolutely love the row houses in Amsterdam. I can just imagine living on the top floors looking over the canals and owning a little bake shop on the main level.
We did rent bikes for a day but for the most part we walked everywhere. I preferred walking so that we got to see every little shop on the maze of streets. We found so many gems.
FLOWERS
Flowers were everywhere in Amsterdam. I had fun snapping shots everywhere I went! Here are a few of my favorites.
FOOD & DRINK
In my pre-travel research, I learned that Indonesia was once a Dutch colony. There are many Indonesian restaurants scattered about. The Dutch call Indonesian dishes rijsttafel which translates into rice table. I was super excited to try it!
Cafe Kadijk was really close to our hotel and highly rated. We loved it so much we returned for dinner on our last night.
On our last night, dessert was required. This is the Indonesian layer cake called Spekkoek.  A friend of mine referred to this as a combo between pumpkin pie and pound cake. I've got it on my radar to try to make this at home…watch the blog for a recipe.
In the evenings, there were three bars that we rotated between. I'm not a fan of beer, but I have to say the craft beer in Amsterdam was amazing. I found myself drinking IPAs every night. This is unheard of for me. Arendsnest was our favorite with over 50 beers on tap and the friendliest bartenders around.
It was here that I also discovered Jenevers – a traditional Dutch brandy liquor and predecessor to modern gin. Older generations can be seen drinking it alongside a beer and the bartenders here will assist you in pairing them, but I didn't try them together.
The other bars I'd recommend are Gollem, Brouwerij' IJ and Brouwerij De Prael which is a unique brewery that is a social workplace – keeping people off the streets and working.
ART + NATURE
We did manage a few day trips outside of the city.
The first was to the Kroller-Muller Museum that houses an amazing collection of Van Gogh's and other masters. Our tour guide was so knowledgeable and managed to pack a ton of art history into an hour tour.
A few days before our visit to Kroller-Muller we checked out the Van Gogh Museum in Amsterdam. I love small museums and it was really well done.  They were open on Friday night, so we went in the evening after dinner. We were able to connect what we learned at the museum in Amsterdam with what our tour guide was telling us at Kroller-Muller. I'd recommend doing the museums in this order if you go!
The property surrounding the Kroller-Muller Museum holds an amazing sculpture garden. It had some provocative sculptures and interesting stories behind them.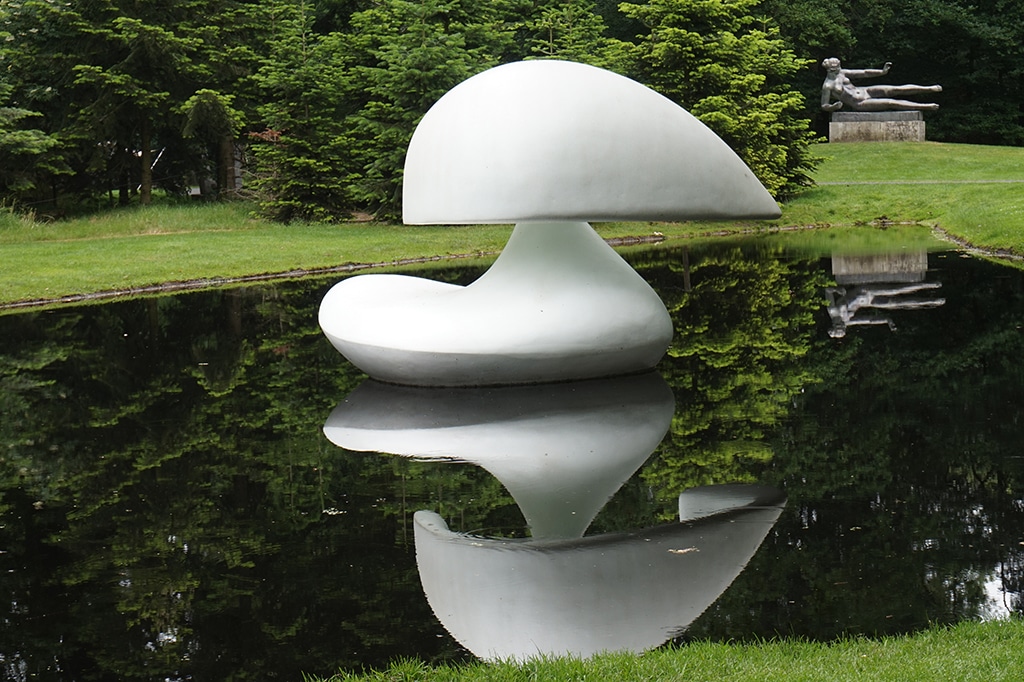 The rain held off for most of the morning visit to the museum and we headed to the national park – De Hoge Veluwe for bike riding. It was then that the rain decided to make our trip memorable to say the least.
An hour bike ride, in the pouring rain, holding an umbrella with wet jeans and sneakers. Although the rain did make it very beautiful and misty.
Our second day trip outside Amsterdam was to Kinderdijk – UNESCO world heritage site and home to 15th century windmills still in operation.
We learned a great deal about water management during our visit.  The Netherlands is the world expert in the field! Makes sense since about 60% of the country is either below sea level or flood prone!
It's a long process to become a "miller" – a person who operates the windmills. All of these windmills are dwellings and the millers go through years of training and exams to reside in them. There are certain requirements for how often they must run the windmills and they have to be present in order to do so.
We rode a boat down river past all the windmills, explored the inside of one and had an informative lecture on water management!
GRAFITTI ART
There is another small museum in Amsterdam called Moco that opened recently.
It held an Andy Warhol and Banksy exhibit. Really love this museum too!
It would be fun to travel around the world in pursuit of Banksy street tags. Like a big scavenger hunt!
We did find a tag in Amsterdam that was clearly Pez – a street artist we checked out last summer in Barcelona. See that little blue fish on the side of this Soviet sub? That's Pez.
CHOCOLATE
We were lured in to many chocolate shops. I'm not a big candy eater, but when you see beautiful creations like these you have to stop in. I sought out Puccini Bomboni because they had a Rhubarb truffle. I will try anything rhubarb. I have to be honest. It wasn't that rhubarb-y which was disappointing.
Now Tony's Chocolonely was a whole different story. We went home with a carry-on full of these babies. The packaging caught our eye in the grocery store. As a big fan of Charlie and the Chocolate Factory and the whole Willy Wonka business, these reminded me of them.
They might even have a golden ticket inside. Actually the inside is pretty cool.
What's even better is that when I googled their company when I returned home, it turns out that not only does their company have a HUGE focus on sustainability and supporting small farmers, Tony's has come ashore to the US – Portland, Oregon to be exact! And they have an on-line webshop.
STAY TUNED | I'll be doing a write-up on them soon and a chocolate giveaway! So if you've made it this far into my travel post, you have fair warning to keep checking for my Tony's giveaway post to win your own set of bars! They're worth their weight in gold.