Every year for our anniversary we take a trip to a new destination within driving range. This year we headed north to Niagara Falls and Toronto. Yay Canada!
"This river I step in is not the river I stand in."  – Heracleitus
Directly outside our Airbnb in Toronto was a public art installation on the Queen Street Bridge with this quote taken from the philosophy of Heracleitus. We crossed this bridge many times during our stay in Toronto and it stuck with me – change is constant in life, so let it keep flowing freely. Don't be afraid to change the path you're on.
---
Corning, NY

Before we made it to Toronto, we drove through Corning, NY. Home of the Corning Museum of Glass. While we want to stop in, we were on a tight schedule, so all we had time for was eating. We ended up at a BBQ joint and I was super excited to see salt potatoes on their menu as the daily special. A few months ago I read an article about them and couldn't wait to try one!
Salt potatoes are a regional dish from upstate New York. In the 1800's Syracuse, NY was the major salt supplier for the U.S. and it's said that miners (the majority of them Irish) boiled potatoes in the salty brine that came from the ground. Pretty interesting!
Boiling the potatoes in salty water forms a crust on their skin and thus a creamy inner potato. Popular at summer barbecues in this region, you can find them sold as a set at the grocery store – a sack of potatoes and salt.
They were served with a lot of melted butter. You can try it at home with this recipe for salt potatoes.
Salt Potatoes
Ingredients
3

quarts

of water

12

ounces

approximately 1½ cups fine salt

4¼

pounds

small boiling potatoes

washed

1

stick butter

melted
Instructions
Bring water to a boil in a large deep pot over high heat.

Once boiling, stir in all of the salt.

Carefully drop the potatoes into the water.

Bring back to a boil and lower the heat to medium. Simmer until the potatoes are tender - 15 to 25 minutes depending on the size of the potatoes. Test tenderness by poking with a fork through the middle. They should be very tender.

Drain the potatoes into a colander and leave to air dry - 5 to 10 minutes.

Transfer the potatoes to a serving dish and drizzle with melted butter.
Notes
recipe adapted from foodiewithfamily.com
After lunch we drove straight to Niagara. It was time to see Niagara Falls!
---
Niagara Falls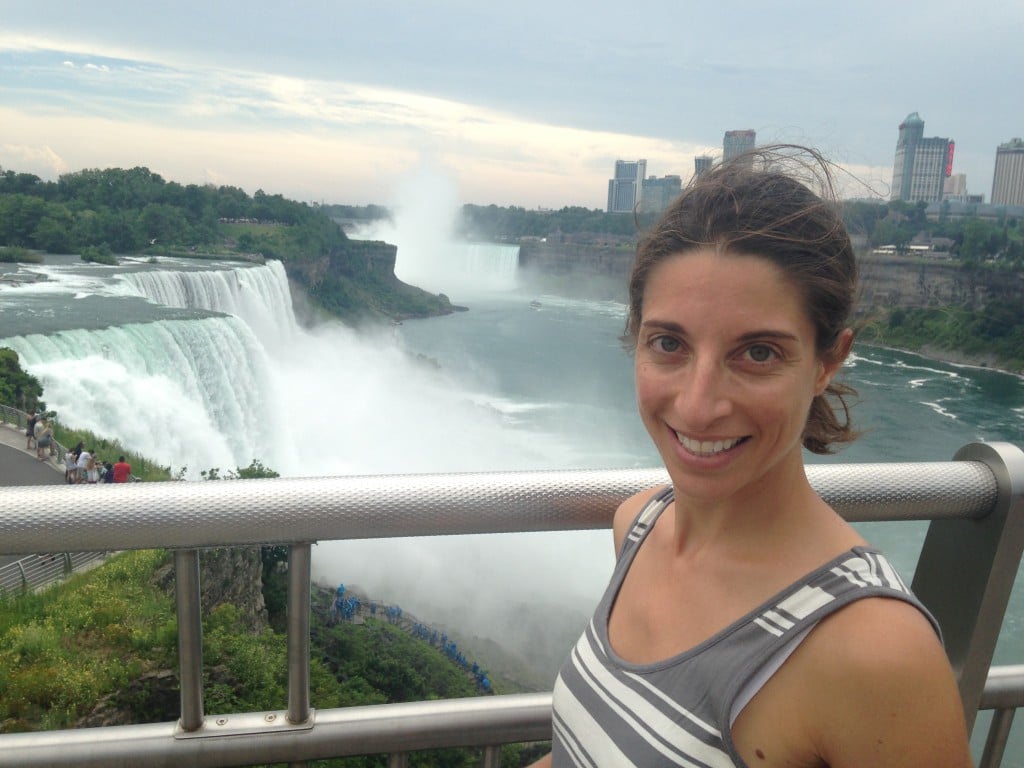 I am always impressed with the power of water. It's energizing. The raging flowing water heading to the falls was almost as exciting as seeing the water drop the nearly 200′ at the actual falls. What's even more impressive is riding the Maiden of the Mist boat into the pool below the falls and getting completely drenched yet protected by the blue poncho provided to each passenger. Water and wind hit you from all directions down there.
After 1 day and 1 night in Niagara Falls, we made our way to Toronto.
---
Toronto
We were lucky enough to arrive on the same day that cooking demonstrations were taking place in the Distillery District. The theme was Pan American. I watched two chefs – one featuring Mexican and the other Peruvian.
We also got to taste their creations – I had octopus for the first time and loved it. The potato in the photo below was coated in an edible clay. Continuing the potato theme throughout the trip.
Afterwards I made sure to stop at the Soma Chocolatemaker shop – no explanation needed here. I highly recommend the roasted white chocolate bar. I'm still drooling over it.
Some noteworthy places to eat in Toronto:

My absolute favorite breakfast was at Lady Marmalade – Cheddar & Spinach Waffles with tomato-orange cream. I think the recipe is similar to this one, but as a waffle.
Having a side salad for breakfast was a thing in Toronto. It inspired me to make this breakfast salad at home.
Another breakfast place that we didn't have time to get to but look super cute was Le Petit Dejeuner. If I'm ever back in Toronto, I'll be sure to stop here. There is just never enough time to eat everywhere I've bookmarked! For your coffee fix – two fun spots close to our hood were Neo Coffee Bar and Tandem Coffee
For lunch we ate a lot of tacos in Toronto. You can never go wrong with a taco. Two places that I'd love to return to are:
La Carnita (multiple locations) which had a hip vibe, excellent tacos (I loved the Crispy Cotija) and some delicious Mexican street corn. If you're lucky, you might get a cool piece of postcard art when you pay the bill.
El Catrin in the Distillery District was a great lunch. I loved their outdoor patio seating and the decor made it seem like you could be dining at a Mexican resort. I had both the Baja Fish tacos and the Vegetarian tacos. And I may have enjoyed one too many margaritas.
We did actually do other activities besides eating. The Art Gallery of Toronto (above) had some great Canadian artists on exhibit.  I particularly like the work of Emily Carr whose paintings I'd seen in Vancouver a few years back.
And then we also spent some time checking out some of Toronto's graffiti art. Not quite as amazing as Austin, TX as far as grafitti art goes, but cool nonetheless.