Beaches, Shopping, Art, Nature – the island of Mallorca has it all. Centralized around the main city of Palma, a quick hop in a rental car will have you hiking in dry, rocky mountains with cliffs overlooking the sea and making your way to hidden unspoiled beaches. Just a short flight from my favorite city Barcelona, this island is a destination that I will certainly venture back to one day…

Last summer my husband spent six weeks in Palma teaching a class. I was lucky to join him for two of those weeks. We rented an Airbnb in the heart of the city. An easy walk to the Mercado de Olivar where we did all of our grocery shopping and super close to the main shopping corridor on Carrer de Sant Miguel.
The city of Palma has endless cobblestone passageways with shopping to rival Barcelona. Between our various side trips and afternoon ventures to Palma Beach, we spent hours just walking and shopping. I rarely buy clothes in the U.S., I save all my shopping for Spain and come home with just enough new apparel to spruce up my closet. Love shopping in Spain!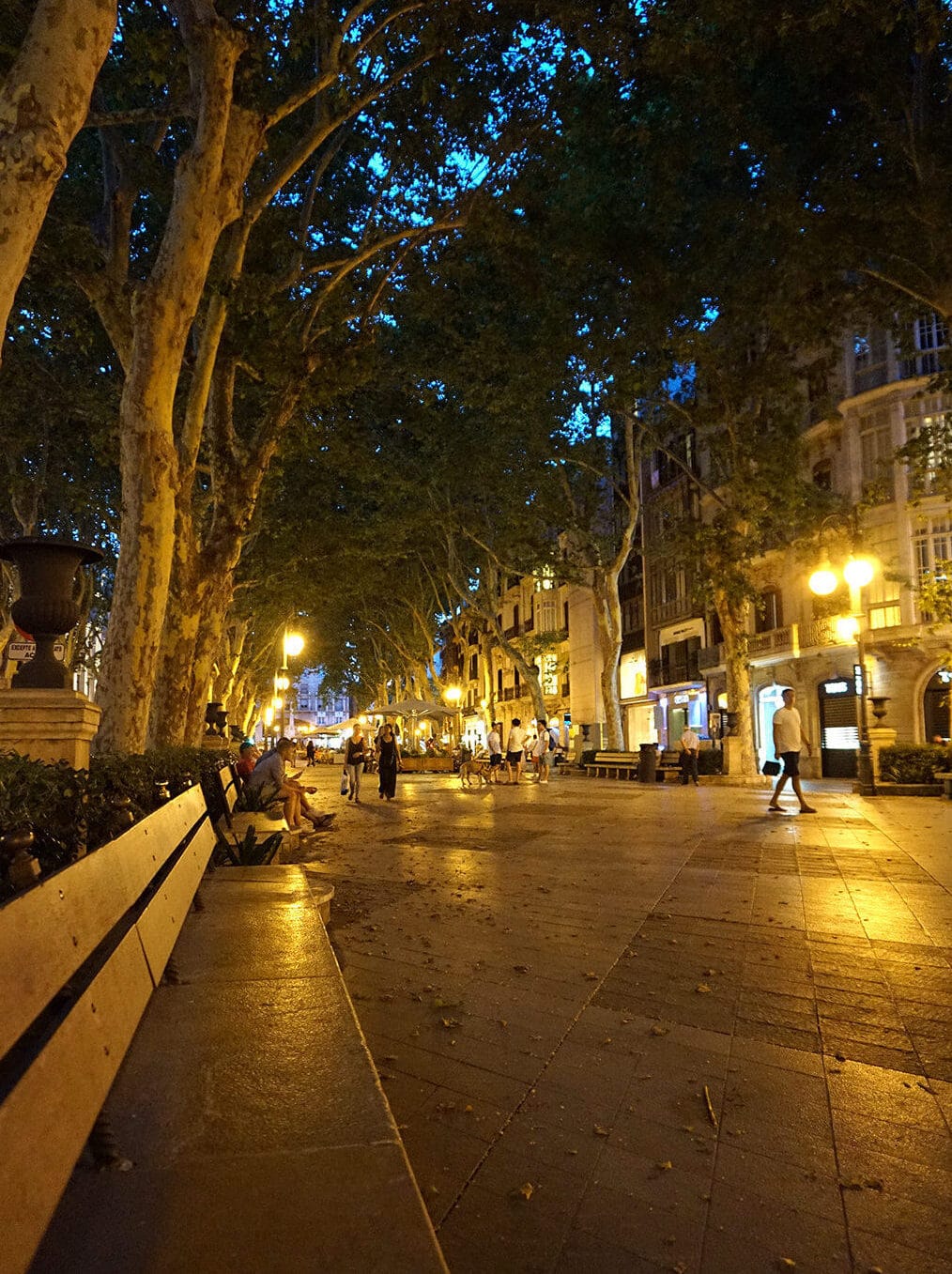 You never know what you'll find in the main square – this metallic miner was a great human statue! There were a few of these street performers in the square every day.
At night, the streets were just as lively – which is great because after all the eating we did, we needed to walk and walk more.
---
Best Restaurants in Palma
There are so many places to eat in Palma. Since we had an apartment with a full kitchen, we tried to eat breakfast there. So most of our food adventures were lunch + dinner.
500 Degrees Pizzeria
My very first meal was at 500 Degrees Pizzeria (Pizzeria 500 Grados). After a long flight, that included an unexpected 8 hour layover in Madrid airport, I was wide-eyed and exhausted. Pizza + a big salad was the perfect food to inhale before I collapsed into my time zone / jet lag coma. Simple, thin crust pizza – just like in Italy. Perfect!
Cibus Pizzeria
Continuing with the pizza theme, my personal favorite – Cibus. A little off the beaten path, but right next to the most amazing beach (I'll get to that) + near the Miró museum, I still dream of the pizza and pasta from this place. There's also a nice clothing boutique called Cream Palma right across the way from the bus stop for the museum.
At this point it almost seems like we are visiting Italy and not Spain, but there are lots of Italian visitors to Mallorca, so there are plenty of Italian restaurants to accommodate!
Gelato shops are nearly on every corner.
My absolute favorites were 1. Rivareno and 2. Amorino.
Trattoria St. Ambros was another great pizza/pasta choice. They have an awesome spinach salad with pears and walnuts that we ordered more than once. It's a great spot for dining al fresco – located smack in the middle of Plaça d'En Coll with lots of other restaurants.
---
Es Rebost
We enjoyed a couple light lunches at Es Rebost which has several locations around Palma. It was here that I was introduced to the coca – this little flatbread topped with various veggies, etc. It was just enough to fill me up until mid-afternoon snacktime. It's the Mallorca version of slow fast food.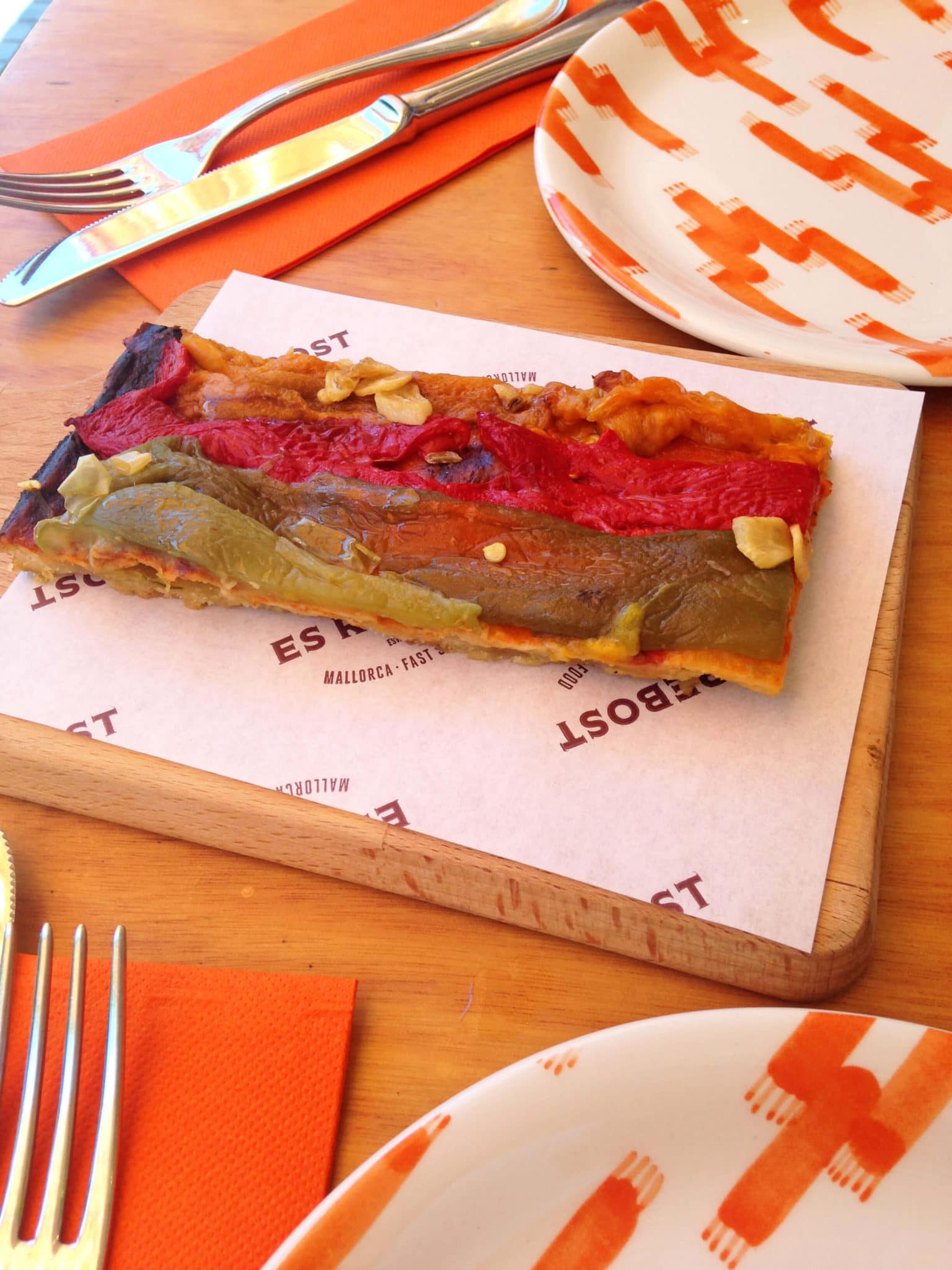 ---
Tast Club
On my last evening in Palma I chose to check out Tast Club. It's tucked away and hard to spot from the street. We must have walked by it three times before we discovered it tucked back through a dark interior entry courtyard. We had the best cocktails of the trip here and an amazing plate of Pan con Tomate – which in all it's simplicity is just crusty bread with tomatoes rubbed into it, but using the best ingredients – it's addictive! We watched the waitress make Caesar salad at the table just like they make guacamole at Mexican restaurants at your table. That was a first!
---
Badal Burger
Badal Burger is so popular that you need to either get lucky or get a reservation to eat a burger!
---
BeeWi
With 3 locations scattered across the island, BeeWi's are great spots for light fare and drinks. BeeWi Blue was our favorite location – with excellent mojitos and a cava sangria that I'm enjoying here. Cava is Spain's champagne – check out my visit to ArtCava north of Barcelona here.
For Mallorcan style food, I recommend Celler Sa Premsa. A Mallorcan-style restaurant with excellent fish and seafood where our local guide brought us with our students.
---
Bakeries + Coffee
Mallorca is known for ensaïmadas, a sweet bread that is topped with powdered sugar. It was apricot season – lucky me! – so naturally I ordered apricot.
Horno Sto Cristo
My favorite pastry on the island was the apricot cake from Horno Sto Cristo. With several locations around Palma, you'll not miss the line out the door and the stacked boxes of ensaïmadas to take back home.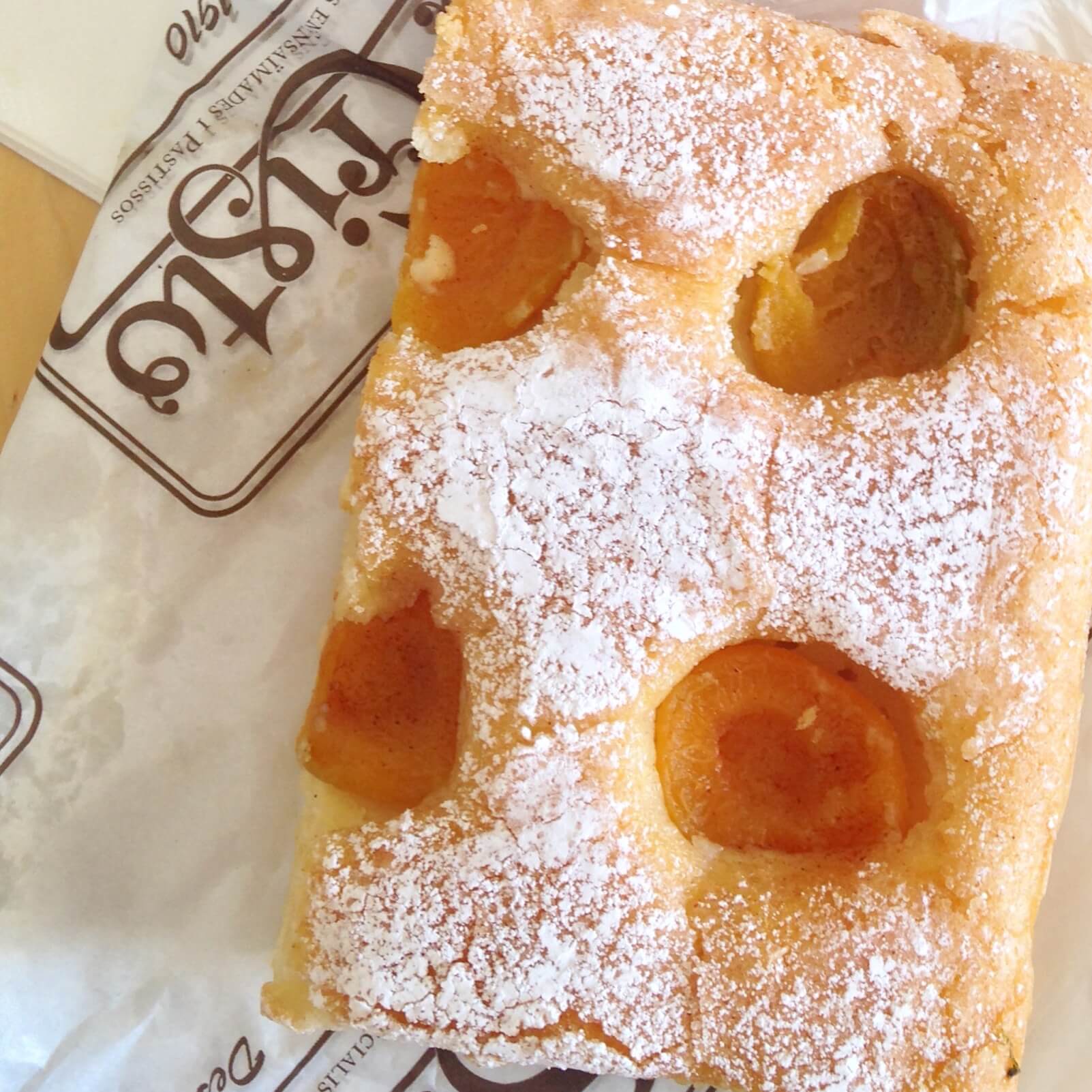 Fornet de la Soca
Seeking the bakery that was most off the beaten path – aka – I want to be a local – I set out one morning for Fornet de La Soca. Just big enough to fit a few customers at a time, this place was full of interesting pastries – both savory and sweet. I chose a few to pack for our hike that afternoon in Valdemossa.
Rosevelvet Bakery
One of the only breakfasts that I enjoyed out was at Rosevelvet Bakery. Highly recommend these poached eggs and avocado toast. Plus they have great coffee and some bomber looking muffins.
Arabay
Every day for the duration of our time in Mallorca, we stopped at Arabay for our mid-morning coffee. After teaching morning classes, this was our meeting spot to plan the day's adventure. It's certainly the BEST coffee house in Palma and they have a full menu of food ranging from the delicious chocolate croissant (which I had every morning) to salads and open faced sandwiches.
What did we do in between all this eating??
We visited beaches, churches and museums and took day trips all over Mallorca! I'll create a second post for our days trips, but within Palma there are several museums and beaches not to miss!
Traveling to Spain? PIN THIS POST!
---
What to Do in Palma de Mallorca
Catedral de Mallorca
This Gothic style cathedral dates back to the 13th century and like any massive cathedral it's impossible to get the whole thing in one photo. We visited the interior during a Sunday service and heard a beautiful choir concert at the end.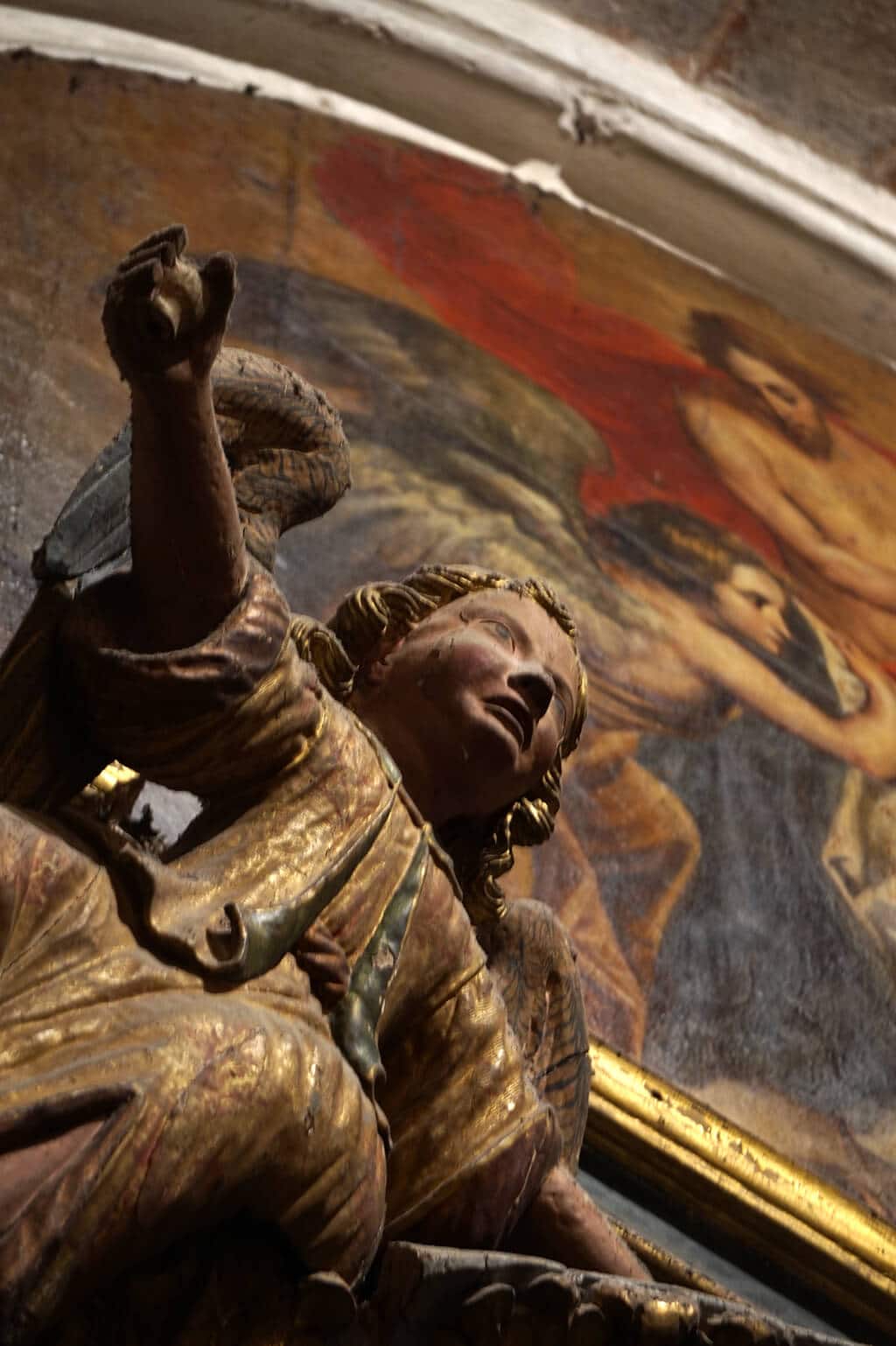 ---
Monasterio de Santa Clara
It's not everyday that you get to ring a bell and order cookies from turntable window manned by nuns who have taken a vow of silence. Naturally this was intriguing, so we went and bought a couple boxes of tiny cookies – some lemon and butter cookies.
---
Miro Museum


The La Fundació Pilar i Joan Miró is a small museum tucked at the top of the hill in a quiet Palma neighborhood. It's super easy to get there by city bus. I recommend going in the morning, eating lunch at Cibus and then heading to Cala Mayor or Contessa! It's the perfect day!
---
El Museu Fundación Juan March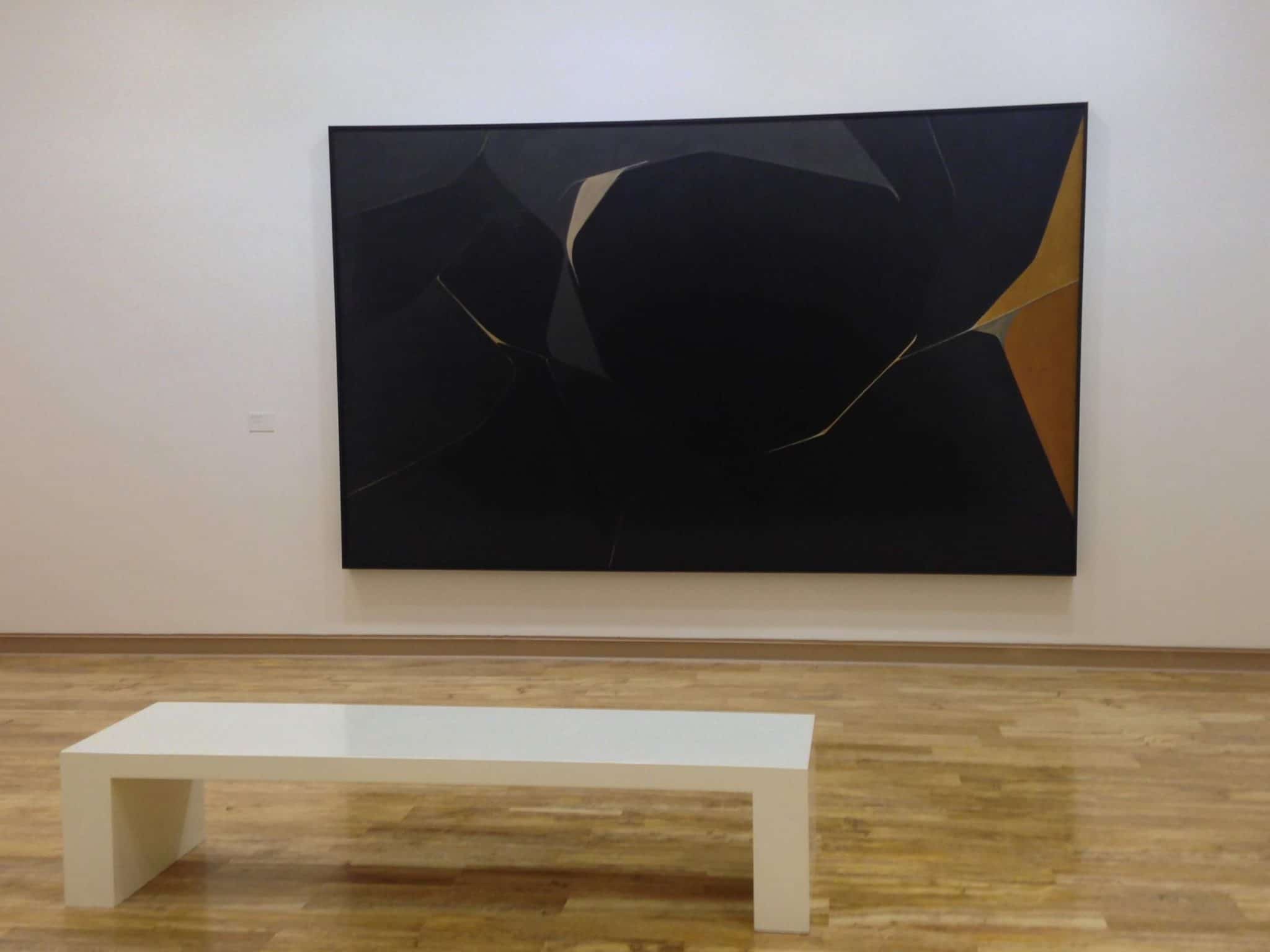 This museum is completely free! It has Picasso's, Miro, Gris, Dali…a great way to spend an hour or so between shopping and eating!
---
Beaches
Palma Beach is a bigger public beach that is nice to visit for a few hours in the afternoon. But for smaller, family friendly beaches head west of downtown Palma to Cala Contessa or Cala Mayor.
---
Festival de Sant Joan
We just so happened to be in Mallorca during the annual Festival de Sant Joan. Also known as Nit de Foc (Night of Fire) – this was by far the craziest display of fire / fireworks I've ever seen.
Demons and dragons dance through the crowd spinning wands of fire into the crowds who dare to remain close to them. There were a group of people who were actively battling the devils and their fire by dancing around with them…covered head to toe to prevent burns.
Watch the video of the Festival below!
Next up…hiking and beach adventures on the rest of the island!