These Vegan Pumpkin Pie Bars have a chocolate peanut butter swirl topping. The inside is creamy like pumpkin pie and there isn't a lick of oil, dairy, flour or refined sugar. Just healthy ingredients like pumpkin, white beans, oats and peanut butter. Slightly sweet with the addition of maple syrup, these vegan pumpkin pie bars will allow you to celebrate fall at least once a day.
There comes a day each fall where it seems like my tastebuds flip on the switch for pumpkin. It may only last for a couple months, but it does tend to get a little obsessive. By the time I'm done, I'm really done.
My fellow bloggers are in the same boat, so that's why we have a #virtualpumpkinparty – over 100 bloggers, over 100 pumpkin recipes from sweet to savory – check them out here.
---
One of my favorite fall baking secrets is Rodelle pumpkin pie spice extract. I've turned banana bread into Pumpkin Spice Banana Bread (here) and enjoyed many a latte by adding a little to my morning brew. For this recipe, I've used both Rodelle pumpkin spice extract AND Rodelle chocolate extract plus their dutch processed cocoa powder – which I think is the best out there. The pumpkin spice extract really pumps these bars with fall spices! And boy do they taste like pumpkin pie!
How to make Vegan Pumpkin Pie Bars
These Vegan Pumpkin Pie Bars are simple to make. Two bowls, two batters – one creamed to perfection in a Cuisinart, the other mixed by hand – swirl them together and you have a great pumpkin themed healthy snack for fall.
Step 1: Make two separate batters.
You'll make the pumpkin layer and peanut butter chocolate layer in separate bowls. Using a high speed blender or Cuisinart will make the pumpkin layer nice and smooth.
Step 2: Spread the pumpkin layer in a pan. Drop spoonfuls of the chocolate peanut butter layer on top.
This is the part where we get to swirl!
Step 3: Gently swirl layers together.
Swirling these two batters is not a perfect science. They are both fairly thick, so just do your best.
Step 4: Bake and slice.
If your in need of a pumpkin pie bar that is dairy-free, gluten-free and packed with nutrients. This vegan pumpkin pie bar is for you!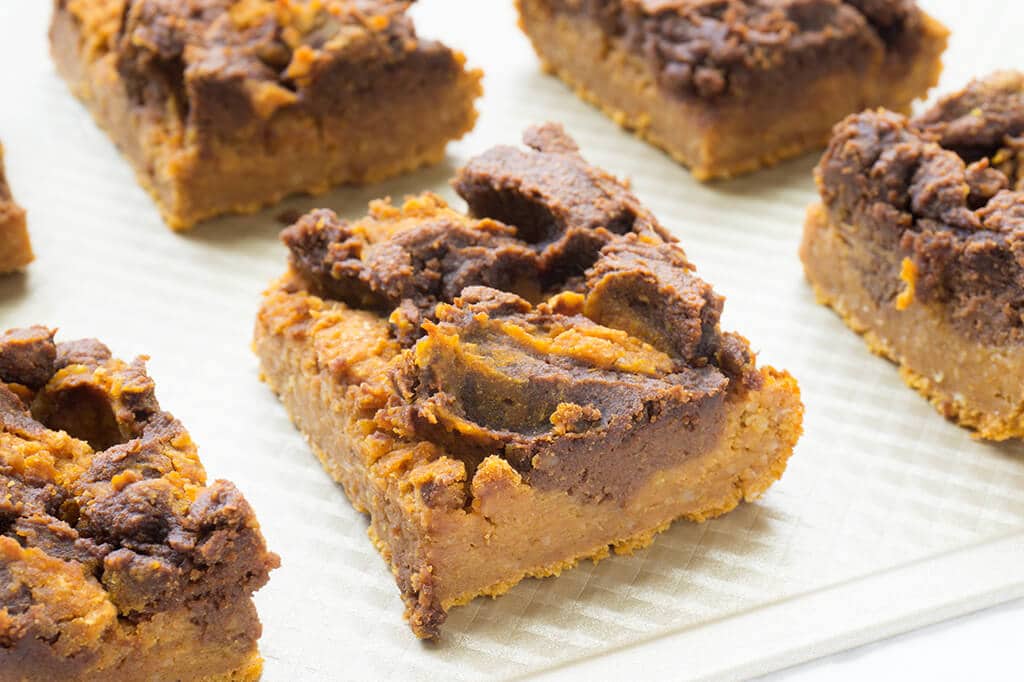 Baking with Beans
I might have lost you when I tell you that these are made with a can of white beans, but if you have ever tasted black bean brownies, I know you're still with me.
Black bean brownies were insanely popular awhile back. No doubt because they are super rich and yummy.
The idea for these vegan pumpkin pie bars came from this same concept. They are like a pumpkin white bean blondie.
Packed with fiber and plant based protein, you'll never feel guilty digging a fork into this healthy snack. Gluten free, dairy free, oil free, but most importantly, delicious.
PIN IT!
you deserve it
Freezer friendly, these bars warm up in about 30 seconds in the microwave. When warmed up, they are just as wonderful as when they were first baked – maybe even better.
Vegan Pumpkin Pie Bars with Chocolate Peanut Butter Swirl
Healthy ingredients like pumpkin, white beans, oats and peanut butter swirled into a fudgy pumpkin pie bar. I dare you not to like these!
Keyword:
bean brownies, vegan dessert bars
Ingredients
Chocolate Peanut Butter Swirl
½

cup

canned pumpkin

1/2

cup

creamy all natural peanut butter

3

tablespoons

maple syrup

1

tsp

Rodelle chocolate extract
Instructions
Preheat oven to 350 F. Lightly grease an 8×8 baking pan. (I used a glass baking dish)

In a small bowl, combine all the swirl ingredients, mix until well combined. Set aside.

In the bowl of a Cuisinart mixer, blend the oats, pumpkin pie spice, baking powder and salt until just combined - just a few pulses so they're evenly distributed.

Add bean, pumpkin, maple syrup and extract. Blend until very smooth - it's ok if bits of oats or beans are visible, they'll blend in when baking.

Empty the Cuisinart mixer bowl into the prepared glass baking dish. Use a spatula to evenly distribute and smooth the batter.

Starting in one corner, use a small spoon to scoop about 1 Tbs of chocolate pumpkin swirl batter onto the top. You'll dollop 4 scoops across and 4 scoops down making a total of 16 dollops. There will be an extra scoop or 2 left over - I give you permission to eat this. (Or freeze it into a little ball for a truffle for later.)

Using the tip of a knife, swirl the two batters together. They will be on the thick side, so it won't be a perfect swirl, but any swirly pattern looks scrumptious to me!

Bake for 35 minutes. You want the top dry and the edges to start to pull away from the sides. It shouldn't be jiggly when shaken, but it will still be slightly soft inside - like pumpkin pie - these pumpkin pie bars will firm up as they cool.

Let cool at least 1 hour before trying to cut. They will have a firm edge, soft pumpkin pie middle and chunks of chocolate peanut butter on the top.

Store in fridge or freezer.
Notes
These pumpkin pie bars can be cut into squares and frozen for a quick healthy treat. Just pop them in the microwave for 30 seconds and dig into pumpkin pie!
I made these a few times without chocolate as well. The swirl isn't as defined, but you can create a swirl with just peanut butter and pumpkin - add pumpkin pie spice instead of chocolate extract and you have a pumpkin pie blondie.
Nutrition Facts
Vegan Pumpkin Pie Bars with Chocolate Peanut Butter Swirl
Amount Per Serving (1 g)
Calories 180
* Percent Daily Values are based on a 2000 calorie diet.
more pumpkin recipes