Making a big casserole dish full of these Shredded Chicken Burritos will feed a crowd! They are stuffed with chicken marinated in a bright jalapeño lime sauce. Mixed with spinach and green chilis. Topped with plenty of salsa and cheese, then baked to create an enchilada style burrito.
Additionally, this recipe can easily be turned into vegetarian burritos by using marinated pan-fried tofu instead of chicken. Simply dice the tofu, press the water out with a kitchen towel and follow recipe instructions as written. Or try our favorite Spinach, Sweet Potato & Black Bean Burritos!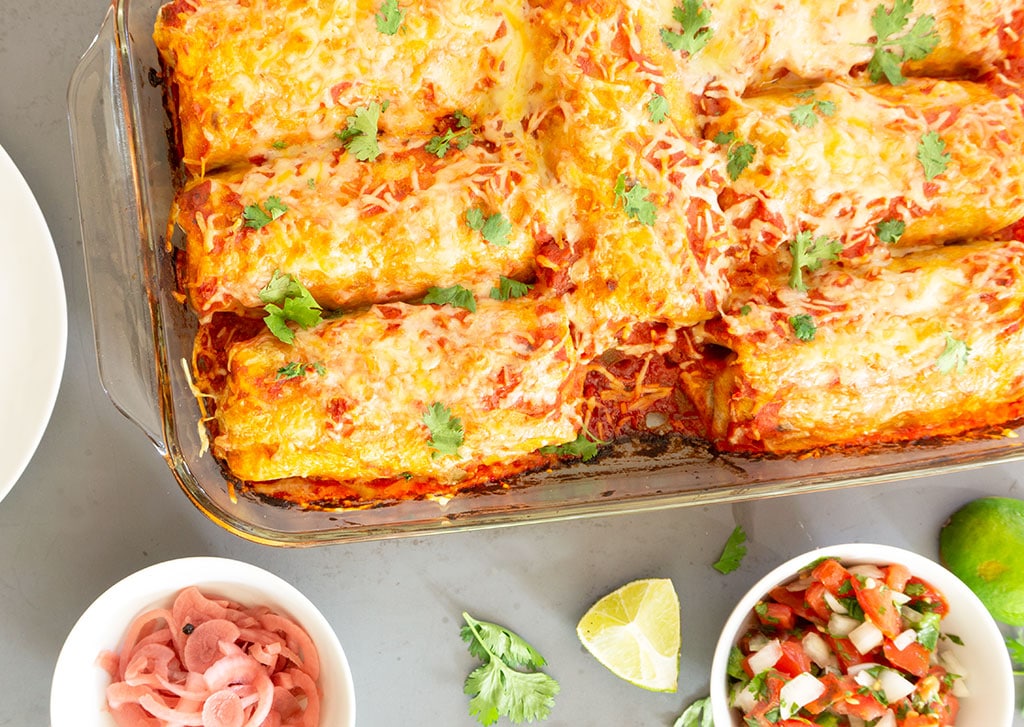 This past week was tough. Our cat Della went missing. We thought it was just a 24hr walkabout, but with each passing day, we realized that this was not normal.
Consequently, I was not in any state to cook anything. I barely wanted to show up to work each day let alone cook anything. 
Unfortunately, she hasn't returned yet – we're incredibly heartbroken but remain hopeful. Living in a wooded area doesn't bode well for her return, but she's smart and wily…sigh. I go searching for her every day, twice a day. I can only hope that my next post is all about the celebration we had when she returned home safe and sound…
Therefore, in an effort to send good vibes out to the universe, I present you with her latest photo from a recent photo shoot. She was watching me food blog this day in particular. Certainly she is a good helper in the kitchen and the garden. Please send her some virtual well wishes to help get her home! I promise to give her all the butter she wants if she just comes home.
Besides that, I really have nothing else to report on this week.
If you have fur babies, you get it.
How to Make Shredded Chicken Burritos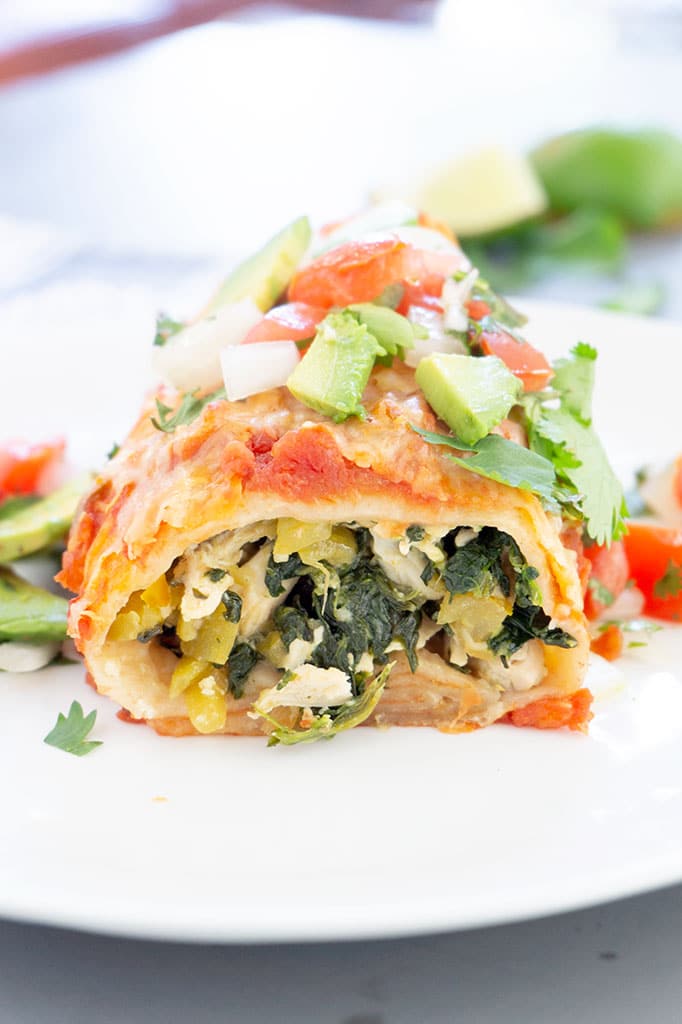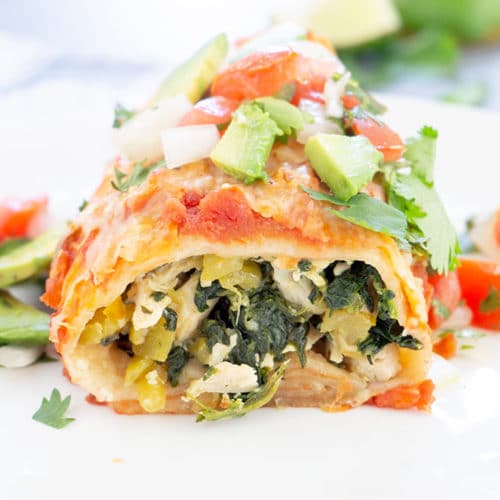 Shredded Chicken Burritos - Enchilada Style
These burritos are stuffed with chicken marinated in a bright jalapeño lime sauce. Mixed with spinach and green chilis. Topped with plenty of salsa and cheese, then baked to create an enchilada style burrito.
Course:
Lunch, Main Course
Keyword:
chicken burritos, enchiladas
Ingredients
Jalapeño Lime Marinade
1

jalapeño, stem removed, seeds intact

2

cloves

garlic

1

small onion, roughly chopped

1

zest and juice of one lime

2

tablespoons

olive oil

1/2

tsp

Kosher salt

1/4

tsp

freshly ground pepper
Chicken and Spinach Burritos
1.5

pounds

chicken breasts

cut into 2" pieces

16

oz.

frozen chopped spinach, defrosted

2 - 4 oz

cans

diced green chilis

(mild, medium or hot)

6

oz.

shredded Mexican cheese blend

(1.5 cups)

6-8

large flour tortillas

2.5

cups

jarred salsa

(red or green or both)
Toppings:
Pico de Gallo: chopped tomatoes, onion, jalapeño and cilantro mixed with lime juice and salt+pepper)

avocado, sliced

cilantro, chopped
Instructions
Jalapeño Lime Marinade
Put the jalapeño, garlic, onion, lime juice and zest, olive oil, salt and pepper in a food processor and blend until pureed.

Marinate the chicken pieces in the jalapeño lime mixture in a Ziploc bag for 30 minutes - coating the chicken pieces well. Chicken can be marinated ahead of time and refrigerated longer - up to 24 hrs.
Chicken and Spinach Burritos
While the chicken is marinating, thaw spinach and squeeze out as much water as possible. Set aside. (Give it a good head start by defrosting it a little in the microwave.)

When chicken is done marinating, heat cast iron or heavy skillet over medium-high heat.

When the surface is hot (test with drop of water), pour in enough oil to coat the bottom of skillet. Add the chicken, then reduce the heat to medium. Fry chicken 5 - 7 minutes per side until each side is golden brown. (TIPS: 1. Don't crowd the pan, do it in two batches if your pan can't accommodate the chicken. 2. If the chicken sticks to the pan, it's not ready to be flipped yet. Wait another minute or two and it should release - forcing it will remove all the good searing!)

Allow chicken to cool slightly then shred with two forks.

Mix shredded chicken, chilis and spinach along with 1/2 of the cheese.

Warm the tortillas in the microwave for a few seconds, until they are more pliable for rolling.

Place 1/2 cup salsa in the bottom of a large baking dish to prevent burritos from sticking to the dish. Spread up the sides as well.

Fill the tortillas with heaping 1/2 cup of the mixture and roll up, placing seam side down in the baking dish.

Top the tortillas evenly with the remaining salsa so all the tortillas are covered well.

Top with the remaining cheese.

Bake, covered with foil, for 20 minutes at 375 degrees. Take off the foil and continue baking for another 20 minutes, or until cheese is browned on top.

Serve with fresh pico de gallo and avocado slices.
Nutrition Facts
Shredded Chicken Burritos - Enchilada Style
Amount Per Serving (1 g)
Calories 417
* Percent Daily Values are based on a 2000 calorie diet.
Need a dessert to pair with your dinner? Try this no-cook Mexican Chocolate Avocado Pudding.
More Mexican recipes you may like