Where to VISIT and EAT in AUSTIN, TX? Check out my week trip to Austin and all the food, fun and adventures Austin has to offer!
Austin, TX
Our trip to Austin + surrounding Hill Country was awesome despite the non-stop rain. Almost the entire time we were there it was a continual downpour thanks to the Gulf storm that flooded most of Louisiana. Most of our adventures involved food and that was just fine by me!
We did make it out to Enchanted Rock State Natural Area which had some amazing rock formations and lots of prickly pear.
However, all of our kayaking plans were taken off the agenda – all of the rivers were flooded and none of the outfitters were putting anyone on the water. We did drive by the Medina River where we intended to kayak.
It would have been a gorgeous paddle. Since we weren't paddling we had extra time to do silly things like feed the miniature ponies off the side of the road. I spent way too much time feeding them and there are biting ants all over Texas hill country to contend with. They were hungry little fellas!
I have to admit we started the trip as hungry as these horses. The first morning we had giant donuts at Gourdoughs. Holy sweetness. There are several locations, but we went to the food truck which seemed to have a bigger menu. We had one with bacon, cream cheese and jalapeño jelly and the other banana, brown sugar, peanut butter. It was all kinds of wrong, but this is what we had to do.
There is a great coffee house right across from the food truck called
7th Flag
– nice people with strong coffee to help combat the sugar overdose from the donuts.
We spent a good amount of time walking this off on Congress Avenue – one of the main shopping streets. But that is also where we ran into Torchy's Tacos – another not to miss experience in Austin.
My favorite (pictured above) was the Dirty Sanchez. My husband voted for the Trailer Park Trashy. Note: if you try to take Torchy's in your carry on bag, it will get searched. Airport security said it's a pretty frequent occurrence!

Taco Geography

Texas is pretty serious about tacos.
In fact, each region/city is known for its taco specialty.
Austin is listed as a breakfast taco hub. For this tried tacos at Veracruz All Natural and Tacodeli. Veracruz had amazing traditional Mexican flavors and Tacodeli was equally as great with a more modern taste to their menu.
Art
We took advantage of breaks in the constant rain to visit some of Austin's many parks. UMLAUF sculpture garden had free admission for the summer, so we popped over to check it out.
I had a great time snapping photos – for some reason I feel like the camera captures more of the sculpture than the naked eye.
Don't you think? Especially with the beads of rain.
The park was pretty tiny and wasn't as spectacular as the one near our house, but a nice place to spend some time if you have it.
If you ever visit the Hudson Valley in NY, you must visit Storm King Art Center. It's huge and awesome to explore.
We also spent some time driving around town looking at graffiti art. Including a stop at the Mexic-Arte Museum to see both their graffiti art outside and display art within the museum. Another small, but interesting spot to stop and get your art fix.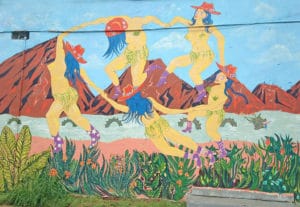 Austin's Bats!
It turns out that August is peak season for Austin's famous bats! On the first evening that had a break in the rain, we took at stroll along Lady Bird Lake and then ended up at Ann W. Richards Congress Avenue Bridge aka the bat bridge.
Watch them go!
Hatch Chili Time!!
August is also hatch chili time in the southwest. Yay! We stopped at the grocery store only to find a massive Hatchapalooza going on. I even bought hatch chili coffee! Because I'm a bit insane, we bought a case of hatch chili, had them roasted, then spent 2 frantic hours peeling and deseeding them at our Airbnb as we struggled to get them boxed for our flight leaving after lunch. Yikes! We did it though! I can't wait to make some recipes with them.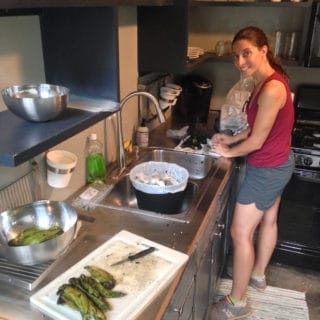 Other Notable Eateries
If I listed all the wonderful places we went, this post would never end. So here's a shortlist of all the other places that I think are pretty great.
I should also mention
Jo's
Iced Turbo. A sweet iced latte hazelnut creamy coffee bliss. I had the Belgian Bomber – a half iced turbo / half cold brew coffee – a little less sweet. My husband however decided that our morning routine was to get him an iced turbo every single day. It really is that delicious.
---
Love to Travel? Follow me on Instagram, Twitter, Facebook, and Pinterest to get the latest! Tag your travel posts #travelingandeating!
---