In this Spanish Chickpea Stew, garbanzo beans are soaked overnight and slow cooked to create a rich bean broth which is then layered spinach, plenty of garlic and paprika. The stew is thickened using bread which is a technique that adds substance to soups.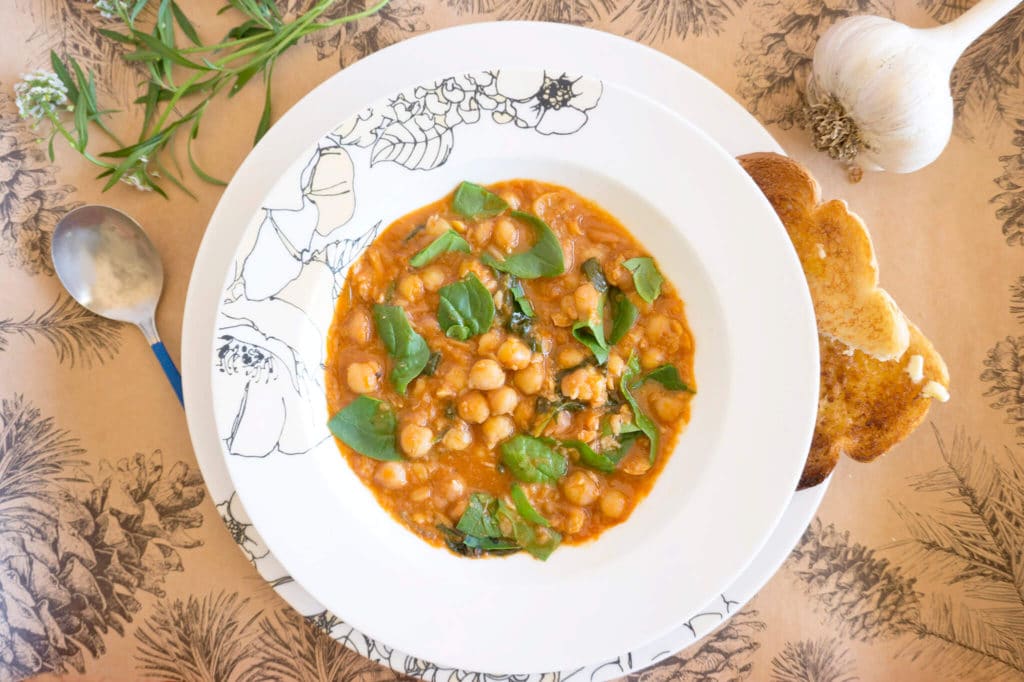 When I traveled to Barcelona this past June (see my travel photos here) I brought back a massive amount of paprika along with a sack of dried garbanzos (chickpeas). I know it seems weird to come back from Spain with a sack of garbanzos, but the Spanish are serious about their garbanzos so I could explore special Spanish bean varieties. 
I discovered this recipe as part of an NPR interview featuring budget-conscious meals created by some of the nation's best chefs. After listening to the story (listen here), I decided this would be a perfect use for my Barcelona stash.
The story is part of a series called "How Low Can You Go" – a family supper challenge where some of the nation's best cooks came up with a budget-conscious, delicious meal for a family of four. This meal comes in just under $10 and I think we can all use a good budget-friendly meal and a hearty stew for the fall weather.
How to make Spanish Chickpea Stew
Step 1: Prepare chickpeas overnight.
Soak dry chickpeas overnight. Drain in the morning.
Step 2: Cook chickpeas.
In a large stockpot, cook chickpeas until tender. 2 or more hours. Keep warm until ready to eat.
Step 3: Make a garlic/bread mash.
Brown the garlic. Set aside. Pan toast the bread. (Gluten free bread works in this recipe)
In a large bowl mash garlic and bread until a paste forms. Set aside. 
Step 4: Seasonings
Add seasonings to the sauté pan. Add  the sherry vinegar and mix. Set aside.
Step 5: Combine stew.
Return chickpeas to a simmer and add spinach. Mix in garlic/bread mash and seasoning mixture. Simmer until warmed through.
Spanish Chickpea Stew with Spinach
Plenty of garlic, beans and spices make this soup a flavorful weeknight meal.
Ingredients
1

cup

dried garbanzos

(chickpeas)

1/4

tsp

baking soda

6

large garlic cloves

1/4

cup

extra-virgin olive oil

3

slices

sliced bread, crusts removed

(Gluten Free bread works well in this recipe.)

2

Tbs

pimenton

(Spanish sweet smoked paprika)

1

teaspoon

ground cumin

1

pinch

saffron

(optional)

2

Tbs

sherry vinegar

or rice vinegar is a good substitute

1/2

lb

spinach

Salt and pepper to taste
Instructions
Soak the chickpeas overnight in cold water with a 1/4 tsp of baking soda. The next day, drain and rinse the chickpeas.

In a big sauce pot, combine the chickpeas with 2 1/2 quarts (10.5 cups) of water. Bring to a boil, reduce the heat to medium-low and simmer for 2 hours. At the end of the 2 hours, the chickpeas should be tender and the water reduced to just barely covering them. Depending on the chickpeas, they could need additional time or additional water.

Once the beans are tender, turn off the heat and set aside.

In a small sauté pan over medium low heat, brown the garlic with 1/4 cup olive oil - about 3 min. Remove garlic and olive oil from the pan and set aside in a small bowl.

Add the bread slices and brown both sides, about one minute each side. Remove the bread and place in the bowl with garlic.

Mash together the garlic and the bread to make a thick paste. Set aside.

Remove the sauté pan from the heat and allow to cool slightly. Add the pimenton, cumin and saffron to the pan and then quickly following add the sherry vinegar to prevent the pimenton from burning. Stir to combine. Remove from heat after about 30 sec.

When ready to eat, bring the chickpeas and their liquid back to a low boil and add the spinach. Simmer for 2-3 minutes. Add both the garlic/bread paste and the pimenton mixture and simmer for another 5 minutes. Season with salt and pepper to taste, and serve immediately.
Notes
*Using dry beans requires some planning and extra cooking time but yields delicious results. I don't recommend canned here, but if you do, you'll need to add water to make a broth.
*recipe adapted from Chef Jose Andres
Nutrition Facts
Spanish Chickpea Stew with Spinach
Amount Per Serving (1 g)
Calories 270
* Percent Daily Values are based on a 2000 calorie diet.
more soup recipes for you