Mulligatawny Soup is a simple red lentil soup blended to perfection with onions, garlic, ginger, spices and coconut milk. Topped with cilantro, dukkah, a blend of seeds, nuts and spices, and swirled with coconut milk. It's healthy and full of flavor!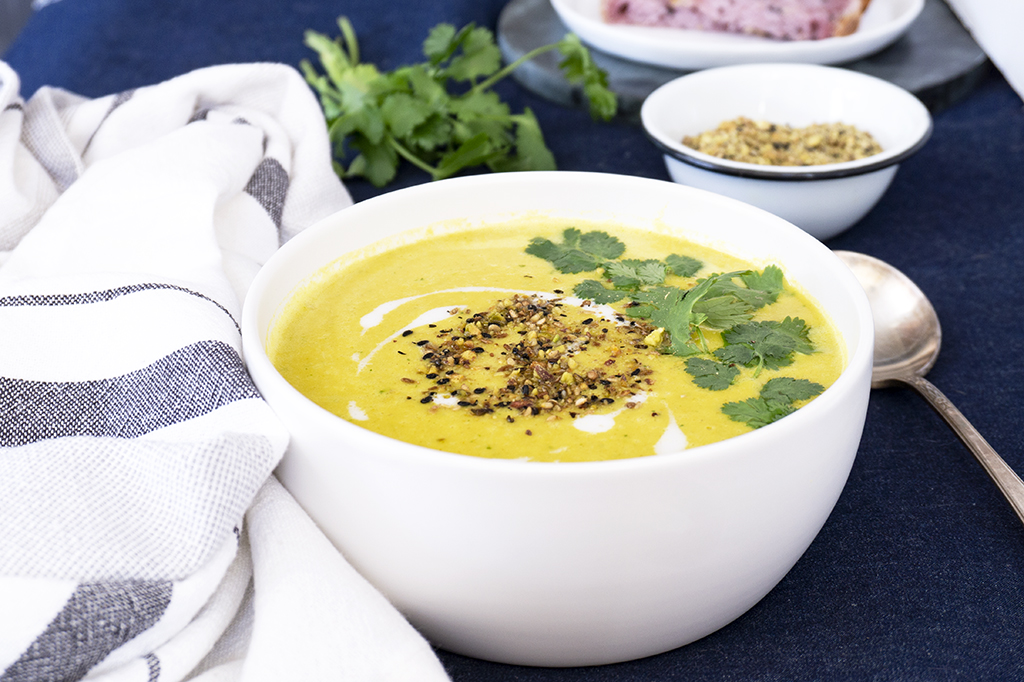 What is Mulligatawny Soup?
Thought to have originated during colonial times for British soldiers stationed in India, it's a spiced lentil soup swirled with coconut milk.
I've been making this soup for so many years now…you know from back when we binged watched Seinfeld episodes. Hearing the name of this soup on this Seinfeld episode below was the very first reason we looked it up and tried making it! We needed that Soup Nazi's recipe!
How to Make Mulligatawny Soup
Mulligatawny soup comes together pretty quickly with lots of flavor. The base is onions, garlic, ginger, jalapeño, coriander, cumin and turmeric.
The lentils take just a quick 30 minute simmer to become super soft. Then everything gets pureed to a creamy lentil soup!
Couldn't be easier than that! Need another reason to choose lentils?
Health Benefits of Lentils
2016 was the year of the pulses (beans, lentils and peas). A whole year dedicated to their health benefits! It's easy to understand why.
protein
fiber
folate
healthy fats (mono + poly)
iron
complex carbs
antioxidants
Omega-3s
Beans are superfoods for both your mind and your gut! Packed with B vitamins, which are essential for healthy brain function, consuming beans a few times a week is one of the recommendations of the MIND diet.
Step 1:
Prep ingredients.
Step 2:
Sauté onions, ginger, garlic + jalapeño. Stir in spices.
Step 3:
Add broth + lentils. Simmer until soft. Add cilantro + salt.
Step 4:
Blend into a creamy soup. Return to stove and whisk in coconut milk, lemon + salt/pepper to taste.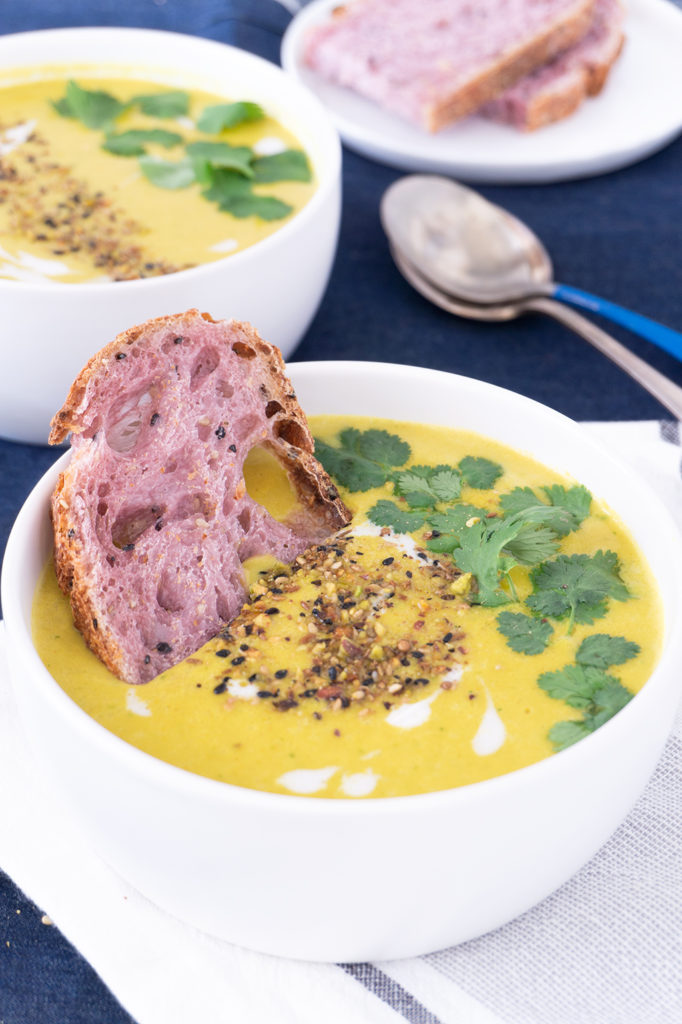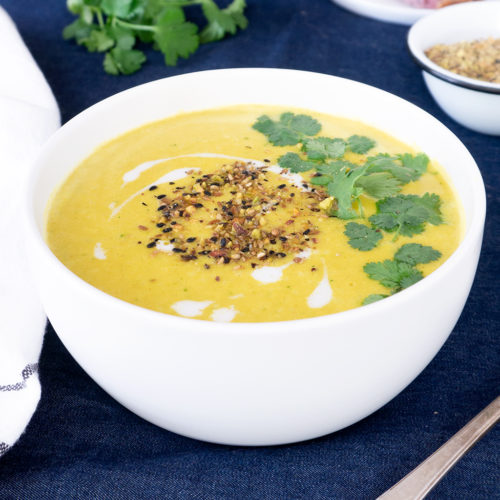 Mulligatawny Soup
Mulligatawny Soup is a simple red lentil soup blended to perfection with onions, garlic, ginger, spices and coconut milk.
Cuisine:
American, Indian
Keyword:
bean soup, lentil soup, vegan soup
Ingredients
4

Tbs

olive oil

1

large Spanish onion, chopped

6

cloves

garlic, finely chopped

3

Tbs

fresh ginger, finely chopped peeled

1/2

jalapeño, stemmed, seeded, and chopped

1

Tbs

ground coriander

2

tsp

ground cumin

1 1/2

tsp

ground turmeric

1 1/2

cups

red lentils

8

cups

vegetable or chicken broth

3

Tbs

minced cilantro leaves

1

cup

unsweetened canned coconut milk

1/4

cup

freshly squeezed lemon juice

2

tsp

kosher salt

Freshly ground black pepper
Instructions
Heat the olive oil in a large pot over medium-high heat. Add the onion, garlic, ginger, and jalapeño and cook, stirring, until browned, about 12 minutes.

Lower the heat to medium, stir in the coriander, cumin, and turmeric, cook until fragrant, stirring, for 45 seconds.

Pour in the broth and bring to a boil. Add the lentils, lower the heat and simmer, covered, until very tender, about 30 minutes.

Remove from heat. Stir in the cilantro and salt.

Working in batches, transfer the mixture to a blender and puree until smooth, or puree with an immersion blender. Return the puree to the pot and reheat over medium heat.

Whisk in the coconut milk (keep some aside to make a pretty swirl on top), lemon juice, and season with salt and pepper to taste.
Nutrition Facts
Mulligatawny Soup
Amount Per Serving (1 g)
Calories 379
* Percent Daily Values are based on a 2000 calorie diet.
more soup recipes for you