Wild Blueberry Chai Smoothie is a blend of vanilla chai latte mix and wild blueberries. It's rich and creamy with deep blueberry flavor!
Wild blueberries.
Straight from the barren, frozen in time, delivered to your blender for a blast of sweetness to whisk away your winter blues and turn them into wild blues…a wild blueberry chai smoothie that is.
Blended with chai mix, this healthy blueberry smoothie has tons of warming spices to brighten up your day! There's nothing like a ginger zing to keep you going strong all day!
Wild blueberries are harvested primarily from the barrens and fields of Maine and Eastern Canada.  They're genetically diverse and have myriad health benefits.
If you've followed my blog you might remember that I lived very close to a wild blueberry barren. In the summer, I collect, bake and of course freeze them.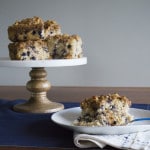 See my posts for wild blueberry coffee cake and vegan blueberry bars.
Of course any of these recipes can be made with standard grocery store blueberries; however, the wild ones have a depth of flavor that takes your recipe to the next level. Plus they have 2x the antioxidants of cultivated blueberries that you find in your local grocer's produce section!
This spring I have big plans to put two types of blueberry bushes in my backyard, but that won't stop me from heading to the barrens to get some wild ones…there really is a distinct flavor difference.
Since we all don't have our own wild blueberry barren nearby you may ask "Where can I purchase these delightful berries?" Waiting in the frozen fruit section at the grocery store – you might have been overlooking them all this time! (find nearby stores that stock them here)
How to Make a Healthy Blueberry Smoothie
Step 1: Get some blueberries! Frozen or fresh.
The wild blueberries in my grocery are called Wyman's of Maine.
Step 2: Purchase your favorite Chai Latte mix
I purchase organic Tazo Chai Latte mix. Feel free to use your favorite or make your own.
Step 3: Blend it!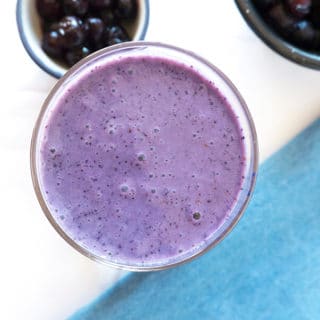 Wild Blueberry Chai Smoothie
Your favorite chai tea mix blended with sweet blueberries.
Keyword:
blueberry smoothie
Instructions
Place all ingredients into a blender.

Give it a whirl until smooth and frothy.

Enjoy!
Notes
*For this recipe, I used a premixed soy based vanilla chai latte beverage from Bolthouse Farms. You can use any mix you'd prefer - Tazo has a nice organic chai mix that you can add any milk to create a latte mix.
Nutrition Facts
Wild Blueberry Chai Smoothie
Amount Per Serving (1 g)
Calories 300
* Percent Daily Values are based on a 2000 calorie diet.
You may also like these smoothies