An insiders look into where to hike, eat and explore around Tucson, AZ.
If you have plans to visit Tucson, you won't be disappointed! Not only is there amazing outdoor recreation, but Tucson is UNESCO's First Capitol of Gastronomy in the U.S. – a mecca for foodies! Rich in agricultural history, the local food scene is vibrant and you'll find lots of menus full of ingredients native to the desert Southwest. I can't wait to go back again.
In November we made a trip back to the old pueblo – Tucson, Arizona.This was our first time back since moving away in '08 and we didn't quite know what to expect. The one thing we did know is that we couldn't wait to get there! 
Driving into town was really strange. It didn't seem familiar for the first 24 hrs, but by time we left we were already planning our return.
We hiked our favorite trails, visited with old friends, ate lots of amazing food and experienced the All Souls Procession. All of this in a 4 day weekend.
---
All Souls Procession
One of the reasons we chose this particular November weekend to visit was the annual All Souls Procession. The Procession is a combination of artists and the community-at-large that gather to honor the dead in a variety of traditions.
While it's not specifically a Dia de Los Muertos event, you'll find many bring the traditions from this holiday to the procession. The traditions all stem from the idea that it is this time of the year that the "veil between the worlds is thinnest—when the dead are closest to us".
It's an opportunity not only to honor those close to you that have passed on, but an opportunity to pause and remember those that have died as a result of injustices in our world. Those escaping persecution and despair. This sign really captured my attention.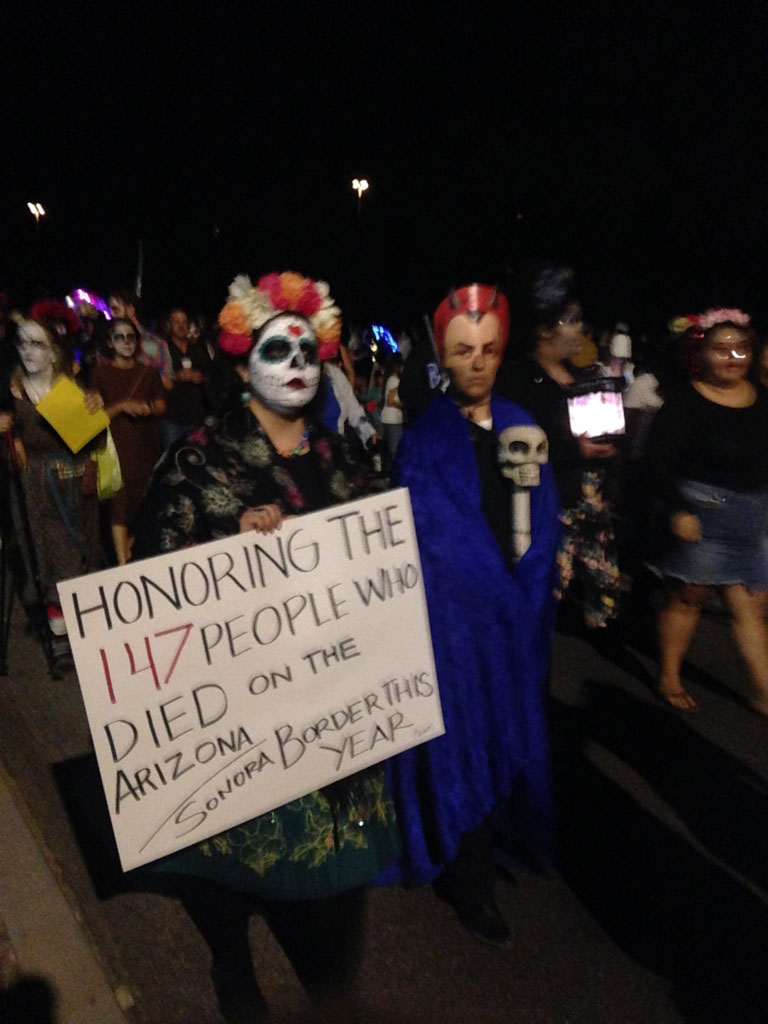 ---
Exploring Tucson
The first place we dined was 
Miss Saigon
 – our favorite Vietnamese place right off Speedway and Campbell.
It was every bit as delicious as we remembered and clearly others thought the same because it was packed!
After lunch, we checked into our Airbnb and headed to 4th Avenue to see how it had changed.
It was bustling with some new shops and a new streetcar system to connect 4th Ave to campus and downtown.
We were VERY relieved to find Martin's Comida Chingona still alive and kicking, the B-Line and Athens on 4th – our three favorites from back in the day.
We ate at all three during our visit (links at the bottom of post).
If you like pinball machines, don't miss the arcade around the corner from Antigone Books.
It sounds silly, but it's so much fun!
---
The biggest change in Tucson since our '08 departure was downtown. There were a couple of new sports bars that reminded us of something you'd see in Phoenix – with lots of TVs and loud music.
Not sure how we feel about that, but the old bones were still there like The Congress Hotel, the Fox Theatre and the Rialto. Plus a gazillion other new restaurants and bars to try.
We didn't have space in our eating schedule to really try anything new – we wanted to stick to our old favorites.
That evening we ate at The Cup Cafe at Hotel Congress – mainly because I wanted a slice of their peanut butter cheesecake – which is to die for – good news for you is that I have a recipe for it that I'll share on the blog.
It's light and fluffy and not too sweet – bottom line – it's my favorite.
---
Other neighborhoods/shopping areas not to miss in Tucson include:
---
Where to Hike in Tucson



When we first moved to the desert in 2002 it appeared brown and ugly compared to North Carolina. But over time the desert changed our vision. Tucson became lush with colors and amazing plants and animals. The smell of the desert after a rainstorm, the energy of intense lightning and storms during monsoon season and the endless beauty of being surrounded on all sides by sun-filled mountain peaks gave us a sense of home.
We hiked several of our favorite trails during this short trip:
Wasson Peak
On the west side of Tucson right over Gates Pass is a great hike up Wasson Peak. The west side is also home to the Arizona-Sonora Desert Museum – which I have been to numerous times and it never gets old. It's amazing. This hike is fairly gradual and takes about 3-4 hrs round trip depending on your speed.
7 Falls Hike in Sabino Canyon (Bear Canyon Trailhead)
When we lived in Tucson, we took almost every visitor we had to 7 Falls. Sometimes the water would be running, but there would always be a pool of water up top to cool your feet. This time we saw a rare ring tailed cat up top. He seemed to be very curious about us, but too fast for my camera skills.

 

How long does it take to hike Seven Falls?
Expect the hike to take about 3 hours roundtrip.
Can I use my National Parks Pass at Sabino Canyon / 7 Falls?
YES! In fact you can skip the line and use the left lane to drive straight into the parking lot. Hang your pass and you're off!

Blackett's Ridge in Sabino Canyon Recreation Area
A newly discovered favorite hike of ours is Blackett's Ridge. The hike leaves from the Sabino Canyon parking lot. Head down the Phoneline Trail and then break off for a somewhat steep climb to the top. Views are amazing, the landscape is gorgeous and it's just an all-around interesting hike.
Rillito River Walk
This paved and/or gravel path is great for a Sunday stroll or bike ride. It's flat, has nice views and it's right next to the Sat/Sun Farmer's Market in St. Philip's Plaza parking lot, so you can have a look, and then get your walk on.
---
Tips For Nature Lovers
JUNE
If you happen to be in Tucson in June, you might catch a glimpse of the Night-blooming Cereus Cactus.
Visit Tohono Chul Park's website for their watchlist and bring a flashlight! These blooms smell amazing and it was one of my favorite summer events. P.S. They also have a nice garden café.
YEAR ROUND
My absolute favorite spot to see native desert animals and plants is the Arizona-Sonora Desert Museum. Do NOT miss it!!!
---
Recommended Restaurants in Tucson
Mexican
Asian
Breakfast / Coffee
Lunch
Pizza
Dinner
Places to Grab a Drink
---
Don't Miss These Other Arizona Travel Posts!