TIPS FOR SEDONA TRAVEL. A snapshot of some of our favorite hikes in Sedona + places to eat. A growing list of hiking trails and places to eat. Almost every trail guarantees an amazing view of the many rock formations that extend in every direction.
One of the best perks to living in Flagstaff – and there are many – is that we are 30 minutes from the spectacular red rocks of Sedona, Arizona. The temps are 10 degrees warmer on average so when it's still chilly here in Flagstaff, we can descend into Sedona and soak in the sun's warmth.
You can't help but feel energized among the red rocks and sunshine! Maybe there is something to the energy vortex that are associated with many of the hikes here!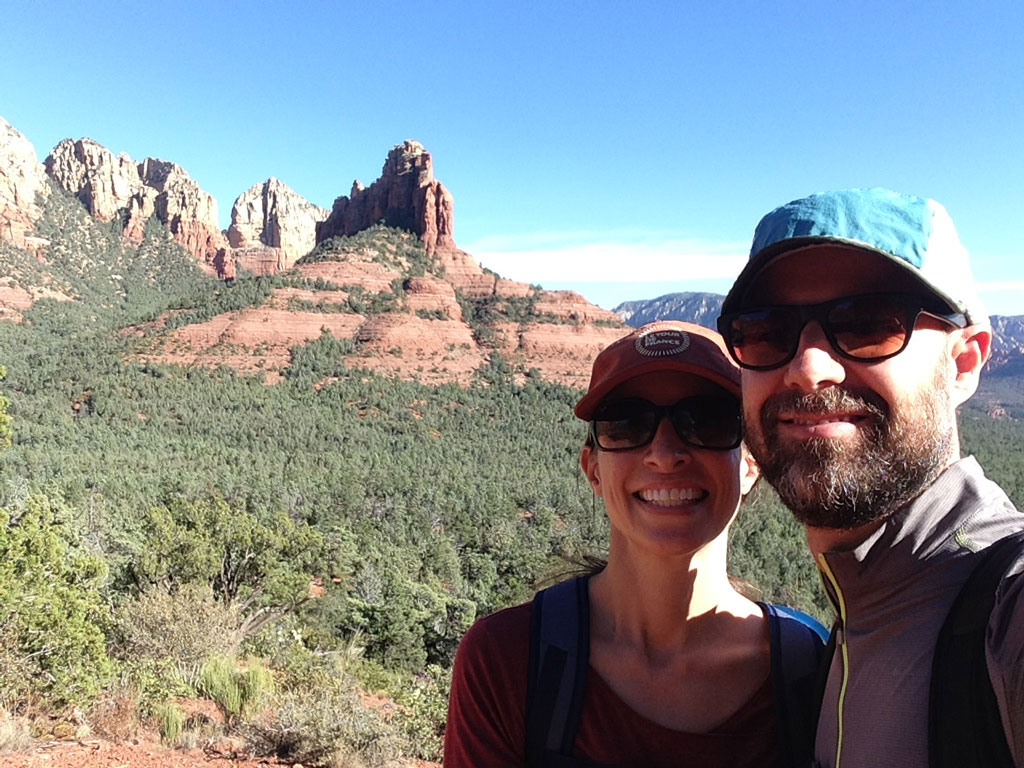 When driving down the switchbacks from Flagstaff to Sedona, there are two spots we always stop.
The first is at the campground directly after the bottom of the switchbacks – the spring. It's not a swimming hole, it's a spring to fill up all your hiking water bottles! We have two 5 gallon water jugs that we bring home to have fresh spring water to drink. There is sometimes a line up of people waiting to fill up their containers!
The second spot is Indian Gardens Café.
We love to eat breakfast here and it's especially nice when the weather is warm enough to sit on the patios – which is most of the year. If you have a vehicle, I recommend grabbing a bite here. There are plenty of hikes over in this area too – see Sterling Pass below.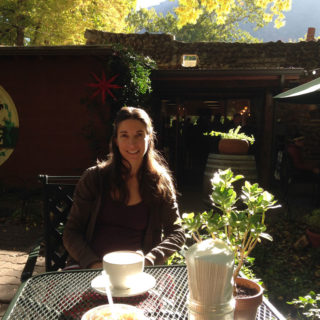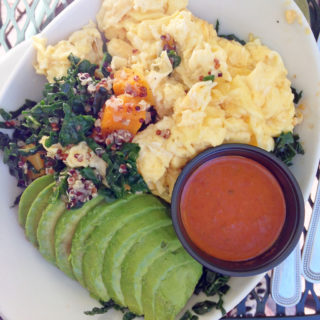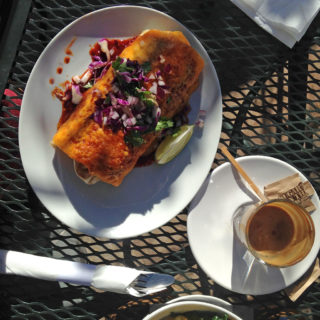 About Sedona
Sedona itself is a tourist-y town. The main strip is full of fudge and knickknacks. Lots of restaurants line both sides and I can't say that we spend much time in this part of town. As you drive towards the south part of town, past the traffic circles, you will find upscale shops and restaurants – I find these a little more interesting – check out the shops and eateries at Tlaquepaque.
The real reason we are here is for the incredible red rock formations and the amazing outdoor recreation, so I'll get onto that. Keeping in mind, most trails are open to both hikers and bikers.
Great Hikes in Sedona
We have this map of all the trails in Sedona. It covers the floor like a rug and every part of town has hiking. If you're renting an AirBnb in a neighborhood, chances are you'll have a trailhead right outside your doorstep. Here's a snapshot of the hikes we've explored so far:
Brins Mesa to Solider Pass


In the area just north of downtown Sedona there is a great 4 to 5 mile loop that is really close to downtown that gives you GREAT views and only takes ~ 2-2.5 hours to complete (which is a leisure pace). Park at Jordan Road Trailhead and hike up Brins Mesa trail and turn left on Soldier Pass trail. When you hit Devil's kitchen (a HUGE hole in the ground) you'll turn left on Jordan trail to Cibola Pass trail back to the parking lot.

The trail is not difficult except for a somewhat steep and consistent climb to the top of the mesa pictured above. Just enough to get your heart pumping – especially if you're not used to higher elevation hiking.

Chicken Point Overlook and Around the Mountain


Heading south on 179 you'll find lots of more hiking. You'll park near the famous chapel in the rock and then hike to Chicken point overlook. I highly recommend you park outside the gates to the chapel drive – we may or may not have returned to the parking lot after closing time and had our car stuck inside. Luckily, we were able to walk around the side of the gate (which ended up opening outwards electronically) and drove the car out.

Once you get to the smooth topped lookout at Chicken Point, you'll follow Broken Arrow Trail, then High on the Hog, then Hog Heaven, then Pig Tail to Mystic Trail. It sounds complicated but it's not. Trails are very well marked and you're just hiking around the mountain that the Chapel is located on and as the crow flies it's really not that far a distance. This loop gives you amazing views of south Sedona and will only take about 1.5 – 2 hours total to hike. It's a "black" diamond trail for mountain biking and it will amaze you that people bike it.

Cookstove Trail
Directly across the street from the spring I mentioned above is Cookstove. It's a steep trail for the first 1/2 mile but then flattens out and traverses the rim through the forest for 1.3 miles. Hike until you hit a T in the trail, take a left and you'll reach a beautiful lookout point. In and out it's 3.8 mi.
Sterling Pass to the Vultee Arch
This trail has a pretty good climb associated with it, but it's nice because it offers some shade from the sun. It doesn't quite have the panoramic vistas as the other trails, so it will also be a lot less crowded. The trailhead is right off 89A north of Sedona near the campground. Parking is roadside, so chances are you'll have to walk down the road a little to get to the somewhat inconspicuous trailhead.

Plan for at least 3 hours for this hike. You'll climb up some switchbacks, over the top, back down and hang a sharp right at the Sterling Pass/Vultee Arch sign. The Sterling Pass trail is accessible from both directions, so you may meet some folks hiking the opposite direction.


Mescal Trailhead to Devil's Bridge to Long Canyon Trailhead


I should note that the Devil's Bridge Trail can be accessed by a shorter route from the Devil's Bridge Parking lot. For a longer ~6.5 mile loop hike, head to the west side of town and park at the Mescal Trailhead. This trail turns into the Chuckwagon which loops around and spits yo

u out at the Long Canyon Trailhead. Then walk back up the road 0.4 mile to your car.wilson


A little over a mile down the Chuckwagon Trail, a sign will indicate a split. Veer right to the Devil's Bridge (1 mile to the bridge) and then backtrack to return to Chuckwagon.

The bridge is very popular, so I recommend visiting early if you want it all to yourself! You'll enjoy a nice stair climb before reaching the top for beautiful vistas of west Sedona and of course the harrowing drop of the bridge.

PIN IT
Dawa Trailhead – OK Trail – AZ Cypress – Snake – Anaconda Loop Trail
This 3 mi loop of connecting trails offers some pretty amazing 360 views of all of West Sedona with little effort. It's a great beginner trail, it's easy to follow, well-marked, and it really does have some magnificent viewpoints. Park at the Dawa Trailhead off Boynton Pass Road. Follow Dawa a short way until it splits and take OK trail. Turn on AZ Cypress Trail (you could really go either way since it's a loop), follow that to Snake Trail, then Anaconda which wraps back around to AZ Cypress Trail headed back to the Dawa trailhead. There are maps at every intersection.
Wilson Mountain Trail
Wilson Mountain is the highest of the red sandstone peaks that surround Sedona. The 8 mile round trip hike starts with a climb to a beautiful basalt plateau which takes the experienced hiker about an hour. Then you can choose to head to the top of Wilson Mountain (another hour) to the upper slopes that provide one of the best elevated views of Sedona. In the spring, the path is full of wildflowers and the plateau has many blooming cactus. The total climb is about 2,200 feet. Park at Encinoso Picnic Area.
Hangover Trail
With by far the best views in Sedona, the Hangover Trail sometimes has you literally hanging right on the edge. It's not recommend for small children since those sections could be hazardous. It's 8.5 mile loop, but has a great plateau to enjoy lunch and views. You'll climb 1,150 ft of elevation gain over those miles, so not intense, but fairly steep in sections. Park at the Munds Wagon Trailhead off Schnebly Hill Road and the route will takes you from Munds to Cowpies to Hangover.
Bear Mountain – located on the west side of Sedona, this lesser traveled trail is about a 3-4 hr round trip depending on your hiking ability and stop times to take in what I think is by far the best 360 degree view of Sedona. With a with 2,000 ft elevation gain, you'll want to stop and enjoy the views. Not only do you hike through several types of rock, at the top you will see the San Francisco Peaks in Flagstaff, the west valley of Sedona, and all of downtown Sedona and the red rock formations. It's quite amazing. If you can time your hike right, hike down at sunset to get a fabulous red sky on one side and a moonrise on the other. Park at Bear Mountain trailhead and cross the street to access the trail.


Long Canyon

– located on the west side of Sedona, this 3.6 mile trail (one way) is mostly flat. It winds through scrub and into a wooded canyon that provides lots of shade for your hike. I often see animals on this trail – javelinas and mule deer were spotted most recently. A spur off this trail is the very popular Birthing Cave. A cool rock to climb up to and get a great view. The photo above was taken there. To find this cave, hike to the wood + wire fence, turn left into the brush and find the spur.
Trails with Water to Cool Off:
Huckaby Trail – So many people crowd Sliding Rock to cool off during the hot summer months. And while that might be fun for screaming children, we prefer the quiet solitude of Oak Creek. This trailhead is off Schnebly Hill. Hike this trail and you'll end up far enough up the creek to avoid the noise. The trail is exposed, so you'll be hot, sweaty and ready to take a dip in the cold water. Once you can see the water, pick any spot to set up camp. Bring camping chairs and a picnic. The water isn't deep enough here to jump in – it's fast moving water to sit in and relax.
West Fork Trail – Tucked in Oak Creek Canyon, this very popular hike walks you along Oak Creek with 13 creek crossings – carefully placed rocks bring you across without getting wet in the ankle deep water. The hike is shaded which is nice in the Sedona heat and brings you to a narrow canyon where the water is waist deep. However, it can get loud with all the people and that drowns out the loads of birds in this canyon. I think this is a great hike for kids – the creek crossings make it exciting and challenging for them!

The Crack at Wet Beaver Creek – When it's super hot and you want to take a dip in frigid cold water, this 3.5 mi hike to "The Crack" is well worth the sun scorched hike to get there. Fed by springs from the Colorado Plateau, this hike just south of Sedona is relatively easy, but not shaded – there are trees to duck under for a break. At the 3.5 mi point you run into "The Crack" where rocky bluffs provide excellent cliff jumping for those who dare, smooth rocks for sunbathing and plenty of shade. Hike in the early morning, take a picnic and spend the day. Just go during the week when it's quiet and not full of boisterous kids. There are also spots 1 mi into the hike to swim – suitable for small kids.
After all this hiking, you'll be hungry and coated a little in red dust. Time to refuel!

There are so many tourist-y places. I can't say I've eaten at many of them. Here's a rundown of the restaurants we have enjoyed in Sedona.
Elote

– This restaurant offers a creative twist on traditional Mexican fare. It's only open for dinner and there are no reservations. You come, you wait in a long line, they give you popcorn and you make your way slowly to the cocktail ordering station so that by the time you finish your first cocktail, your table will be ready! Their namesake Elote, roasted corn coated with cotija cheese, lime, and chili on a stick is a Mexican street-food favorite – here they serve it as a dip. We tried a bunch of menu items, and the tacos were by far our favorite. Not a big fan of the tamales.

 

Tamaliza

– If you want delicious tamales and Mexican food in general, a stop at Tamaliza should be on your radar. It's a small, order-at-the-counter type place that serves up some simple homemade Mexican food with lots of flavor! Vegan options as well.

Open Range Grill – We enjoyed the lunch at Open Range Grill and Tavern which is in the heart of the tourist strip. The food was great and you can enjoy great view south of the rocks. Ask to be seated out on the patio for the views.
Indian Gardens Cafe 

– As I mentioned above, breakfast and lunch here are awesome. The portions are pretty large and there are many healthy options and items for special diets.

Briar Patch Inn

– You need to make reservations ahead of time if you are not staying there, but this inn has a super cozy atmosphere with seating overlooking Oak Creek. Enjoy a breakfast buffet and then walk the grounds and enjoy the sounds of the creek.

Layla's Bakery Café

– On the West side of Sedona, this cozy café is tucked on the corner of Dry Creek Rd. behind Famous Pizza. It's a perfect grab-and-go stop or relax on their patio. Grab a burrito, a coffee and definitely a pastry!
Additional restaurants that have come highly recommended to me are below. I'm looking forward to trying them out soon!
There are a lot of restaurants in the Village of Oak Creek just south of Sedona. If you're in the mood for a massive cinnamon roll that serves 4 – check out Red Rock Cafe.