A day trip to the NY Botanical Garden & The Bronx brings you out into the northernmost borough of New York City. Away from most of the traffic, inside the tranquility of the New York Botanical Garden, the glass art of Dale Chihuly and feeling full after a walk into the "real" Little Italy of NYC – Arthur Avenue.
Every trip to NYC we hit the usual – mostly Manhattan – usually SoHo – sometimes Brooklyn. When the New York Botanical Garden announced that the glass art of Dale Chihuly (above) would be exhibited in the park, we decided it was time to expand our NYC repertoire and visit The Bronx!
The grounds of the New York Botanical Garden itself are amazing. We spent 4 hours wandering around both outside and in the greenhouses and conservatories where researchers are working to help preserve the Earth's plant biodiversity.
And of course a little time was spent in the gift shop which has a fantastic selection of both cookbooks and gardening books. I really wanted this one, but I didn't want to carry books around all day, so I left it for another visit.
The Chihuly glass exhibits were tucked throughout both the inside and outside garden displays. The glass campfire (above) was one of the most striking.
The greenhouses held the most amazing cactus exhibit. I'm fascinated by cactus and the desert is my favorite landscape – I can't wait to move closer to it this summer! I thought their display of air plants (above) was really a cool idea – noted for when I am ready to decorate my next house!
The peonies were in full bloom.
Which meant there were fields of these beauties all over.
HUGE blossoms!
I found a new favorite flower – this Red Kidney Vetch pictured below. It was growing in the Rock Garden section of the gardens which were so peaceful and full of interesting flowers + landscaping ideas!
The Haupt Conservatory had a reflection pool with these geometric glass panels. Every angle created a different view/reflection off the water. It was a nice spot to grab a bench and start planning the walk over to Arthur Avenue to grab some Italian yumminess!
now comes the yummiest part: Arthur Avenue
I'd like to say that I uploaded these photos in the wrong order, but that's not the case. I am confessing to you that we went for dessert first at Morrone's Pastry. My priority was Rainbow Cookies – only improved by the selection of larger option – the Rainbow Slice.
If you've never had a Rainbow Cookie – aka Tre Colori – find an Italian bakery and get one. They are sweet almond paste based sponge cake/cookie that's dense with rich almond flavor, a thin layer of jelly separates the layers and then it's topped with chocolate. Find out how to make them here.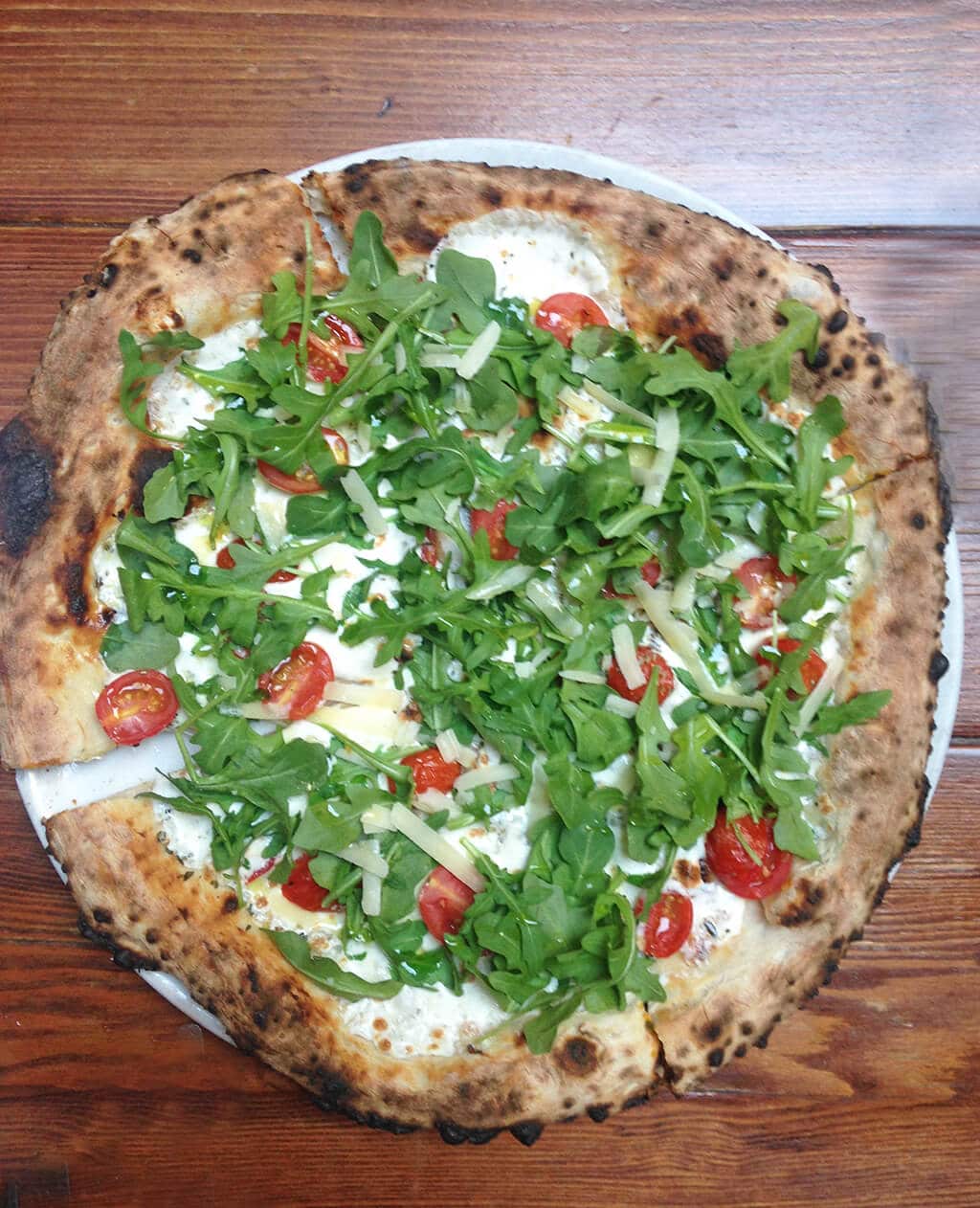 I had high hopes to stop at Calandras Cheese shop to bring home some fresh burrata and try something called burrino – which instead of mozzarella stuffed with cream in the middle like burrata, it has butter. Alas it was closed by the time we arrived. Reason to go back!!
Instead we headed to eat our cheese on a pizza at Zero Otto Nove. It was as good as the photo above looks. We were disappointed with the focaccia they served at each table, so we were relieved that the pizza and the pasta below were outstanding – simple, fresh + made with care.
A fabulous day in the Bronx with plenty of walking to justify the Italian feast on Arthur Avenue! Maybe even make one last stop, if you dare, for a cannoli at Gino's Pastry Shop – extra fuel for the ride home.