Hiking, eating and visiting breweries are some of the top priorities you should put on your list when visiting Ithaca and the towns surrounding the Finger Lakes Region of New York. This Ithaca NY Travel Guide will get you on your way to a fun-filled weekend adventure.
The Finger Lakes region of New York is a great place to spend a weekend. Driving around the rolling countryside with views of the lakes creates the perfect backdrop for a day trip or weekend adventure. 
My in-laws were in town from Georgia so we thought a little road trip to Ithaca was in order. 
Ithaca NY Travel Guide
The tagline for the city is "Ithaca is Gorges" and that it is! From the quaint downtown shops to the amazing waterfalls and lakes. This Ithaca Travel Post will get you acquainted with some of my favorite areas to visit.
Short Hikes Around Ithaca
Ithaca is surrounded by forest, waterfalls and swimming holes.
We always balance out our day by fitting in a few short hikes to visit some of the waterfalls and gorges that Ithaca is famous for. There's even a beautiful gorge right in the middle of the Cornell's campus if you're visiting the college.
The photo above is Taughannock Falls State Park and below is Treman State Park. Both parks have lovely short hikes that can be done in under an hour. They are easy enough for kids to do as well.
Ithaca does not fall short when it comes to eateries. We filled ourselves up with the goodness that Ithaca restaurants have to offer.
Where to Eat in Ithaca, NY
A trip to Ithaca starts early. We want to get there during the breakfast hours so we have an excuse to enjoy Ithaca Bakery. They have a great lunch menu too, but we have something else set aside for a lunch stop.
Pastries, breakfast sandwiches, great coffee and my favorite – the mint watermelon agua fresca. It is so delicious that I created my own Mint Watermelon Agua Fresca Recipe at home.
For lunch there is only one place that our heart desires. This is Gorgers. It's a grungy sub shop that is tucked in a little space, but creates big + tasty subs. It's guaranteed to have something for everyone.
A stop at Gorgers Subs is a must! Their subs are so delicious and huge – you could share one, if you must. Fresh cut fries and homemade soups round out this fine establishment.  My poor attempts at photos don't really do them justice.
For dinner, we stop at Ithaca Beer Company. The brewery has a really rustic setting and serves up some amazing seasonal food to accompany some of our favorite IPAs. Their menu is largely based on what's growing right outside in their very own gardens.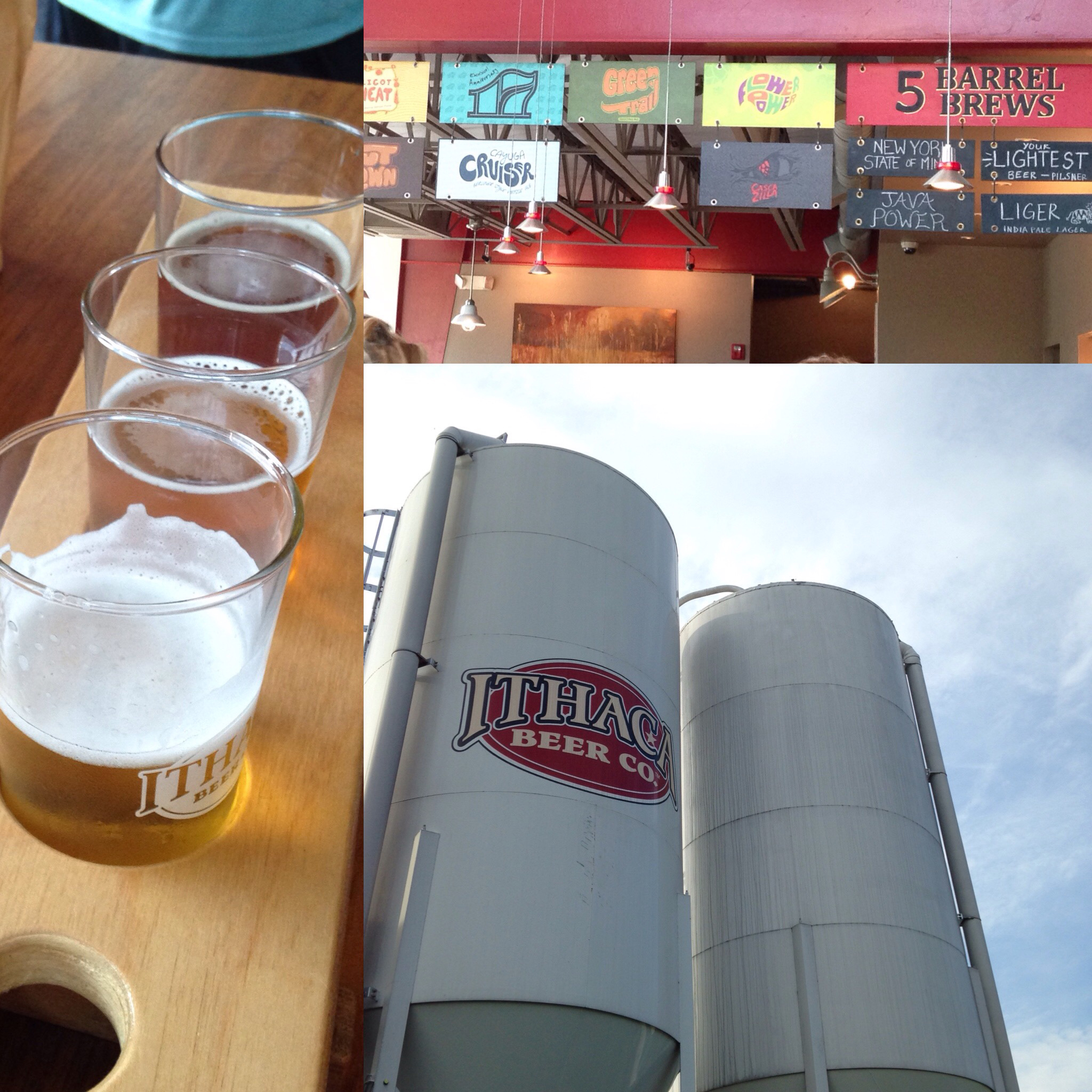 Finger Lakes Beer and Wine Trails
If you have the time, I highly recommend touring the Finger Lakes Beer Trails. You definitely can't get to all the breweries and you need a designated driver, but it's a boatload of fun. 
If beer isn't your thing, explore the Finger Lakes Wine Trails.
We've done both over a long weekend spent in a rental house on Lake Cayuga. Super relaxing and memorable.
Ithaca Farmer's Market
If you happen to be in town on the weekend, hit up the Ithaca Farmer's Market. It's right on Cayuga Lake with live music, yummy ethnic foods and plenty of local handmade goods to satisfy your shopping urges. April through December. I love this place.