This Adirondacks travel post is a guide for your next trip! Upstate New York has quickly become my favorite destination for the fall. Pristine nature, rugged mountains – an adventurer's paradise. Plus plenty of little shops and restaurants for the foodie in you!
The first day of our trip began near Schenectady + Saratoga Springs, NY. We packed a nice lunch to eat along the way, so we could get straight to apple picking.
In case you missed my Instagram feed – here's what we packed for the road. I made an amazing red pepper chickpea spread which we topped with various veggies and wrapped up in our Bee's Wrap. It was delicious and I'm going to post about it soon.
Our apple picking began near Rexford, NY at Idyllwood Orchard. It was a little confusing to find the trees with the apple varieties that we had our eyes on, but once we figured it out, we got straight to it.
They had ladders to get to the apples on most rows – which I thought was a total lawsuit waiting to happen, but it didn't stop me from moving ladders and climbing around to get to the best ones. Next time I would not wear my Tom's to climb a ladder – they literally had zero traction. I just bought a new pair, so I was excited to wear them and didn't think about it!
We picked Golden Gem and Banana apples – I had never heard of Banana apples but it turns out they are not too banana-y. 🙁
As we continued our drive north, we stopped at a few other orchards, but found that many had been affected by weather this year and were not allowing U-Pick. Apparently there was early warm weather, followed by a late spring frost, which killed a lot of buds.
We ended up in Saratoga Springs for the evening. It's such a great downtown with a ton of shops and restaurants. My favorite was breakfast at Sweet Mimi's Cafe. I had this Autumn Breakfast Scramble with brussels sprouts and butternut squash with a tiny bit of balsamic drizzle – so delicious! Recipe coming for this too! As we walked the shops we grabbed coffee at Mrs. London's Bakery and had a lemon-almond pastry that will blow your mind. I take my breakfast pastries very seriously.
I made a special stop at the Healthy Living Market – a grocery store – because that's just what food crazed people do on vacation! It was a goldmine! Turns out they sold produce from my favorite Vermont apple orchard that we skipped out on this year – the one with all the heirloom apples that I'm obsessed with. So I was able to purchase 3 varieties to add to my collection along with an Idared Craft Cider from Nine Pine out of Albany, NY that I was hoping we could stop at, but I just couldn't route us there in our limited timeframe.  We run a tight schedule!
We took our time driving from Saratoga Springs to Lake Placid since the weather wasn't great. By the time we arrived in Lake Placid it was raining. So we spent what was left of the day walking around town and sampling olive oil and vinegars at Saratoga Olive Oil Co. I highly recommend a stop there – some of the flavored vinegars are so delicious you could just drink them straight out of the bottle.
Needless to say, we came home with some Saratoga loot (cat not included). I'm super excited to make salad dressing with the Cara Cara orange vinegar! Lip smacking delicious!
The big plan for this fall adventure was to hike Mt. Marcy – the tallest peak in New York state. Unfortunately, the weather wasn't cooperating. We woke up on Sunday morning, unzipped the tent and decided that the peak would have to wait until Monday. So we switched gears and hiked Mt. Jo in the morning and Haystack Mountain in the afternoon with a stop at Big Mountain Deli in between.
The clouds were high enough that we could get good views from these peaks. With 46 peaks in the Adirondacks, we had a LOT to choose from.
So the next day we decided we would make the trek to the top of Mt. Marcy no matter what. We woke up at 6am so we could pack up and be on the trail by 7:30am. The hike is 10 hours so you have to start early in the fall so it doesn't get dark on you. We did pack our headlamps – just in case.
We got on the trail just behind a sweet couple from Alaska and pretty much followed them to the summit. As we got closer to the peak, the trail became super icy and muddy, but just as we neared the top, the clouds parted and we could see the top of the peak!
We climbed a winter wonderland and experienced the coldest and strongest wind I've ever battled!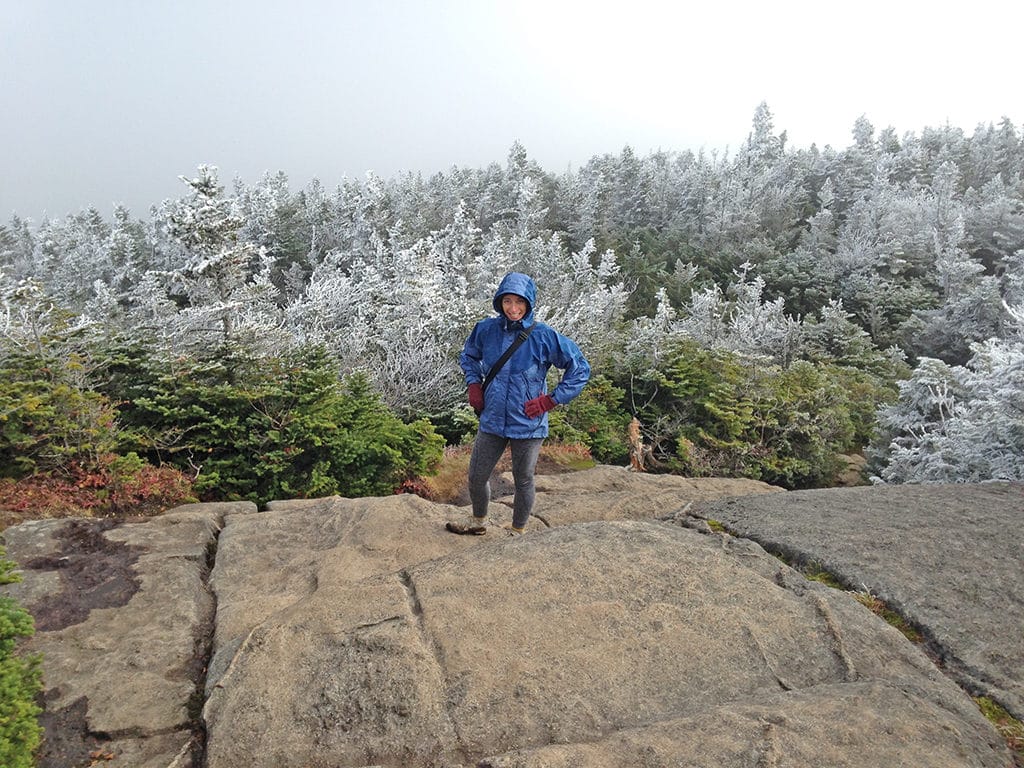 When we made it to the top, we tucked ourselves on the non-windy side of the mountain and enjoyed lunch in the sunshine and 360 degree views – if you could handle the wind that is! I held my iPhone up to take a photo and it went dead within 5 seconds because of the wind.
---
Follow me on Instagram, Twitter, Facebook, and Pinterest to get the latest adventure!
---
Hiking the Adirondacks in the fall was amazing. The Keene Valley is absolutely stunning.  There are so many hikes to choose from of varying lengths and elevation gains.
I hope this Adirondacks Travel post made you hungry for apples!
Check out all my apple recipes here!