Thanksgiving Hand Pies are stuffed with all the leftover ingredients from Thanksgiving! One simple step before Thanksgiving will have you prepped and ready to roll these out and load them up with everything you've got left!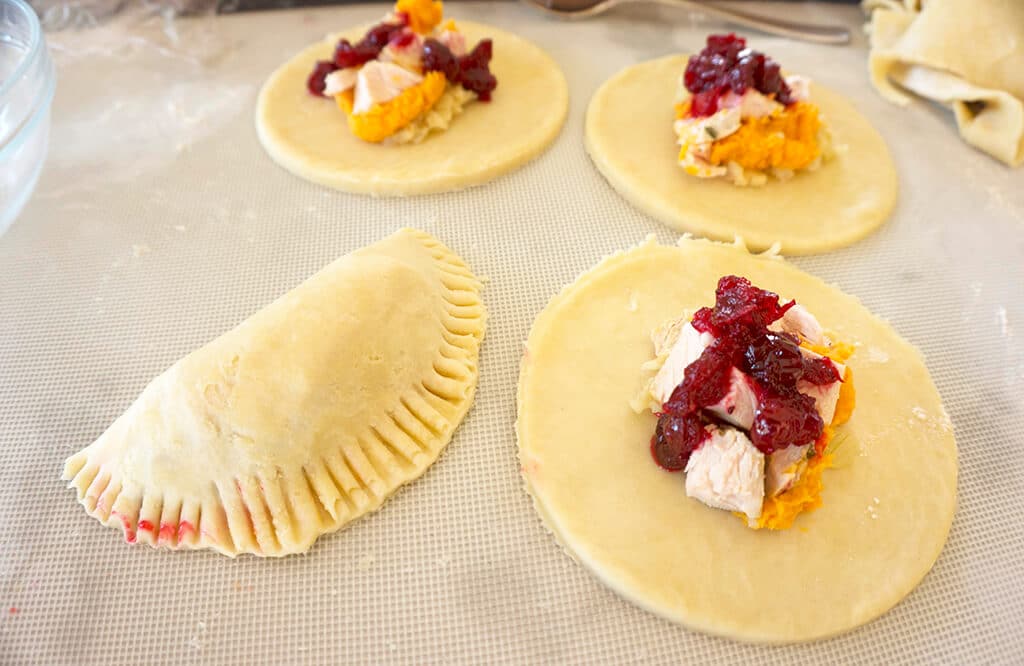 Another successful Thanksgiving meal has been served. Now for the leftovers. And there should be a ton – unless you have an interesting story to tell like I do. (read my Thanksgiving tale here)
Can I freeze my Thanksgiving leftovers?
Yes! And this is the most AWESOME way to do it!
I like to savor the season slowly – which means storing the leftovers in their own little hand pies that I can whip out on a weeknight just like a frozen pizza or hot pocket, but better.
It's the perfect way to reinvent Thanksgiving leftovers into something new. Of course you have the Thanksgiving leftover sandwich, but these hand pies are so fun + delicious – at least some of your leftovers should be repurposed like this!
---
3 Simple Steps to these Thanksgiving Hand Pies
Make extra pie dough before Thanksgiving – which is super simple using this recipe here! You're making it for the other pies anyway, right?
The day after Thanksgiving, load them up with everything you've got.
Then bake or freeze for future faux-Thanksgiving celebrations!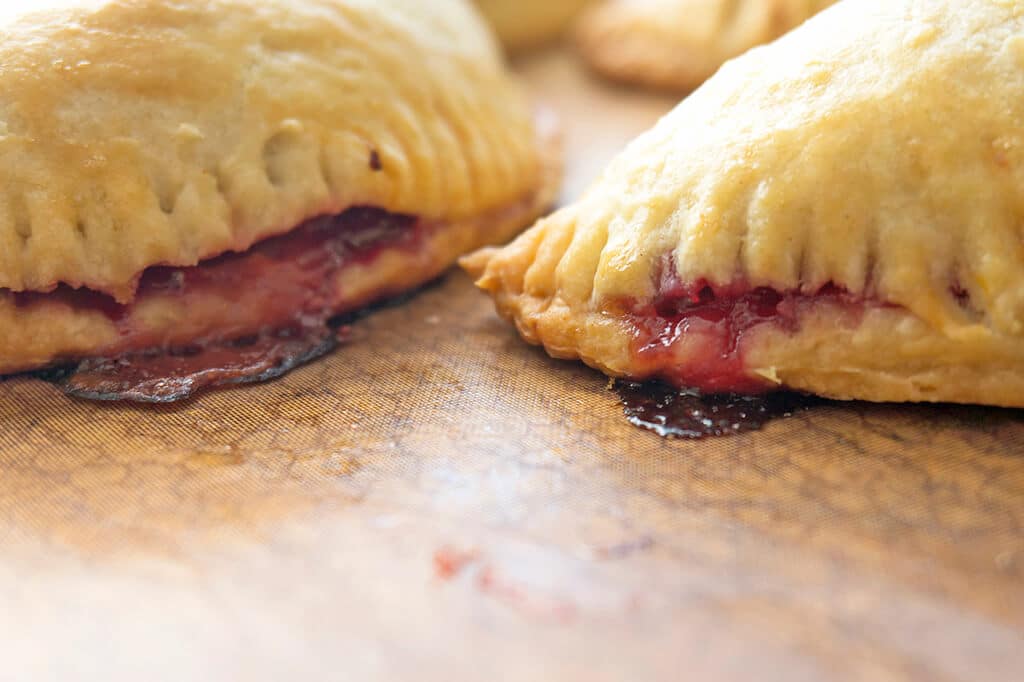 Thanksgiving Hand Pies
All of Thanksgiving in a hot pocket style hand pie.
Keyword:
handpies, pies, thanksgiving leftovers
Ingredients
ANY Thanksgiving leftover – examples below

1/2

cup

cranberry sauce

1-2

cups

turkey

cubed or shredded

1/2 – 1

cups

mashed potatoes or sweet potatoes

1/2

cup

stuffing

1/2

cup

gravy

cold

12

pecans

chopped (optional)

PIE DOUGH

see recommended link above, makes 2 crusts

1

egg

for egg wash
Instructions
Make and refrigerate your pie dough a day before use or up to a month before (in this case freeze it and thaw in fridge).

Place all your leftover ingredients in separate bowls for the assembly line. You can use all, some or more of what I listed above. Including pumpkin or apple pie!

Prepare two small ramekins. One with water to seal the pies, the other with 1 tbs water and 1 egg beaten for egg wash.

Remove one dough disc from fridge and roll it out to 1/4″ thickness on a lightly floured surface.

Take a 5″ glass bowl, invert it to use as a dough cutter to make the rounds for the pies.

Add a small amount of each ingredient you've decided to use to the center of each 5″ round. Maybe 1 Tbs each. More of the turkey. Careful not to overfill. I'd suggest trying one out and getting a feel for the amount that fits.

Dip you finger in the ramekin with water and rub a little water around the very edge of the dough.

Flip the top edge over to the bottom and press slightly to seal. Crimp the edge with the prongs of a fork. Poke each pie on top with a fork for air vents and place them on a parchment lined baking sheet.

Place in the fridge for about 15 minutes. (I keep the baking sheet in the fridge and put them in the fridge as I complete each one.)

Preheat oven to 375. When ready to bake, brush the tops of each hand pie with the prepared egg wash. Bake for 25-30 minutes or until golden brown.

Wait about 5-10 minutes before eating! Don't burn your hands on the hand pies!

Unbaked hand pies can be frozen and baked anytime this fall/winter.
Nutrition Facts
Thanksgiving Hand Pies
Amount Per Serving (1 g)
Calories 245
* Percent Daily Values are based on a 2000 calorie diet.
More recipes for you