A vegan Sweet Potato Ice Cream  made with almond milk and cashews.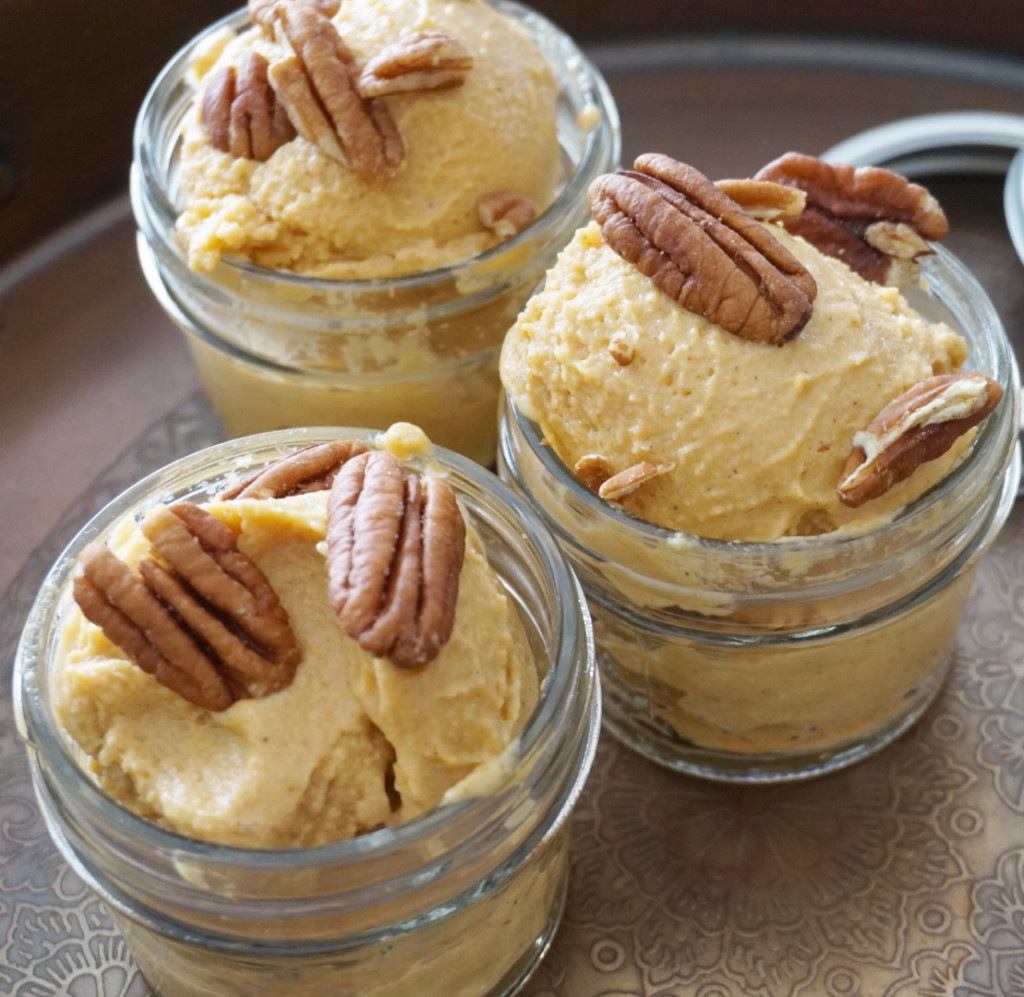 It sounds odd, but if you eat pumpkin pie, it's virtually the same thing but cold, minus the crust. What's not to like?
I am always looking for a healthier alternative to regular ice cream (read: excuse to eat ice cream). It's not that I don't enjoy a big scoop, I just don't want all the saturated fat that comes along with it. The recipe has gone through several iterations and it just keeps getting better!
In my pantry I had two sweet potatoes that were just perfect for this recipe. Those poor potatoes had been waiting patiently in there for awhile – long forgotten in the week's rush – they had settled in. Well folks, their moment finally arrived. And it was worth the wait.
How to make Vegan Nice Cream
This sweet potato nice cream is just as delicious as it sounds, like pie in ice cream form. While this isn't a 5 minute nice cream recipe, the process is simple and will take about 1 hour including churning time (more if you decide to chill the ingredients). It does require an ice cream machine to get the best texture.
Step 1: Roast Sweet Potato.
This step can be done ahead of time, especially since you need to let the roasted sweet potato cool completely.
Step 2: Blend sweet potato + all ingredients.
Blend the spices first so they are mixed before adding the sweet potato.
Step 3: Chill ingredients for 1 hour. (optional)
The mix should be cold when place in your ice cream maker for the creamiest results. If you don't have time, skip this step and churn away!
Step 4: Churn + enjoy.

For a fun twist – try using purple sweet potatoes!
Sweet Potato Ice Cream (Vegan)
A vegan sweet potato ice cream made with almond milk and cashews.
Keyword:
nice cream, vegan ice cream
Ingredients
1

medium sweet potato

1

cup

cashews

soaked overnight, rinsed and drained (discarding any floaters)

1

cup

almond milk

1/4

cup

brown rice syrup

honey can be substituted

3

tablespoons

dark brown sugar

1

teaspoon

maple extract

vanilla can be substituted

1/4

teaspoon

salt

1 1/2

teaspoons

ground cinnamon

1/2

teaspoon

ground ginger

1/4

teaspoon

ground nutmeg
Instructions
Plan ahead and get that ice cream churn bowl in your freezer the night before!

Roast the Sweet Potato: Preheat oven to 400°F. Poke a few holes in the potato with a fork, wrap in foil, roast for about 40 min until super tender. Let cool.

Place the rest of the ingredients in the blender and pulse a few times to mix. Once the potato is cool, peel the skin off and add the flesh to the mixture in the blender and blend until super smooth and creamy. Medium to high speed.

Place the mixture in the refrigerator for an hour or so to chill it before you run it through your ice cream machine. This will help make it freeze quicker in your machine which creates a creamier texture for any ice cream recipe. (this is optional and you can go right at it- I did!)

Once the mixture is nice and cold, run it according to the instructions of your ice cream maker. I have a small standard Cuisinart and it took about 20 minutes.

Place in freezer safe ice cream container until ready to eat! Let defrost for 10-15 minutes before scooping.

Top with pecans or maybe a splash of bourbon!
Nutrition Facts
Sweet Potato Ice Cream (Vegan)
Amount Per Serving (1 g)
Calories 230
* Percent Daily Values are based on a 2000 calorie diet.
Love Sweet Potatoes?
Check out these great recipes that celebrate Sweet Potato Love here!
More vegan treats for you